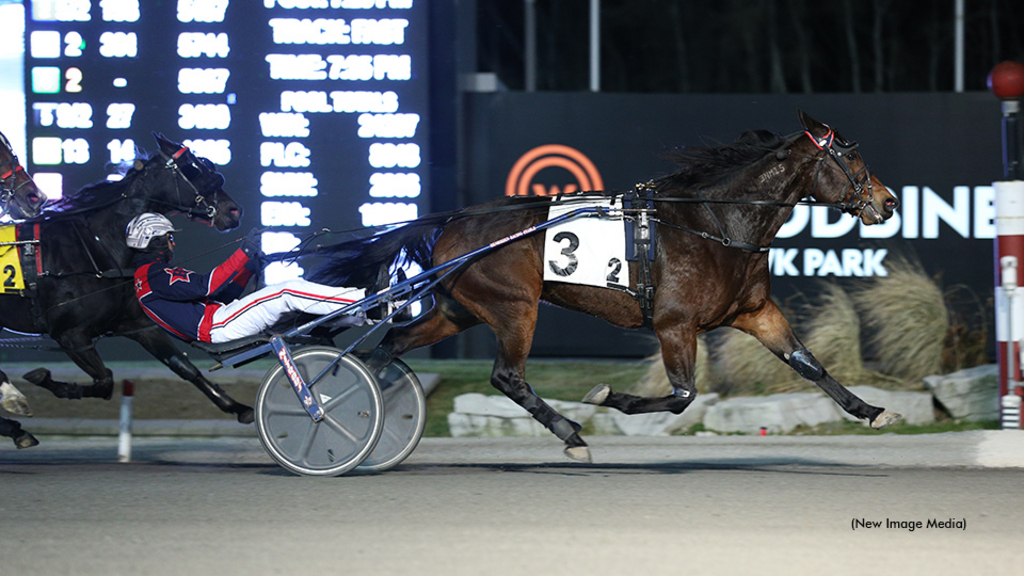 Published:
April 26, 2022 09:39 am EDT
Get to know the equine stars of Mohawk Park, as Woodbine goes beyond the chart lines and stat sheets to deliver three fascinating facts about a horse who will look to make their mark in 2022.
​This week, Elitloppet-bound Perfetto steps into the spotlight, with driver/trainer Dagfin Henriksen sharing a trio of interesting facts about the world-class trotter.
​
​Perfetto
​Age: 7
​Sire: Majestic Son
​Dam: Perfect Prelude
​Record: 91 starts 25-15-13
​Earnings: $722,416
​
​Trainer: Dagfin Henriksen
​Owner: Gerald Haggerty
​Breeder: Seawind Amg Stables 2005 Inc (Mount Hebron, N.B.)
​
​Need to know: First-ever win was his second start, an Ontario Sires Stakes Gold event at Woodbine Mohawk Park, on August 18, 2017.​
***
The King: "He's very attached to [caretaker] Laura [Trask], that's for sure. He's very routine-based. He just loves to have everything done in his own routine. He also knows he can get away with a lot of stuff. He's king of the barn. He knows it." ​ ​ ​
​
​Cool customer: "He's very easy to be around. The kids can go in the stall with him if they come to the barn. My kids and him get along no problem. They like him and he likes them. He's not a mean horse at all. He's just very easy-going. He also loves his carrots. He likes when you come over and have them with you. But when he's in the paddock ahead of the race, he gets his game face on. In the morning, when we are getting him ready, he knows what's coming up. He changes his attitude, not in a bad way, but he wants to get out there and race. He loves to race. That's probably why he is the horse that he is. He loves his job."
​
​Talking the talk: "I talk to him when I drive him. I like to think he responds to what I'm saying. I don't really say much going to the gate. It's more when it's time to go if we are sitting in a hole or even if we're sitting at the front. I'll just tell him, 'Okay, it's time to go.' And when he wins, he knows he's won, for sure. If he doesn't win, you can tell he's a little bit upset. You can just tell when he's won because you can see it in his attitude. When he's in the winner's circle, he's proud. He also has a big fan club back home in Norway. They love following him." ​ ​
(With files from Woodbine)