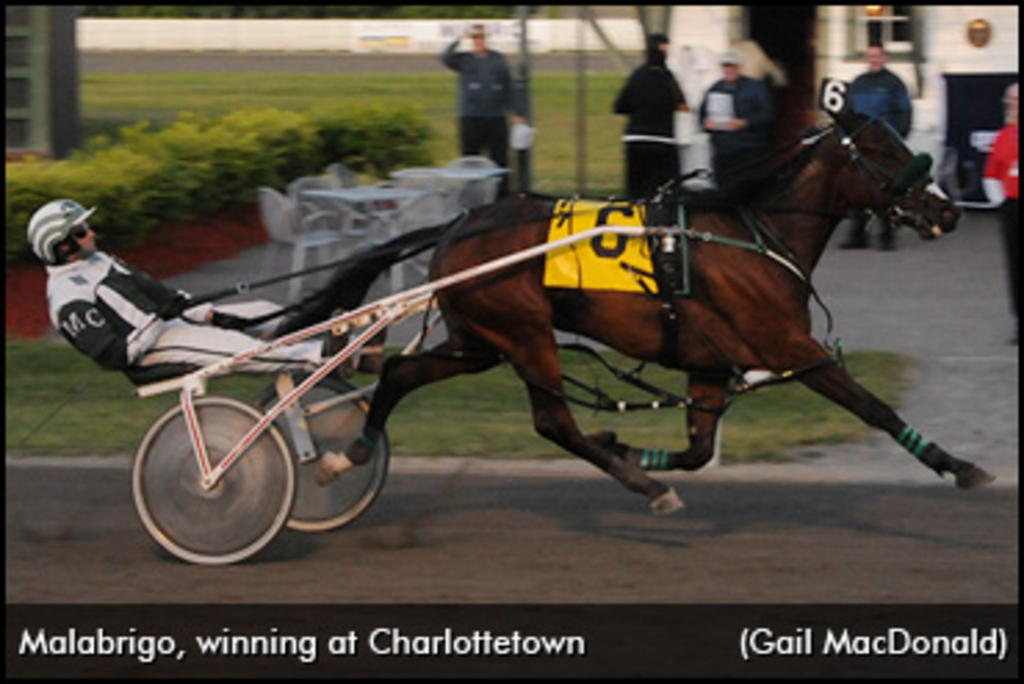 Published:
April 26, 2018 08:58 am EDT
In 2012, three-year-old pacing filly Malabrigo was the talk of more than just the Maritimes after winning all 16 of her sophomore starts and helping lift trainer-driver Marc Campbell to the national spotlight. More than five years after that award-winning season, Malabrigo is back with Campbell and it's like she never left.
On Tuesday, participants in Prince Edward Island continued to prepare pacers and trotters for a return to the racetrack this Saturday (April 28) at Red Shores Racetrack & Casino at the Charlottetown Driving Park. A familiar name resurfaced in one of the qualifiers: Malabrigo.
The last time Malabrigo was at Charlottetown Driving Park was on November 10, 2012 for a retirement ceremony after her perfect sophomore season. The daughter of Western Paradise - Lots Abunny didn't taste defeat in 16 starts en route to Pacer of the Year honours in PEI. After a number of years in the broodmare shed, Malabrigo was entered in the 2017 Harrisburg Mixed Sale. There she spotted the eye of her former trainer and driver, Marc Campbell.
Malabrigo Wins 16th Straight Start
"We knew she was in the Harrisburg sale and we were going down anyway. We looked at some yearlings and got one. And I said we'd take a look at her down there...we actually looked at her yearling too," Campbell told Trot Insider. "We [Marc and wife Natasha] both had a little tear in our eye when we saw her. She had her head in the corner [of her stall] and I said 'hey, hey, Mum, come here' and she came right over to me."
Campbell was scheduled to fly home when the broodmares were in the sale, but he and Natasha made plans to ensure that Malabrigo found a good home.
"I knew she might not go for much and I knew where she'd probably end up if we didn't take her back and we couldn't let that happen," Campbell continued. "We were at the airport on our way home when she went through. A friend of ours, Chuckie Symes, was going to be there. We told him 'don't let her go for nothing; we'll buy her.'" So he called me and said 'we got her.'
"He took her home for us and, really, she was only home a day or two and we started jogging her. And she was in really, really good shape...I was amazed at her shape, she was fit. She didn't look like a broodmare. So my father-in-law Darryl MacLean started jogging her at the home track and just kept going. I trained her back slow and she's got there."
Campbell remarked that Malabrigo was in great physical condition at Harrisburg, looking more like the racehorse he knew than the broodmare her sale page noted. As her former trainer, he was also very aware that Malabrigo finished her racing career without physical issues precipitating retirement.
"We've been training her back the right way. I trained her in 2:01 and a piece last Monday, and she was good there...her and the other filly I qualified today[Keepcalmndanceon] have trained down together the last three, four weeks, said Campbell after the qualifiers. "She's very competitive and she seemed very comfortable today."
On Tuesday, Malabrigo went wire-to-wire for a win in 2:00.1 over a Charlottetown track that allowed one second. It was like she never left.
"Our plan is that hopefully she's good enough to race in the open mares class down here...that's where we're aiming, anyway. She really likes her job, she's bouncing around and playing."
No matter how Malabrigo fares on the racetrack, Campbell is more than pleased to provide a home for a horse that was instrumental in his career.
"She helped me get my first O'Brien Award, no doubt. She went 16-for-16 that year, she always liked to win and she was put away sound at the end of her three-year-old year."
"I think she'll have a good summer. I'm not saying she's going to go unbeaten by any means...I just hope we have some fun with her and win a few races here and there."
Campbell noted that both Malabrigo and Keepcalmndanceon would be entered to race this Saturday at Charlottetown kicks off its spring harness racing meet. Those two horses will be the only ones dropped in the box by the Campbell stable as the horseman ramps up for his title defense as the reigning 'King of Island Racing.' Campbell won his second O'Brien Award of Horsemanship in 2017 and captured honours in PEI as well, awarded the 'Kentucky of Canada' award by the Prince Edward Island Standardbred Horse Owners Association this past Saturday in recognition of his truly exceptional season.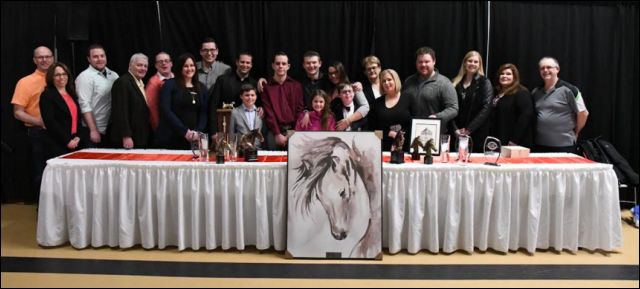 'Team Campbell' pictured with their trophies from the evening (Photo courtesy Gail MacDonald)
"That's all we have ready right now. We'll have another handful ready in a week and a half, we'll be qualifying a bunch more and we have a bunch of two-year-olds that will hopefully get there eventually. We're looking forward to getting back."
Malabrigo will head back to the track this Saturday for Charlottetown's 12-race card. She has drawn Post 4 in Race 10, a conditioned race for Fillies & Mares pacers with a purse of $1,800. To view the entries for Saturday's card, click the following link: Saturday Entries - Charlottetown Driving Park.