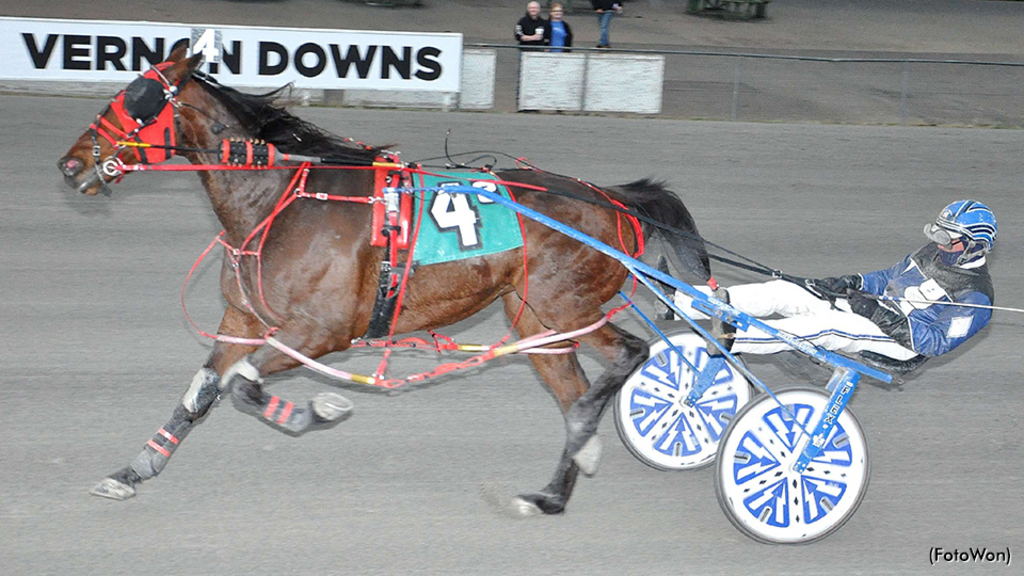 Published:
April 24, 2022 12:25 am EDT
Keystone Tenacious and Dewey Arnold captured the co-features at Vernon Downs on Saturday (April 23). 
Keystone Tenacious fired late to win the $7,000 Open Pace. 
Northern Rein had a short lead but Lyons Pegasus took control just before hitting the first quarter first in :26.1. He used a :29 second quarter and led to the half in :55.1. Northern Rein came first up and battled Lyons Pegasus around the final turn. Lyons Pegasus had the lead to three-quarters in 1:24. 
As they made the turn for home, Northern Rein had wrestled the lead away, but it was short lived as Keystone Tenacious came flying down the stretch and blew right on by and get the easy win in 1:51.2. Lyons Pegasus rallied back to get second. Northern Rein had to settle for third. 
Keystone Tenacious is a seven-year-old gelding by So Surreal. He is trained by Keven Reynolds Jr. for owners Anthony Sromovski and Kevin Reynolds. It was his first win of 2022. He now has 19 victories. Mike Merton drove the $3.30 winner.
Dewey Arnold cruised to easy win in the $7,000 Open Trot. 
Credit List grabbed the early lead and led to the quarter in :27.2. Dewey Arnold made his move heading down the backstretch. He led to the half in :56.2 and to three-quarters in 1:25.4.   
As they reached the stretch, he let out another notch and breezed to an easy win in a seasonal best of 1:54.1. Credit List held for second. Spoiler Alert received third money.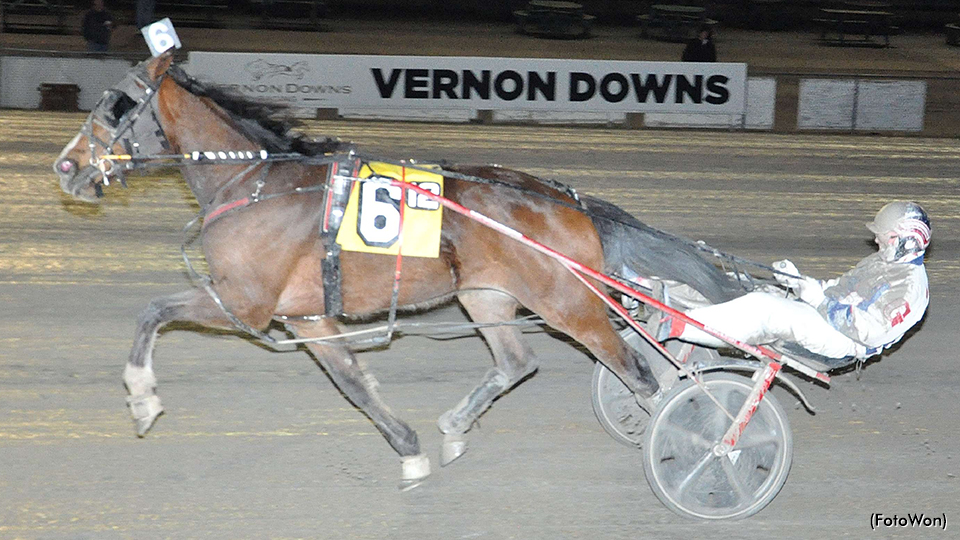 Dewey Arnold is a four-year-old gelding by Deweycheatumnhowe. He is owned by Phillip Hale and trainer David Dewhurst. It was his fourth win in a row. He now has reached the winner's circle 18 times in his career. Truman Gale piloted the $2.20 winner.
Frank Affrunti had three driving wins and Jeff Sorenson had three training wins on the card. 
Vernon Downs returns to live racing on Friday (April 29) with a post time of 6:05 p.m. (EDT).
(Vernon Downs)