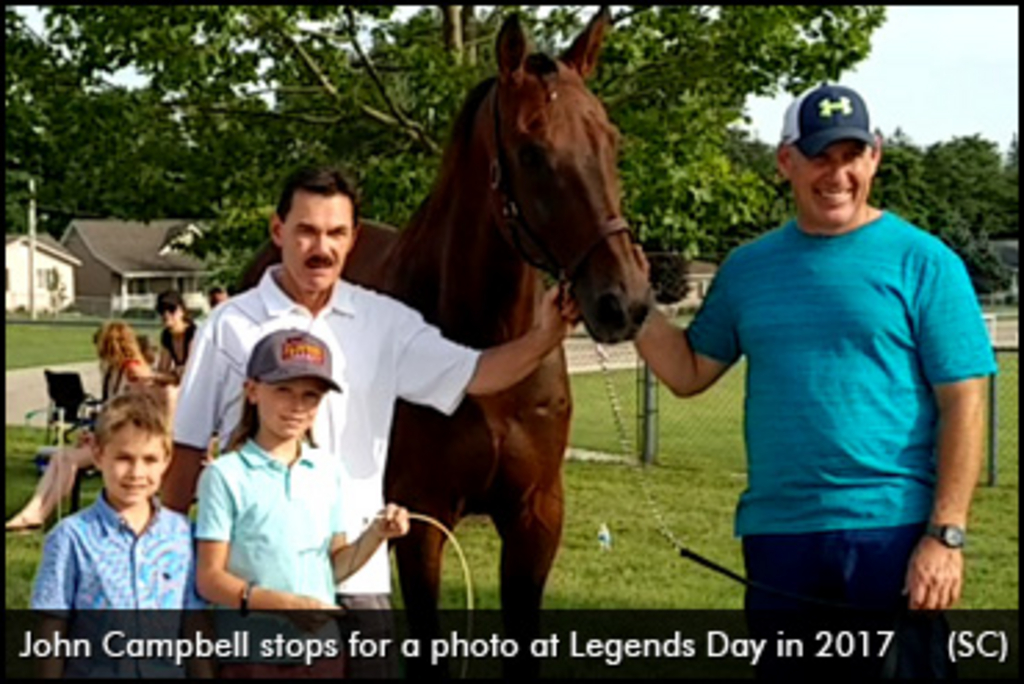 Published:
April 24, 2018 05:25 pm EDT
Harness racing legend and Hambletonian Society president John Campbell has weighed in on the inaugural Youth Literary Derby.
The Youth Literary Derby is a juried, horse-themed writing contest which carries $2,000 in prize money. The derby, which is designed to encourage writing and literacy skills, has been constructed to reach out to horse-loving kids that are in the provincial education system and possess a literary flair. The derby calls for students' evaluations and perceptions of the Standardbred. It challenges students to express – in prose and verse – their up-close encounters with Standardbred foals and to articulate the unspoken bond between man and horse that has existed through the years.
"I read with great interest about the Youth Literary initiative being implemented in Ontario," said Campbell. "I believe that exposing children to horses and the excitement of seeing and being around newborn foals will result in some incredible stories from these children. Some of these kids might not know it now but after being around and interacting with these horses their lives will be changed. It will be the beginning of a lifetime love affair as horses are addictive; they make an impression on you and are good for the soul."
The Youth Literary Derby challenges the educational system to draw the attention of today's youth beyond the world of computers and into the world of nature, and the horse, that has had a major impact on the history and development of this planet.
There are over 30 Ontario Standardbred nurseries waiting to greet young, aspiring writers during the foaling season in April and May before they plunge into their literary endeavours. The program is designed for Ontario-resident students in Grades 5 through 8 with divisions for poems and essays. The deadline for submissions is June 15.
"The project really hit home for me as I have always been an avid reader and feel that even though technology and the way we learn has changed, we should encourage children to read, write and express themselves through literature as much as possible," continued Campbell. " I have seen firsthand the anticipation and excitement that you see on a child's face when they receive a new book. In addition, my daughter Michelle is involved with KPMG'S Family Literacy program whose mission is to provide new books and educational resources to children in need. As you can see, giving back is a family affair."
Equine Guelph Donates Courses for Derby Winners
Equine Guelph, a leader in equine research and sports medicine, headlines a group of Ontario educators extolling the merits of the Youth Literary Derby.
"The Derby is a wonderful initiative encouraging youth of Ontario to express themselves, engage and celebrate in the wonderful world of horses." Said Gayle Ecker, director of Equine Guelph. "As an enthusiastic partner in the promotion of the Youth Literary Derby and a strong supporter of education for budding horse enthusiasts, Equine Guelph is pleased to provide online Horse Behaviour and Safety courses for the winners of the Youth Literary Derby."
Equine Guelph, well known for its support of the grass roots of the horse industry with their award-winning travelling display EquiMania!, recently added a short course for youth 14 – 17 years old: Horse Behaviour and Safety. "We hope the Derby winners will enjoy furthering their interest in horses and learning the language of the horse during this highly interactive course," Ecker continued.
Although provincial school boards are being contacted and made aware of the Youth Literary Derby, interested students are encouraged to contact their teachers and principals to reinforce their interest in the program.
(with files from the Youth Literary Derby)