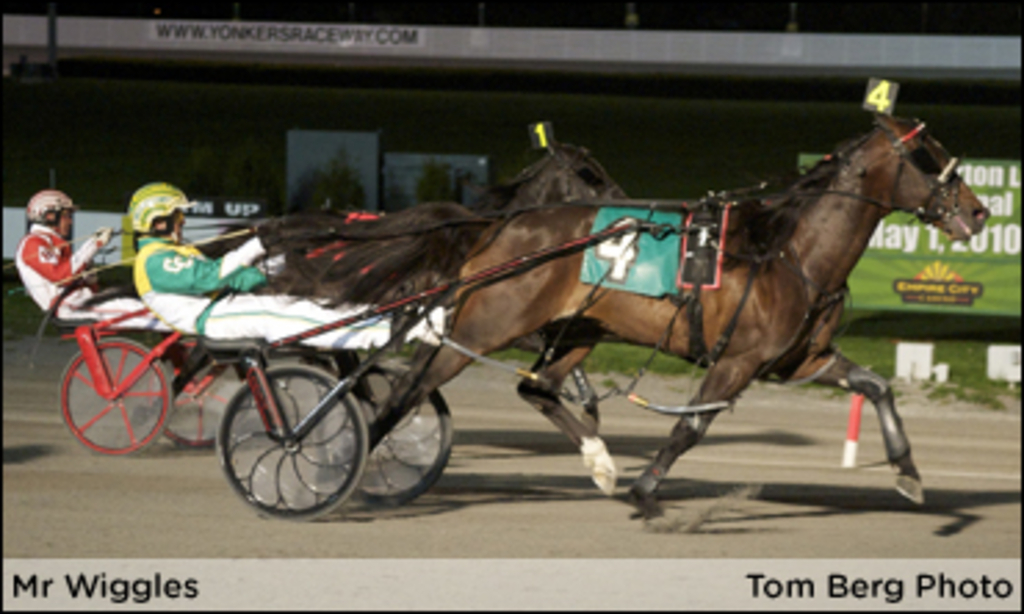 Published:
April 24, 2010 11:51 pm EDT
Yonkers Raceway's Saturday fare offered four $50,000 divisions in the fifth (final) preliminary round of the George Morton Levy Memorial Pacing Series, and the gang from Delmarva went home happy
.
Trainer George Teague and driver Corey Callahan teamed to win the first three events, more than offsetting any Jersey Turnpike toll increases.
Mr Wiggles was a first-up, first-division winner in 1:53, matching last week's effort. Leaving from post position No. 4, he moved from fifth and went after Pangiorno (Dan Dube). That one had an eventful trip, suffering an early interference break when 11-10 favourite Atochia (Jason Bartlett) pulled pocket late.
Mr Wiggles eventually whipped Atochia by a length, with the latter being set down to fourth for that ill-timed move. Corky Baran (Pat Lachance) was third-placed-second, with Pangiorno fouth-place-third.
For Mr Wiggles, a millionaire four-year-old son of Badlands Hanover co-owned by trainer George Teague and Elmer Fannin, he returned $5.40 (second choice) for his second (consecutive) win in five seasonal starts. The exacta paid $60.50, with the triple returned $227.50 and the superfecta paid $464.50.
"He already had qualified the final, so I wanted to race him from off the pace," Callahan said. "I thought someone might take a shot moving in front of me, but it didn't happen.
"I know George is going to have two in the final, but this horse has been so good to me, I have to stay with him...even if he draws the eight-hole."
Trainer and driver doubled their pleasure in the second event, as Southwind Lynx--part of the odds-on entry--just did pick off a stubborn leader in Wholly Louy (Brett Miller) in 1:52.1. Badlands Nitro (Jordan Stratton), the other half of the pari-mutuel partnership, finished third. Special Report (Larry Stalbaum) was fourth, though his number completed the triple.
For Southwind Lynx, a six-year-old Real Artist gelding co-owned by Teague and K&R Racing, he returned $2.50 for his fifth win in nine seasonal starts. The exacta paid $5, with the triple returning $19.
"I know Brett [Miller] was trying to get away from me down the backside, but we were able to close the gap around the last turn," Callahan said. "That horse dug in, but 'Lynx' always finishes well. He doesn't always corner that well, but he was better tonight."
Chasin Racin offered a 19-1 upset in the evening's third grouping, tracking a hot pace (:26.4, :55.3, 1:23.3) from second-over and prevailing in a season's-best 1:52.2. Second-choice Jeremys Successor (Tyler Buter) and people's choice River Shark (Dube) duked it out before Chasin Racin rolled past River Shark by a length-and-a-half. Legal Litigator (Miller) rallied for third.
For Chasin Racin, a four-year-old son of The Panderosa co-owned by Teague and Fannin, he returned $41.80 (sixth choice) for his second win in five seasonal starts. The exacta paid $200, with the triple returning $1,089.
"At the three-quarter pole, I was licking my chops," Callahan said. "I knew Tyler's horse [Jeremys Successor] was done, and I felt I could go by Dan's [River Shark].
"This colt has the talent. He won the second week of this series and I overdrove him the next start when he made an early break. Tonight, everything worked out."
Callahan added a couple of overnight wins for good measure, giving him five victories (in seven drives) on the evening.
Points leader, pole-sitter, defending series champ and prohibitive favourite Foiled Again (birthday boy, 29-year-old Bartlett) went the distance in the final prelim event (1:52.3). Go Go Solano (Miller) closed from the back of the bus to grab second, beaten a couple of lengths, with Psilvuheartbreaker (Dube) third and Western Ace (Callahan) fourth.
For millionaire Foiled Again, a six-year-old Dragon Again gelding trained by Ron Burke for Burke Racing, Weaver Bruscemi and JJK Stables, he paid $2.40 for his third win in five seasonal starts. The exacta paid $50.50, the triple returned $258.50 and the superfecta paid $614.
"I wanted him a be better on the end of his mile that he had been, and I think he was," Bartlett said. "You know, there are a lot of very good horses in the series. The draw [for the final] is going to be so important."
Yonkers hosts a pair of series finales next Saturday night, May 1, with purses of $460,000 (Levy) and $237,000 (Blue Chip Matchmaker), respectively. The draw for both is scheduled for Tuesday afternoon.
Please note the Raceway added Wednesday nights to its live schedule.
(Yonkers Raceway)