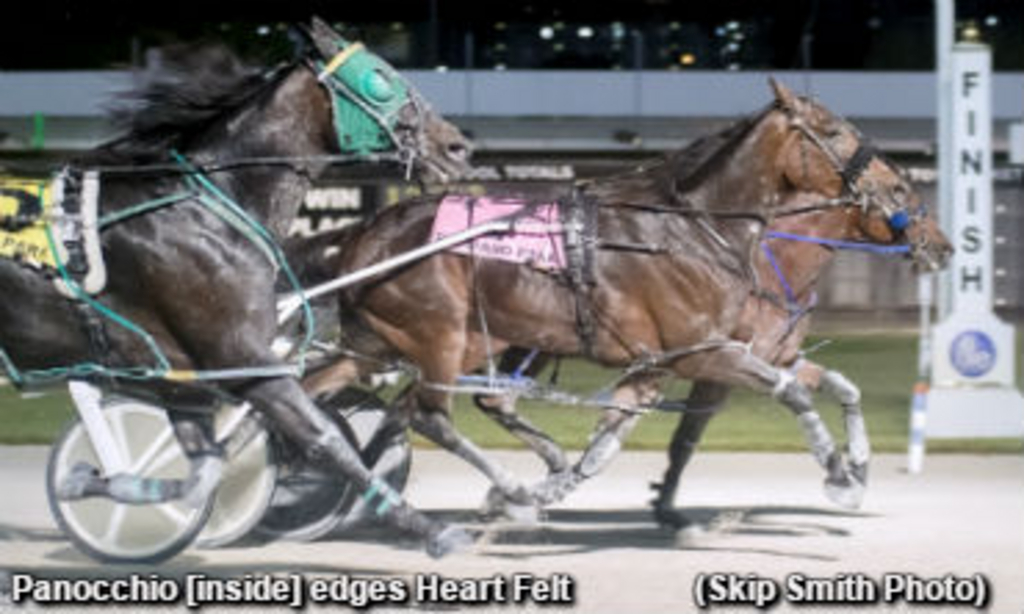 Published:
April 23, 2017 11:00 pm EDT
Panocchio, returning to the racing wars after a two-month layoff because of sickness, showed his gameness by defeating a classy octet of pacers in Sunday's $11,000 Open Handicap Pace at Pompano Park.
The seven-year-old gelded son of No Pan Intended, again handled by Wally Hennessey, overcame the outside post and an onslaught of challengers in the final stages to win by a scant nose over the late surging Heart Felt, driven by Bryce Fenn, with Rock On Moe, with Dan Daley in the bike, closing fastest of all to fall a half-length short.
At the outset, Rockntouch, driven by Mickey McNichol, blasted off the wings to take command while Panocchio, taking a chance to find a spot close up early, found one in second with Here Comes William third and Fritzie Pic Up Man next.
With an opening quarter in a hot :26.2 on a track rated "good" after being deluged with prolonged afternoon rain, Rockntouch sizzled over to the half in :54.3 with Panocchio almost two lengths away and Fritzie Pic Up Man on the move and drawing up to within a length of the leader past the third station in 1:22.4.
Fritzie Pic Up Man finally wrestled the lead away from Rockntouch turning for home while Hennessey was finally able to weasel his way out of the pocket and give chase, taking command shortly after they straightened away.
But the issue was far from being settled as both Heart Felt and Rock On Moe were closing in.
On the wire, the photo finish camera showed that Panocchio's nose was, indeed, long enough to secure the victory, his fifth of the year in only six starts.
After the race, Hennessey said, "there are no words that adequately describe this horse. He is just amazing.
"He's been off for more than two months because he just wasn't feeling up to par and he only had a couple of qualifiers coming in. But, he's done that kind of thing before and he goes just where he has to go to win.
"The track was off a second or two and it was a tiring track but he went another amazing mile," he added. "Jim (trainer Mattison) can be proud of his performance tonight."
Panocchio now has 53 lifetime wins—31 at Pompano Park in 47 starts—with a lifetime bankroll of $430,468 to go along with a track record mark of 1:48.3 at Pompano Park, as well.
Trainer Mattison co-owns Panocchio with Emile Johnson, Jr. The pacer paid $5.00 to win.
In other Sunday action, Music Is Art, a son of Art Major who won his sophomore debut in 1:53.4 at Pompano Park on April 11, stepped up a notch and won his second in a row, this time in 1:54.1 for driver Tony Kerwood.
Trained by Peter Blood, who co-owns with Rick Berks, Music Is Art stalked the favourite, Regalanthropist (Wally Hennessey) through panels of :27.3, :57.1 and 1:26.1 before leaving his cozy pocket around the final bend and using a :27.4 finale to score a handy win by 2-1/2 lengths over Artistic Cruiser (Matt Romano) with Ball Dont Lie (Kevin Wallis) third.
Music Is Art, who won $38,108 in only seven starts last year at two, earned his fourth lifetime win to send his career bankroll to $43,408. He paid $5.00 to win.
Racing continues of Monday night with Boli looking to score a repeat win in the $10,000 Open Handicap Trot.
This five-year-old son of Kadabra, trained by Dan Hennessey for owners Paul and Patricia O'Neil, has been installed as the 9-5 morning line favourite and will have the driving services of Pompano Park's leading driver, Wally Hennessey.
The track's Super Hi-5 continues Monday and Tuesday night with a mandatory payout scheduled for Sunday, April 30 should no one be able to capture the entire pool with a single 20 cent winning ticket. The carryover for the Super Hi-5 has ballooned to around $90,000.
Post time is set for 7:20 p.m.
(Pompano Park)