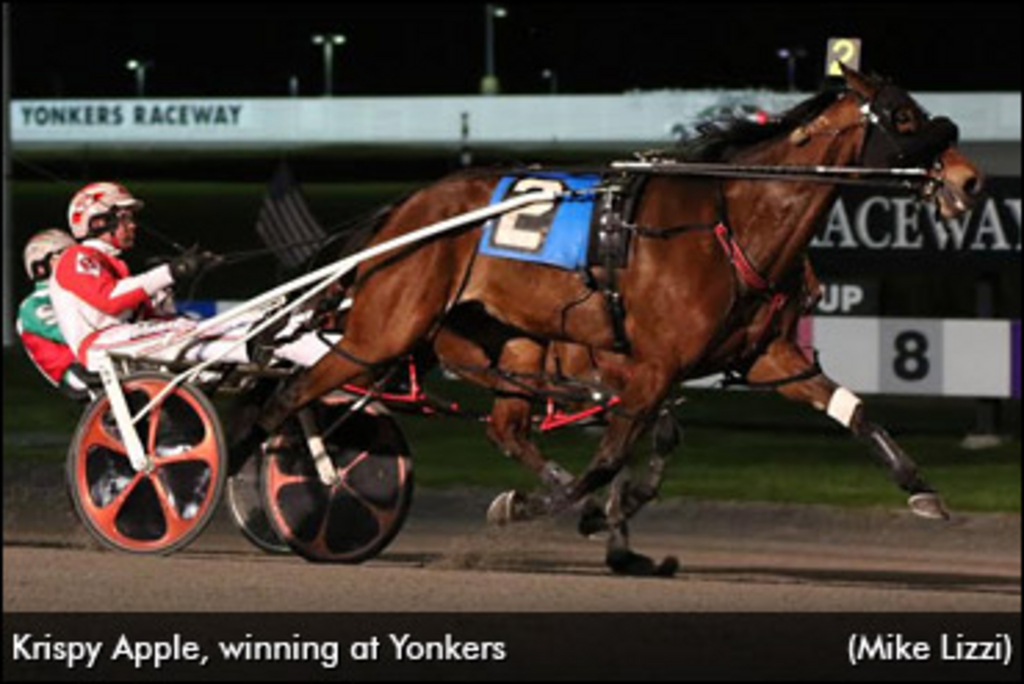 Published:
April 22, 2016 09:11 am EDT
It is a darn good thing horses do not read the papers or browse the Internet, otherwise Krispy Apple may have developed a huge complex. She has earned more than $1.6 million in her career, amassed $60,000 from this year's campaign alone and established a track standard of 1:51 for older mares in 2015 at Yonkers Raceway, yet the eight-year-old mare never receives the press other female residents of her shed row continuously attract. This situation, however, could drastically change if the daughter of Western Ideal captures the $309,800 Blue Chip Matchmaker final on Saturday (April 23) at Yonkers Raceway for at long last her name may finally dominate the headlines.
"She has always been overlooked and that's just kind of been her luck," said Jeff Bamond Jr., her conditioner and co-owner. "As a three-year-old she earned more than $500,000 and had to take on the likes of a super filly in See You At Peelers. There are not many that come along like that one and then after her it was Anndrovette. Her record stands for itself obviously and then there was Shelliscape. Next was Venus Delight. Those three were all in the same barn with this mare, but all she has done is win.
"I thought she had one of the best seasons of her career last year because we just kept her in the Opens at Yonkers and she made more than $350,000. She seems to get over that track very well and those conditions seemed to suit her."
Out of the Life Sign mare Apple Krisp, Krispy Apple, who is also owned by Bamond's father, Jeff and Joe Davino, will seek to add career victory 43 to her resume when she leaves from post position eight with Jason Bartlett holding the reins in the seventh race on the card. The mare is the 2-1 top selection on the morning line in conjunction with her stablemate and 2015 Dan Patch award winner Venus Delight, who commences her journey from the slot right inside of her.
Krispy Apple earned favouritism by finishing second in the first two legs of the series, then coming home sixth in the third leg and rebounding with a pair of triumphs in the final two preliminary contests.
Despite being pleased with her performances so far this season, Bamond acknowledges Krispy Apple has her work cut out for her. The competition does not only come from Venus Delight, who has yet to hit the winner's circle in 2016, but has raced admirably in defeat. Her other rivals include O'Brien Award winner Lady Shadow (7-2), the always formidable Yagonnakissmeornot (5-1) and the talented import Sell A Bit N (5-1). All of these gifted ladies start their miles from inside the Bamond duo.
"It is going to be very difficult for her to overcome that outside post position," he said. "All of these mares are very talented and evenly matched. Something like that can make the difference in losing by a head. They are all going to be right there when the wire comes and if they get away from you, they are not coming back. We will definitely need some racing luck, but this is what this sport is all about. Everyone that entered has a shot to win it."
In order to pose in the winner's circle after her 126th career start, Krispy Apple must finish in front of champion Venus Delight. The six-year-old daughter of Bettors Delight and the Run The Table mare Venus Killean has not hit millionaire status at this stage of her career with $872,033 in the bank, but she possesses the shiny hardware to reward her outstanding 2015 campaign. The mare collected just over $600,000 in purse money last year with triumphs in the $200,000 TVG Mares Open, the $300,000 Milton, and the $194,000 Artiscape, and is also the defending Blue Chip Matchmaker champion.
Venus Delight's appearance this weekend will be only her 68th lifetime and if she captures two consecutive Matchmaker finals it will be the 26th occasion she will have her picture taken. It will also be her first win of the season from six trips to the gate. In the five legs of the series, the mare has hit the wire in second twice, third and fourth once apiece and was sixth in her most recent outing.
"She has not had the best of racing luck," Bamond said. "Krispy Apple has that spurt to her at an end of a race, but Venus Delight is the horse that grinds you down. She just keeps coming. When she is far back on a track like this it is very tough for her to catch up and pass everyone. Especially with the quality group that is in the series.
"I also do not think a half-mile track is her best game. She needs a longer stretch. I think that suits the way she races the best. She is the kind of horse that will only do what she needs to and is not hard on herself. For example, you cannot train her by herself because you will get nothing from her. You can literally run next to her while she's on the track. It is just her personality and we accept her for who she is."
Over the last five years the Bamonds have enjoyed a wealth of riches when it comes to older pacing mares. There is Anndrovette, who needs no introduction and clearly is one of the greatest of all time for her gender as well as gait. The nine-year-old mare captured four consecutive Dan Patch trophies (2011-'14), also owns four O'Brien awards, is the only horse to win three Roses Are Red finals in a row and has annexed two Breeders Crowns. Only Eternal Camnation has placed more cash in the bank all time when it comes to pacing females.
There is also world champion and 2013 and 2014 Breeders Crown victress Shelliscape. The daughter of Artiscape and the Direct Scooter mare Shell I Scoot compiled more than $1.1 million in her days on the race track. Retired due to injury, the mare recently gave birth to her first foal which is a colt by Somebeachsomewhere.
So is there a secret to the Bamonds' success? Particularly with the ladies? Father and son purchased all four of these mares as they were embarking on their careers as older horses after scrutinizing not only their lines, but how they looked while compiling them.
"The key to our program is buying horses we think are on the upswing and only have room to improve," Bamond said. "We keep an eye on them for awhile before we make a move and feel confident they have much more to give.
"Although we did breed Shelliscape, we are not in the breeding business. That only happened because she was injured at the time and it just made sense to go that route. We are in the racing end of the sport and despite how successful all these mares could be in the breeding shed, we prefer to let the experts do that part.
"What we do is treat all these mares as individuals, which they are, and provide them with their own programs. We are consistent with their routines -- whether they are in training, racing or on vacation. We also do not believe in over racing them and are very conservative as to how many times we start them. We feel this helps preserve them for a longer career."
Even if Venus Delight or Krispy Apple happen to capture the lucrative Matchmaker final this weekend, their paths will not deviate from what was mapped out for them for the rest of the year.
"Venus will appear in all the big stakes just like last year," Bamond said. "Krispy will also follow the same schedule. We'll keep her here at Yonkers and maybe take her a couple other places, but those are the schedules that seem to fit each mare the best.
"We are looking forward to the year, not only with them, but with all our horses and maybe this will be the time Krispy gets the attention that she is due. She has not had it easy, that is for sure, but she does deserve some credit for what she has accomplished. Who wouldn't want one in their barn like her?"
$309,800 Blue Chip Matchmaker Series final
(Post – Horse – Listed Driver)
1 – Lady Shadow – C. Callahan
2 – Regil Elektra – Ti. Tetrick
3 – Sell A Bit N – J. Stratton
4 – Yagonnakissmeornot – D. Dube
5 – Al Raza N – D. Miller
6 – Mach It A Par – G. Brennan
7 – Venus Delight – Y. Gingras
8 – Krispy Apple – J. Bartlett
---
This story courtesy of Harness Racing Communications, a division of the U.S. Trotting Association. For more information, visit www.ustrotting.com.