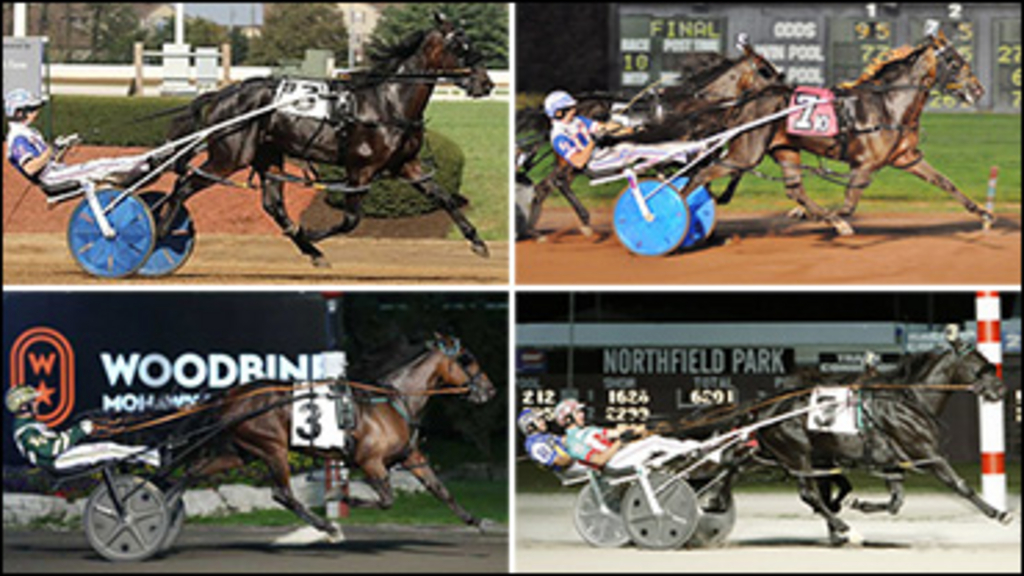 Published:
April 20, 2019 05:12 pm EDT
Foul weather caused the postponement of Saturday's (April 20) qualifiers at The Meadowlands until 3:00 p.m. By then, despite overcast skies and a slight helping breeze in the stretch, the track was fast and dry with a temperature of nearly 18°C at post time.
The session quickly turned into Nancy Johansson Day as she brought big power to the table and got the results she and driver Scott Zeron were hoping for from several potential stars of the 2019 Grand Circuit season.
Johansson unveiled the sophomore edition of her Dan Patch Award and Breeders Crown-winning freshman pacing sensation Captain Crunch (Zeron) and he was absolutely fabulous. Moving comfortably on the lead through a :56.1 half and 1:24.4 three quarters, Captain Crunch sprinted home in a sizzling :25.2 under his own power to win by more than four lengths over Major March (Tim Tetrick) in 1:50.1 with Zeron motionless in the sulky.
The Captaintreacherous colt won more than $600,000 at two for owners 3 Brothers Stable, Christina Takter, Rojan Stable and Caviart Farms who plucked him from the Standardbred Horse Sales Yearling Sale for the bargain price of $85,000. Walnridge Farm and Sherri Meirs are the breeders of the second choice at 9-2 in the TROT Magazine's 2019 Pepsi North America Cup Spring Book.
The 2018 Doherty Memorial and O'Brien Award winner The Ice Dutchess (Yannick Gingras) returned to the racing wars today for Johansson and looked fantastic in her debut. Gingras sat in third with the filly as stablemate Cant Touch It (Zeron) rated even fractions while Speed Titan (Mattias Melander) ground up uncovered. As they trotted home, the rail opened and The Ice Dutchess bolted through to score an four-length win moving away from her rivals unasked in a :26.1 close to the 1:54.4 mile. Speed Titan was second while Cant Touch This stayed on for third.
The Muscle Hill lass was a $320,000 Standardbred Horse Sales Yearling Sale purchase by John Floren's Coyote Wynd Farm from breeders Stephen Dye and David Reid. She paid for herself as a two-year-old and appears ready to add to that bankroll at age three.
Kissin In The Sand may have looked better this week than last, if that's even possible. Zeron sat behind the early pace of Izzy Hanover through a :56.1 half, passed that rival and the three quarters in 1:24.3 with top pacing mare Caviart Ally (Andy McCarthy) following up and dropping in behind as they sprinted home in :25.3 for a 1:50.1 mile. Both mares had plenty left and were well ahead of the others, with a seasonally-debuting Caviart Ally just a length back of Kissin In The Sand.
Marvin Katz and Bud Hatfield own four-year-old Kissin In The Sand (Somebeachsomewhere - Kiss Me Kate), and the returning divisional award winner is trained by Johansson.
NA Cup-eligible Blood Money (Zeron) closed in :25.2 to run down Buddy Hill (Brian Sears) the mile in 1:52.2. Johansson trains last year's Matron Stakes winning homebred for Diamond Creek Racing, her second colt in the top 10 of TROT's NA Cup Spring Book assessed early odds of 19-1.
Johansson and Zeron capped their memorable afternoon with Thinkbig Dreambig zipping around the oval in 1:52.2, holding American History (McCarthy) at bay with a :26 final stanza while both were in hand. This imposing Bettors Delight four-year-old was a winner of multiple Grand Circuit stakes in 2018 including a division of the Tattersalls Pace in 1:48.2 for Brixton Medical, Fielding, Anderberg and Falk.
Six Pack is back! The Dan Patch Award winner and fastest three-year-old trotter in history by virtue of his 1:49.1 Kentucky Futurity win was awesome in his returning qualifier for Ake Svanstedt. The pair sat a pocket to an old rival in Fashionwoodchopper (Gingras) past the 1:28.3 six panels and roared by that rival when tipped out at that station to a 1:55.2 mile easily.
The Muscle Mass four-year-old is owned by Svanstedt in partnership with Little E; LLC, Knutsson Trotting, Stall Kalmer and I. Berg this season.
Svanstedt also won with Galixton in 1:59 for himself, Little E and Joe Sbrocco.
Sharp Action Money (Gingras) won the last of the day's races, ending a 1:52.4 mile with a :25.3 final quarter for the Burke barn.
Charted results may be found on the Meadowlands' website.
(with files from Meadowlands)