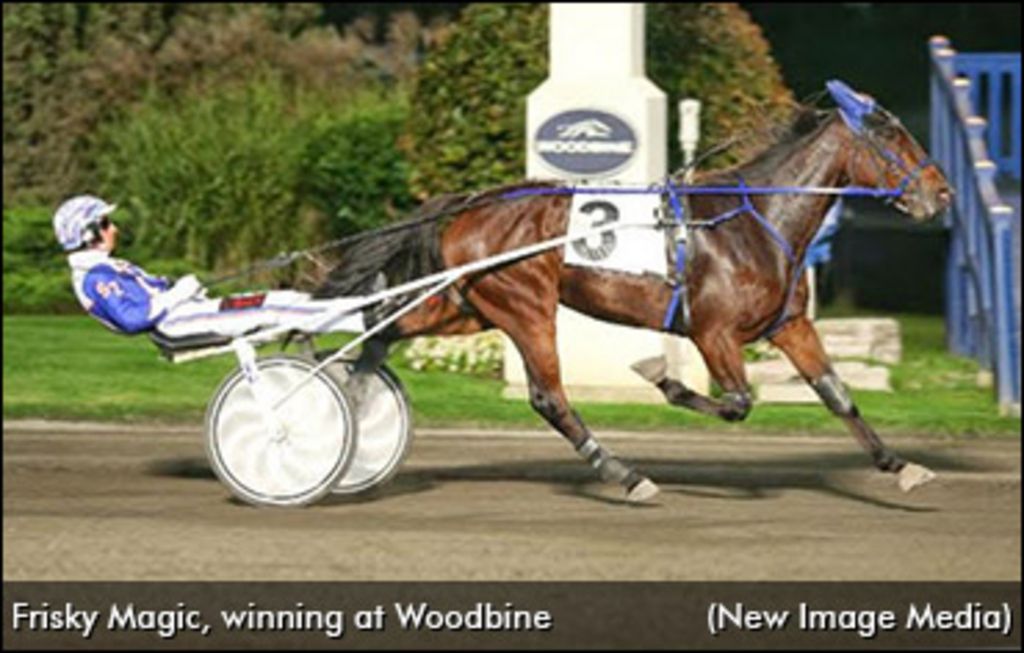 Published:
April 20, 2014 10:57 am EDT
"Her and West Side Story will be leaving at the end of the month for France. Over there, they can race against their own age and sex, and go for good money."
After finishing second in both preliminary legs, Frisky Magic will look for her best stride when she faces the gate in Monday's $43,200 final of the Lifetime Dream Series at Woodbine.
Trained throughout her career by Per Henriksen, Frisky Magic will look for the upset in race nine when she begins from post seven for driver Chris Christoforou.
The speedy trotter will look for her seventh career triumph for owner Steve Organ.
"She seems to be coming around right now," Henriksen said. "She's always shown a lot of talent. She's four now and I think she's matured quite a bit and developed very nicely."
Henriksen developed the daughter of Kadabra and elected to race her lightly at age two with just six starts.
"She was a well-made individual and certainly looked the part and came from a solid family," Henriksen said. "At two, she needed to mature. She was on the verge of getting aggressive and hot so I decided to quit with her for the season."
Last year as a three-year-old, Frisky Magic certainly made a good account of herself with $68,082 in earnings from 20 starts, including five wins.
"She had a good year, but it took forever for her to come around," he said. "She won in early May, but then didn't win again until September."
That's when the trotting lass found her best stride as she reeled off four straight wins and capped off her sophomore campaign with a 4-2-0 record in her last seven starts of the season.
"I decided to back off on her training and that's when she really started coming around," Henriksen said. "She was finishing her miles better and was a lot stronger."
Henriksen then applied the same training tactic again this season.
"I raced her three of four starts this season and again backed off on her training and it's paying off. That seems to be the key with her," he said. "She's really coming around right now, just like the end of last season. She's in good form."
Henriksen also noted that Frisky Magic will be making her final start in North America on Monday, heading to Europe at the end of the month.
The Lifetime Dream series is for four- and five-year-old trotting mares, non-winners of $200,000 lifetime as of December 31, 2013.
To view the full field for Monday's Lifetime Dream Final, and the rest of Woodbine's card including the first leg of the Tie Silk Series, click the following link: Monday Entries - Woodbine Racetrack.
(with files from WEG)