Published:
April 20, 2014 12:48 am EDT
Foiled Again lost Saturday night. Not exactly the stuff that breaks into regularly-scheduled programming, but rare enough.
Harness racing's richest-ever performer added nothing to his $6.1 million bankroll, winding up a non-factor sixth in the third and final $50,000 division of Yonkers Raceway's George Morton Levy Memorial Pacing Series.
Starting outside his six rivals as the fifth and final preliminary round concluded, he and driver Yannick Gingras had Mach It So (Tim Tetrick) leave directly inside of him. 'Foiled' — his place in next week's final already secure — took back to last and never reached contention.
Meanwhile, stablemate Easy Again (George Brennan), leaving from post position No. 3, saved the souls, and the wallets, of the bridge jumpers. As one third of the 1-20 entry, Easy Again coasting through comfy fractions of :28.1. :57.3, 1:25.1 and 1:52.3 before winning by a couple of lengths.
Mach It So, who left into a four-hole, was a solid, first-up second, with Mr Hasani N (Eric Goodell) third. Foiled Again, racing from third-up behind a gapping entry partner Special Forces (Ron Pierce), beat only that one home. He wound up sixth, seven and a half lengths behind Easy Again.
For Easy Again, a five-year-old Dragon Again ridgling co-owned by trainer Ron Burke (as Burke Racing), Weaver Bruscemi, M1 and Panhellenic Stables, he and his pari-mutuel partners returned the minimum $2.10. He is now five-for-12 this season (three-for-five in series). The exacta paid $4, with no triple wagering.
"He was able to get away with cheap fractions," said Brennan, who turns 47 Easter Sunday. "I figured that once Tim [Tetrick] left with Mach It So, Foiled Again might have to take back and it worked out."
The evening's other two Levy events were won by P H Supercam (Jason Bartlett, $21.40) and Dancin Yankee (Pierce, $5.90).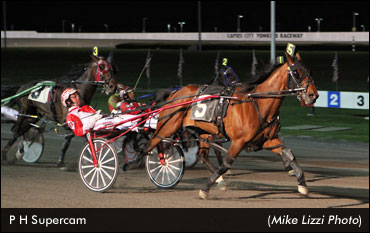 The former, from post No. 6, left for a seat, wound up in a three-hole, then angled wide in and out of the final turn. He picked a dueling Clear Vision (Brennan) and Apprentice Hanover (Jody Jamieson). The final margin was a length over Clear Vision in a life-best-matching 1:51.1.
For P H Supercam, a seven-year-old Million Dollar Cam gelding owned by Bamond Racing and trained by PJ Fraley, the win was his second in 11 '14 tries (one-for-five in series). The exacta paid $32.40, with no triple wagering.
"I love him," said Bartlett. "He can get a last eighth as well as anyone. When I made up ground in the last turn, I thought I had a shot."
As for Dancin Yankee, he negated his outside seven-hole at the start, rebuffed a quarter-move from Bettors Edge (Gingras) and finished it off in 1:51...matching Foiled Again's effort of a week ago as the fastest mile of the series and locally this season. The margin was a length and a quarter, with Bettors Edge second and Texican N (Brian Sears) third.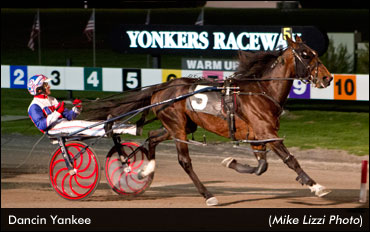 For Dancin Yankee, a six-year-old son of Yankee Cruiser co-owned by Baron Racing and Richard Lombardo and trained by Josh Green, he's now six-for-11 this season (one-for-five in series). The exacta paid $7.40.
"He gets over the track very well and I left a lot in the tank for the final," said Pierce.
Click here to view the final preliminary leg standings. However, please note that the eight eligible finalists (and those for the consolation) will be determined by the race office.
The $567,000 final of the Levy and the $371,400 final of the Blue Chip Matchmaker both go next Saturday night, with open draws taking place Tuesday afternoon.
Also Saturday night, 67-1 bomber RU Ready To Rock (Jordan Stratton, $136.50) won a blanket photo in the $20,000, eighth-race pace, providing the largest win mutuel of the season to date.
(With files from Yonkers Raceway)