Published:
April 2, 2017 04:38 pm EDT
Plainridge Park Casino Director of Racing Steve O'Toole has shared some of the positive news that has come from the track since it introduced slot-machine gaming into the fold.
"The outlook is good. It's all positive stuff," O'Toole told the state gaming commission last week.
On Thursday, March 30, O'Toole told the state gaming commission that his track has seen an increase in race dates, purses and wagering since the machines were introduced to the fold at Plainridge in June of 2015.
According to O'Toole, the track featured an average daily handle of roughly $94,000 in 2014, but that number rose to roughly $156,000 in 2016. The increase was seen even though the track has increased its race dates. Plainridge offered 80 live cards in 2014 and will host 125 live programs this year, which will be the most in the history of the track.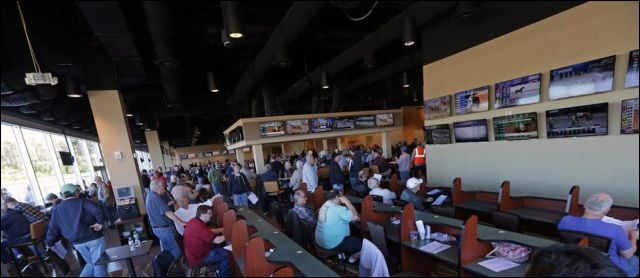 Patrons wagering at Plainridge Park (Image courtesy Barry Chin / Boston Globe)
He also stated that the track saw 406 horsepeople working at the track in 2015, but that number increased to 566 in 2016.
On July 28, Plainridge will host the inaugural Spirit of Massachusetts Trot, which will featured a guaranteed purse of $250,000.
"The day in, day out racing program at Plainridge Park has been solidified over the past couple of years and we wanted to take the next step and create an event that let the industry know harness racing in Massachusetts was back on the map," O'Toole said about the Spirit of Massachusetts. "This is a starting point, and in future years we anticipate adding other [stakes] events around this race along with races for local participants while creating a fun atmosphere to build an exciting on-track experience for our racing fans as well."
(With files from The Sun Chronicle)