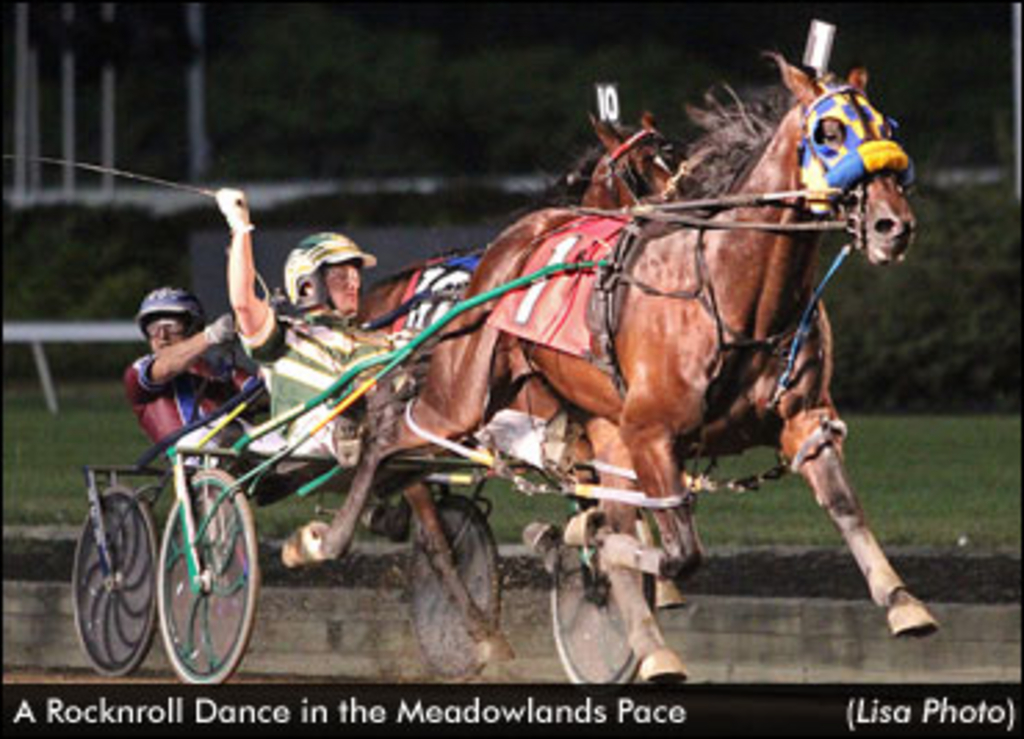 Published:
April 2, 2013 08:20 pm EDT

"There was pressure on him last year. When he is your only (stakes-calibre) horse, you don't want to make mistakes. This year, there is not as much pressure. Hopefully we can enjoy it a little more. He's training really good and hopefully we can redeem him a little bit."
With last year in the rear view mirror, trainer Jim Mulinix is looking forward to a more relaxed year with A Rocknroll Dance.
A Rocknroll Dance was one of harness racing's top three-year-old male pacers in 2012 and is among a highly regarded group returning to action this season. Last year, A Rocknroll Dance ranked No. 4 in earnings in his division and won the Meadowlands Pace, Battle of the Brandywine and Max Hempt Memorial.
He entered his three-year-old campaign with high expectations after winning seven of 11 starts at age two, including six of his last seven races. That span included a victory in the Governor's Cup and second-place finish in the Breeders Crown.
This year, though, he enters the upcoming campaign from a different point. A Rocknroll Dance was winless in his final 11 starts following his stakes- and track-record 1:48.1 victory in the Battle of the Brandywine at Harrah's Philadelphia in mid-August.
"I was probably too conservative training-wise and even shoeing," said Mulinix, who owns the horse with several partners racing as the A Rocknroll Dance Stable. "You can always look back and find something you could do differently, but at the time you're doing the best you know how to do. If I had to do over again, I'd have trained him a little stiffer and shod him a little sharper."
Mulinix, from Wauseon, Ohio, saw A Rocknroll Dance's purses account for 82 percent of his stable's earnings last year. The 61-year-old trainer expects A Rocknroll Dance to qualify in approximately three weeks and hopes to be ready for the Meadowlands Maturity for four-year-old pacers on May 18 at Meadowlands Racetrack.
His top priority when he heads east will be to find a driver for A Rocknroll Dance. Yannick Gingras was the horse's primary driver last year, but Gingras is committed to a number of older pacers, such as Foiled Again, the richest pacer in North American harness racing history, because of his relationship with the Ron Burke Stable.
"I don't have anyone nailed down at this point," Mulinix said. "That's probably the biggest question mark heading into the year. But I'll wait for the time to come before I worry about it."
A Rocknroll Dance will not face any easy competition this season, whether going against fields restricted to four-year-olds or in open stakes against older foes. Not only are many of the top older pacers returning to action this season, but the connections of the top 15 money-winning three-year-old male pacers of 2012 paid into stakes races this year.
"He seems good," said Mulinix, who received from the Ohio chapter of the U.S. Harness Writers Association the Winner's Circle Award for the Ohioan that achieved outstanding accomplishments in 2012. "The weather was bad for a few weeks, so we're a few weeks behind, but he seems better than ever.
"Last year, he was not quite a hundred percent all the time, but it wasn't anything you could pinpoint. We'll see how good he qualifies and how he acts, but I feel pretty good about the way he's coming back and hopefully I'm a little smarter too."
---
This story courtesy of Harness Racing Communications, a division of the U.S. Trotting Association. For more information, visit www.ustrotting.com.