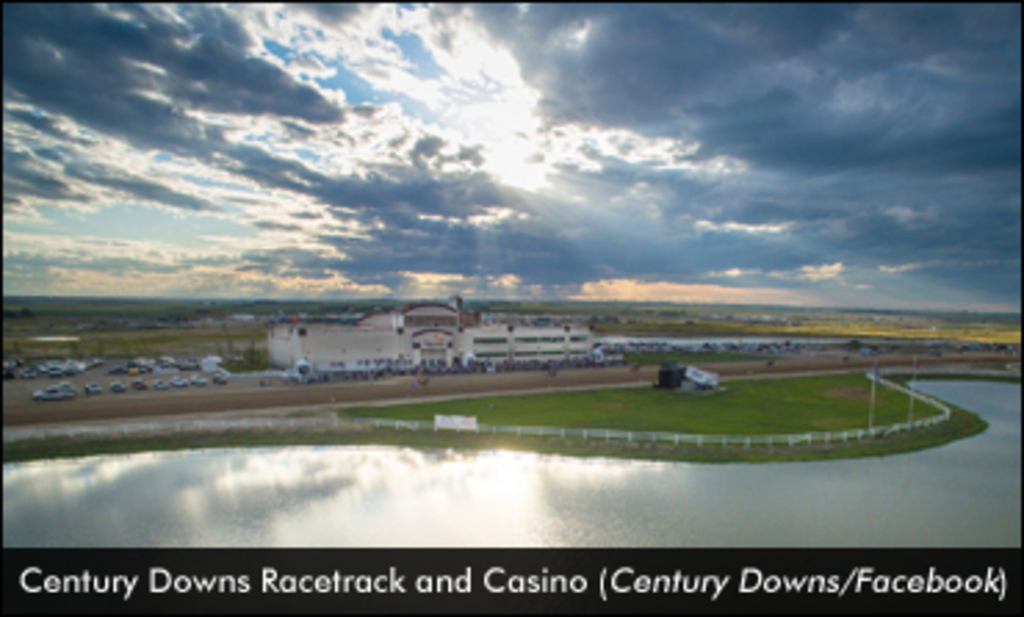 Published:
April 19, 2018 08:01 pm EDT
Now that the racing seasons have ended at Fraser Downs in Surrey, B.C., and are about to close at Cal Expo in Sacramento, California, it's expected that a bunch of horsemen will be bringing their stables to Century Downs.
That should help fill the entry box every Wednesday, although racing secretary Jackson Wittup had enough horses to fill two cards at the Balzac track on the weekend.
"I haven't got room for all the horses here," he told ASHA's Peter Watts. "Some will go to outlying farms including Olds College. We've got a little more stabling here than we had last season but we still don't have enough for everybody."
Horsemen like Ryan Grundy, Richard Remillard, Ricky and Quentin Schneider, Rene Goulet, and Gord Empey will be making their way back from California. The cast of characters coming from Fraser Downs includes Blaine Chappell, Justin Currie, Tyler Redwood, Preston Shaw and Paul Davies. It also includes Keith Clark, who'll be able to stable at his own farm at Dewinton, and Kelly Hoerdt, who'll be taking his stock home to the farm in Beaumont.
Hoerdt will return in triumph after a masterful showing by two of his trainees in Friday night's Penny Bath Memorial at Fraser Downs.
"It was a real scramble for the first half-mile," said Hoerdt. "Everybody wants a piece of the big cheques, so Jim (Marino) and I held back for the first half-mile. Jim had enough left with Cusdmagicdragon to go from last to first in a career-best 1:55.2. I hung in there with Blue Grotto to finish second. And I picked up a win with Alexis Princess in the first race, so it was a good night."
Cusdmagicdragon went off at 36-1 and paid $75.20 for a $2 ticket. Hoerdt shares ownership of the filly with Blair and Erna Corbeil. He also trains Blue Grotto for Topnotch Stables of Beaumont. Hoerdt will finish third in the drivers' standings at Fraser Downs behind Dave Hudon and Paul Davies.
"We've been able to keep our stock trained up and racing well," he said. "We haven't lost a day despite the tough winter. I'm helped by having the Equicizers and the pool at my farm (Bedrock Stables in Beaumont). So, I'll have some horses ready to race at Century Downs next weekend."
It's been a frustrating spring for those horsemen who have chosen to remain in Alberta over the winter. Too much snow and not enough melting has left too many tracks in poor condition to get out on them. Until it warms up a bit, and dries out a bunch, some horsemen may be able to find stabling, but may have to truck their stock in to the racetrack until the farm tracks are ready to be used.
Meanwhile, trainer Rod Hennessy went by 2,000 career wins as a trainer. He scored with Ask For Me in the opener of the Saturday card at Century Downs. And he wasn't resting on his laurels on Sunday, adding three more wins to his trainer's resume. He's been in a sulky for 2,814 wins as a driver.
Standing outside his shed row on Sunday morning, he tried to list all of the racetracks where he has spent time over the past four decades.
"I think I've raced at 14 tracks in Alberta," said Hennessy. "I've raced at just about every track in Ontario except for Rideau Carleton in Ottawa. I have competed in the capital on the ice of the Rideau Canal, a time or two. Assiniboia Downs in Winnipeg, Moose Jaw, Regina, and Saskatoon, Fraser Downs and old Sandown Park in B.C., and a few tracks in California, Michigan and Ohio in the U.S."
While we're tipping the toque to excellence, Serge Masse drove career winner No. 3,000 last Friday evening at Fraser Downs when he guided Tahiti Seelster into the winner's circle. Masse, who calls Edmonton home, also scored with Lizard King, which has raced in Alberta in the past and which has a four-race win streak going at the moment. It's not clear what Masse's plans are for the next portion of the season. He's got a couple of horses in Pennsylvania including Da Magician. He has not requested stalls at Balzac, at least not at this point.
The Sacramento Crowd…
Looking through some numbers for the Cal Expo winter meet in Sacramento, which will come to the end later this month, Alberta horsemen have had a good winter and Alberta-breds are raising some eyebrows with their performances in Northern California. Machabyebaby, a four-year-old gelding owned by Edmonton businessman Lorne Duffield, paced a career-best 1:53 mile in winning last week. He added another win on Saturday.
Five Alberta-based horsemen have driven winners at Cal Expo led by Rene Goulet's 26 wins in 229 starts. Eight different Alberta trainers are represented on the leaderboard, led by Quentin Schneider, who has 21 winners from 159 starters. He's taking care of Machabyebaby in California.
"It's been a good winter," said Ricky Schneider. He and Gary Clark are the first returnees to Century Downs after a winter in California. Schneider was 14th on the trainers' list with 17 wins from 141 starters. Clark posted a 7-9-13 log from 81 starters at Cal Expo.
"I'm excited to see how well a lot of our horses have done down there," said Schneider. "I've been talking to trainers down there who are looking at the fact that 10 stallions have been nominated to the California Sire Stakes program and four of them are from Alberta. They are Vertical Horizon and Santanna Blue Chip from Meridian Farms, and Diane Bertrand and Karen Sobey's new stallion, Outrageous Art, along with Prince Sharka."
"The way the racing calendar sets up, foals by registered Alberta stallions can race the fall campaigns here as two and three-year-olds, and then move to the three and four-year-old ranks once the calendar changes to a new year at Cal Expo. The guys who have two-year-olds in training in California right now are well ahead in terms of training and gate schooling. So, they'll be ready when the two-year-old season starts here in early July.
"We all know there's a shortage of racing stock right now. I think we'll see more California horsemen checking out the ASHA Yearling Sale in September. Those yearlings that can potentially race in both markets, are going to be popular."
A Hall of Fame Person…
The Canadian Horse Racing Hall of Fame has announced Bill Andrew will join its ranks of honoured members as a builder this summer. The work he has done on behalf of the harness racing industry in Canada is admirable.
"I'm very proud of the honour," said Andrew. "It's a tribute to a bunch of people who have worked for me and with me over the years. In addition to my farm staffs here in Alberta and in Prince Edward Island, I especially want to thank Robyn Crowe, the executive director of Nova Scotia Racing, and Lee Drake, the publicist for Red Shores Raceway in Charlottetown. And I want to thank Fred Gillis, Michelle Desjardins, and Colleen Haining at Alberta Standardbred. Sometimes I'll have an idea for an event or a promotion. But ideas aren't much good if you don't have good people to help you make them a reality."
In addition to his time as a horse owner and as proprietor of Meridian Farms, Andrew has found time to serve on a bunch of committees, including the boards of Alberta Standardbred and Horse Racing Alberta.
"I've always believed our association should try to deal with its challenges in the best interests of everybody," he said. "I have valued my time working with other breeds and with the racetracks to try and achieve goals in the best interests of racing. I want to see that fairness remain for the various funding initiatives that are important to each breed. And ultimately, we need to remember that the sport is more than just gambling, and that without fans, there is no racing."
Meridian Farms is standing three stallions in Alberta this year: Mystician, Santanna Blue Chip and Vertical Horizon.
"Vertical's been particularly popular this spring," said Andrew. "We've gotten him nominated to the California Sire Stakes program, which means that he can sire foals that are born in California and become eligible to race in that series. We're getting quite a few calls from breeders there. We've always done well breeding to mares in Alberta and in B.C., and we're getting some other calls from further afield.
"I think we'll have a good season with him and with the others. We've got nine foals on the ground at the moment. I'm not sure if the long winter has impacted things, but we're not quite halfway to having all our mares foal out at this point."
Andrew's induction into the Canadian Horse Racing Hall of Fame will happen on Wednesday, Aug. 8 in Toronto.
New ASHA Board Elected…
Andrew will take another turn as ASHA President after being elected at the AGM on Saturday evening. He succeeds Blair Corbeil, who stays on the board for another year as past president. Nathan Sobey succeeds Kelly Hoerdt as a trainer/driver representative. Don McNeill will chair the owners group, and Tim Lake and Kelly Crump will join the board as directors at large. They join vice-chair Don McDougall, breeders chair Connie Kolthammer and director Rod Starkewski, who were not up for re-election. It's a good group and as usual, there's a lot on the plate for resolution.
Century's Paul Ryneveld updated the 80-plus in attendance on progress at Century Mile, which will not be ready for the harness meet scheduled for the new facility this fall. Alternate arrangements are in the hands of Horse Racing Alberta, which has a board meeting at the end of this month.
"At this point, my main concern is the fall stakes schedule," said ASHA executive director Fred Gillis. "Super Finals are set for November 17 and while a change of racetracks would not be a problem, I can't just cancel the stakes. I'm just waiting to see where we are going to be racing."
(With files from thehorses.com/Peter Watts)