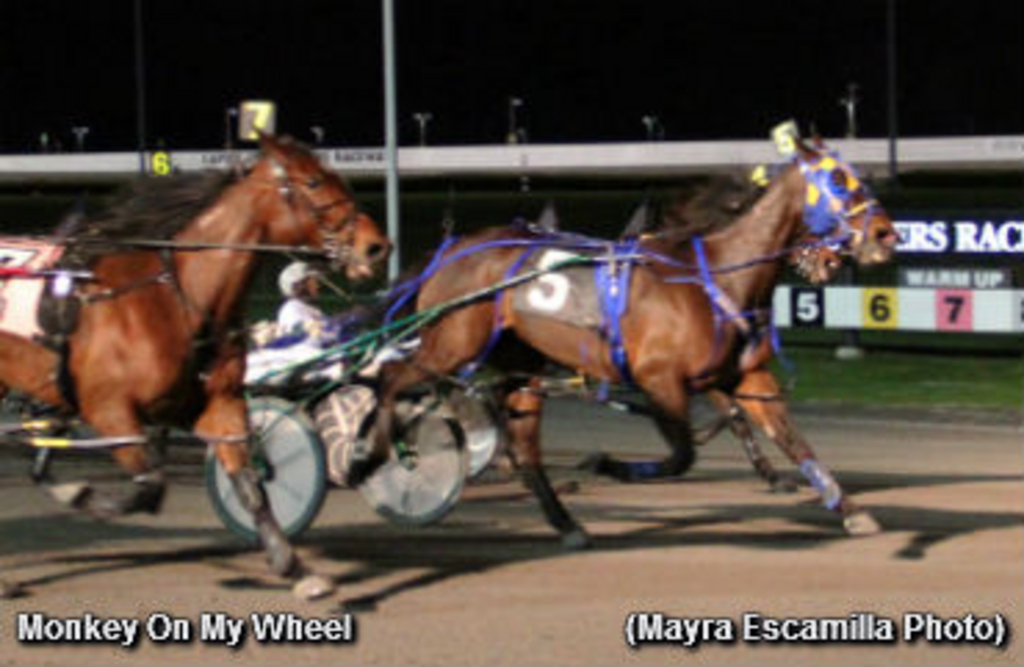 Published:
April 19, 2014 12:28 am EDT
Yonkers Raceway's Good Friday festivities featured the fifth and final round of the Blue Chip Matchmaker for Open mare pacers. A set of $40,000 divisions went postward.
Series points leader Yagonnakissmeornot (Dan Dube, $3.20) did nothing to diminish her reputation, winning the opening event with solid, two-move effort.
Leaving outside her six rivals, the people's choice settled in fourth as series-debuting Scandalous Hanover (Brian Sears) found the lead. After early intervals of :28 and :57.3, Yagonnakissmeornot was again on the move. She tackled Scandalous Hanover just past the 1:25 three-quarters, taking a short lead into the lane. Yagonnakissmeornot never relinquished the baton, winning a by a length in 1:53.2. Camille (Yannick Gingras), shuffled when the leader tired, closed inside for second, with Ramalama (Matt Kakaley) third
For Yagonnakissmeornot, a five-year-old daughter of The Panderosa co-owned (as Allard Racing Inc) by (trainer) Rene Allard, Yves Sarrazin and Kapildeo Singh, she's now 7-for-11 this season (4-for-5 in Matchmaker).
"It was two moves, but she did it all on her own," Dube said, before echoing his assignment from earlier in this series that "she doesn't know where the end of the mile is, but I hope we draw well in (next Saturday night's $371,400) final."
Late to the dance, but making up for lost time has been the millionaires Monkey On My Wheel (Gingras, $29.40). She authored the 13-1 upset in the second Matchmaker elim, going by a tiring 15-cents-on-the-dollar Somwherovrarainbow (Sears) in mid-stretch.
In play early from post position four, Monkey On My Wheel was pocketed early to defending champ Feeling You (Tyler Buter). That was before Somwherovrarainbow moved from third, taking the lead just after a :28.1 opening quarter-mile. It was another :28.1 subsection (:56.2 half) before Shelliscape (Tim Tetrick) - who had left for a seat - took out from fourth. With nothing keeping up with Shelliscape in the outer flow, Monkey On My Wheel slipped out to race second-over. The battle was on in and out of the 1:24.2 three-quarters, with Somwherovrarainbow up a length entering the lane.
However, she would not be able to close the sale, with Monkey On My Wheel going by, then holding off 75-1 rank outsider Summertime Lea (Kakaley) by a head in 1:53.2. The favourite had to settle for third, beaten three-quarters of a length.
"I just didn't want to have to race her first-up," Gingras said of "Monkey On My Wheel. "I was able to drop in early, then get out again. It worked out very well and Brian's horse (Somwherovrarainbow) wasn't able to get away from us."
For Monkey On My Wheel, a six-year-old, Mach Three homebred owned by Mac Nichol of Burlington, Ontario, it was her third win in nine seasonal starts (a win and a second in this series).
Friday's $38,000 Open Handicap Trot was won by favoured DWs NY Yank (Brennan, $3.80) in 1:56.
The George Morton Levy Memorial Pacing Series continues Saturday night, with three, $50,000 divisions (races 4, 5 and 11 on the 12-race card) in that fifth and final prelim round. The $567,000 final of the series also goes Saturday, April 26.
(Yonkers Raceway)