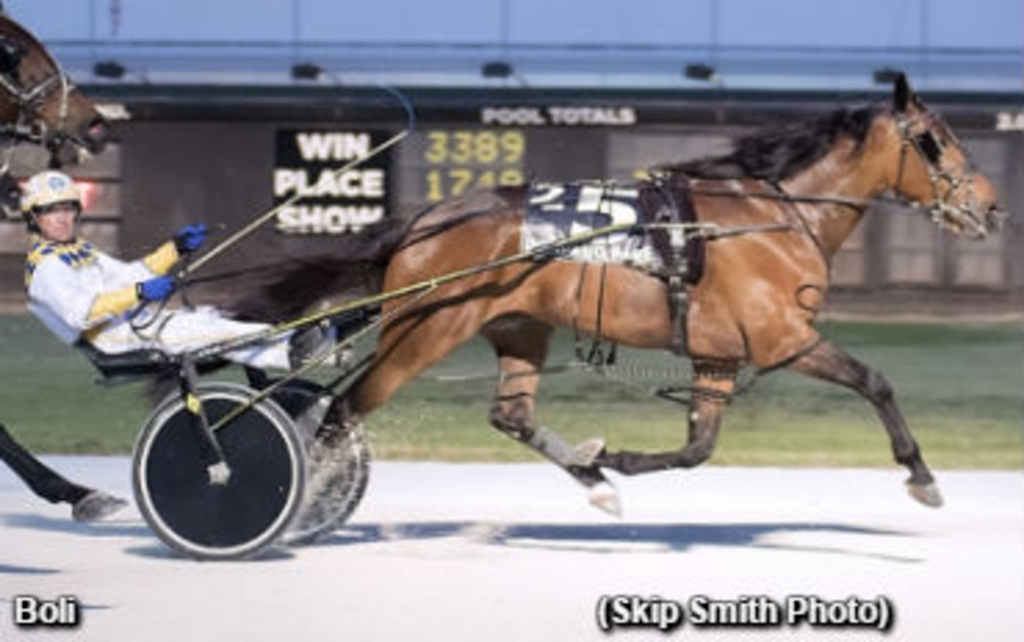 Published:
April 18, 2017 12:06 am EDT
Boli, who was perfectly handled by Wally Hennessey, captured Pompano Park's $10,000 Open Trot on Monday night in 1:54.4.
The five-year-old gelded son of Kadabra stalked Tater Twister, with Jim Meittinis handling his lines, through fractions of :27.2, :56.2 and 1:26 before leaving the coziness of his pocket turning for home and using a :28.3 finale to score by three-quarters of a length over the late-charging Prairie Fortune, driven by Mike Deters, who was making his first appearance in the sulky since November 27, 2016 after battling serious health issues.
Tater Twister did finish third while Sailer Eddie finished fourth after a mild backside bid. Commentary finished fifth in the quintet.
After the race, Hennessey had high praise for his trotter saying, "Sometimes, Boli can be a real handful to drive but, tonight, he was a perfect gentleman every step of the way. He seemed relaxed throughout the mile and, when I showed him the open road turning for home, he responded beautifully.
"Even going back to the winner's circle, he seemed nice and relaxed for a change."
Trained by Dan Hennessey for owners Paul and Patricia O'Neil, Boli won for the third time this semester to vault his 2017 earnings to $20,280. Lifetime, Boli has 18 wins in 55 starts with bounty of $157,474 to go along with a Pompano mark of 1:54.2 earned in his last win two starts back. Boli paid $2.40 to win.
The $8,000 Open 2 Trot went to Diamond Dagger, expertly driven by Walter Ross, Jr.
The five-year-old daughter of ABC Garland took command a right at the :28 opener and went on to post panels of :56.3 and 1:24.4 before strolling home in :29.2 to score a handy win in 1:54.4—her margin 1-1/4 lengths over the late-charging Keystone Bodacious (Kevin Wallis) with Dog Gone Lucky (Mickey McNichol) next, a half-length further back. My Revenuer finished fourth while McKenzie's Star picked up the nickel in the septet.
The always subdued Ross, Jr., summed up the win succinctly by saying, "She went a nice mile. That's about it!"
Trained by Mark O'Mara, who co-owns with Paul Johnson and Melvin Schmucker, Diamond Dagger won for the third straight week while earning her fifth win of the year in 14 starts, sending her seasonal bankroll to $29,735. Career-wise, Diamond Dagger has an 18-8-22 scorecard in 88 starts with earnings at $175,907. Diamond Dagger paid $11.20 to win.
The Florida Amateur Driving Club was in action on Monday night in two events, padding their total contributions to charity, now close to $185,000, and Dein Spriggs took both, not only as the driver, but as the owner, as well.
Dein took the first with A Crown For Lindy—the 11-year-old warrior winning for the 55th time during his career spanning 208 starts. The gelded son of Cantab Hall won for the fifth time this semester, pushing his seasonal earnings to $16,579 and $419,438 lifetime.
Spriggs completed his double by scoring with his Garlandsandpearls in a lifetime best 1:56.3.
The six-year-old altered son of Futile Qwest wired his foes for his sixth win of the year in 14 starts to send his 2017 earnings to $18,755 and $59,501 lifetime.
While both were 2-1 favourites in the morning line, neither went off as the favourite in their respective races—A Crown For Lindy paying $7.60 as the second choice on the board and Garlandsandpearls returning $6.20 as second choice, as well.
Veteran Allen Saul trained both of the trotters for Spriggs.
After each event, members of the Florida Amateur Driving Club, along with several other "professional" drivers at the track, made charitable gifts to two organizations—"A Second Go" and "Go For The Greens."
"A Second Go" was established to raise money for services provided to have a second go at life through therapy and nutritional support, among other things, for cancer patients transitioning from "fighter to survivor."
"A Second Go" was represented by founder Kelly Sudell, on the road to recovery after a successful bone marrow transplant to stop her leukemia in its tracks.
Melinda West represented "Go For The Greens," an organization that fosters, among other things, a healthier planet with a business strategy through the sport of golf.
Racing continues on Tuesday night with mares in the spotlight as the Florida bred Goldstar Rockette, a 10-time winner last semester, looks for her first win of the year in the $8,500 Open 2 Pace. Alabama Shakey, Miss Dollar Mam, Metro Glide, Machin Marley, Jets Are On and Sues Night Out complete the nifty and well-matched septet.
In the "better for the bettor" department, Pompano Park will offer a $10,000 guaranteed pool in the Pick-4, conducted on races 6 through 9, in cooperation with the USTA Strategic Wagering Program.
Post time is 7:20 p.m.
(Pompano Park)