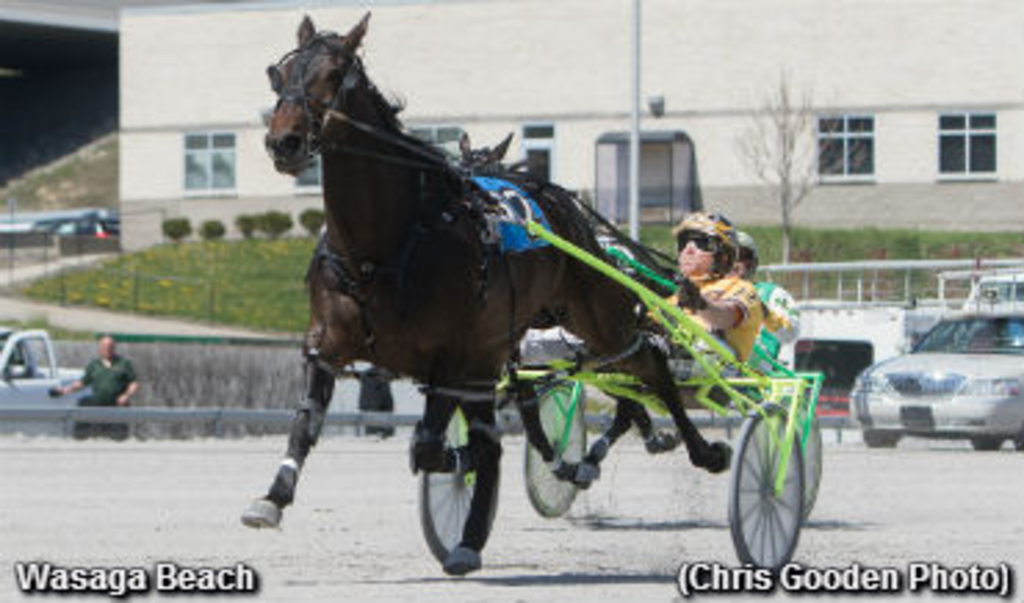 Published:
April 18, 2016 08:11 pm EDT
Wasaga Beach, who didn't win either of her preliminary divisions, moved powerfully first over and rolled to victory in Monday's $33,700 championship of the Do Me Honor Pace for three-year-old fillies at The Meadows.
Wasaga Beach entered the series as the filly to beat, having vanquished three- and four-year-olds in the final of the Donna Dunn Memorial Pace. But she was beaten 26-3/4 lengths in the Do Me Honor opening leg and faded to third in the second leg after cutting the fractions. Tony Hall, her driver in both series, thinks he knows why.
"She got sick directly after the final of the first series," Hall said. "There wasn't time between the two series to do anything with her. We just kind of had to tough it out. So she was dull for a couple starts, but it really wasn't her fault.
"I feel like I over-raced her last week. I take the blame for that. This week, we decided to race her from behind. She'd been good like that before. She seemed to be back to herself today."
The daughter of Somebeachsomewhere-Adela Hanover showed no signs of illness when Hall sent her after the leader, Sweet You, down the backside. She gobbled up Sweet You, who broke stride in frustration, making Wasaga Beach's job easier. She scored in 1:53, knocking nearly two seconds from her lifetime mark. Marty Party Two was second, 2-1/2 lengths back, with Hooves On First third.
Hall is confident Wasaga Beach is ready for even tougher competition.
"I'm sure they'll shoot for the PA Sires Stakes," he said. "I'm thinking she'll have maybe another start or two before that."
Randy Bendis conditions Wasaga Beach and owns with Reed Broadway, Tom Pollack and John Campbell.
In the $22,500 Filly & Mare Not Listed Preferred/Preferred Handicap Pace, a hard-used Medusa got up late to down Show Runner by a neck in 1:50.3 — a career best and just a tick off the track record for older mares. Coffee Addict rallied for show.
Bendis trains the five-year-old daughter of Bettors Delight-Mythical, who now boasts $266,867 in lifetime earnings, and owns with Pollack.
Dave Palone piloted five winners on the 15-race card. Tuesday's program at The Meadows features the $33,100 championship of the Classicality Trot for three-year-old colts and geldings. First post is 1 p.m.
(The Meadows)