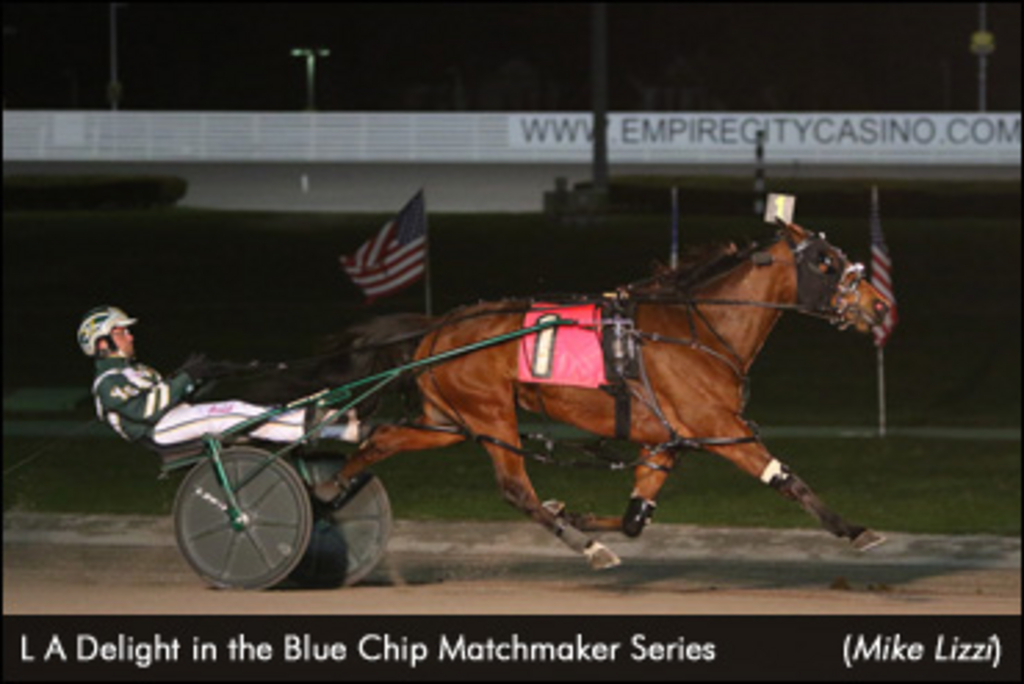 Published:
April 13, 2018 11:30 pm EDT
Yonkers Raceway paid homage to Friday the (April) 13th, wrapping the preliminaries with the fifth round of the Blue Chip Matchmaker.
Three, $40,000 events again brought together many of the best pacing mares in the last chance to impress the electorate.
First Division: A first-up toughie, but Dudesalady (Tim Tetrick, $27.80) prevailed in a blanket finish.
Early leader Lakeisha Hall (George Brennan) gave it up to Lady Shadow (Jason Bartlett), with the latter setting early intervals of :27.3 and :56.4. From post position No. 2, Dudesalady took out of fourth, with 11-10 favourite Mackenzie A (Jordan Stratton) towed from second-over.
Dudeslady found her best stride after a 1:24 three-quarters, though Lady Shadow owned a length and a quarter lead in the lane. The pursuer surged late, whipping the pacesetter by a neck in a life-best 1:52.4. Lakeisha Hall found inside room but was photoed for second.
Call Me Queen Be closed well for fourth, while Mackenzie A wound up a flat fifth, the quintet of payees separated by just a half-length.
"I thought she was good last week (third), so I wasn't surprised she dug in," Tetrick said.
For fifth choice Dudesalady, a four-year-old daughter of Shadow Play co-owned by First Staters M&L of Delaware & Victoria Dickinson and trained by Bruce Saunders, the win was her fifth in a dozen seasonal starts (one-for-five in series). The exacta paid $131.50, with the triple returning $629.
Second Division: Pole-sitting Sell A Bit N (Stratton, $8.50) went the distance (:27.1, :56.3, 1:25.1, season's-best 1:53.1). She stuffed Medusa 19-10 fave (Yannick Gingras) in behind, then dealt with a first-up Twinkle (Eric Goodell).
The latter could have been a tad better 'front ma'am' for Newborn Sassy, who herself was gapping a bit.
Newborn Sassy rallied wide and did get into second. Sell A Bit N owned a three-quarter length lead in and out of the final turn, maintaining that margin to the wire. Medusa was third, with Twinkle fourth.
For third choice Sell A Bit N, an eight-year-old Down Under daughter of Julius Caesar owned by Von Knoblauch Stables and trained by Peter Tritton, the win was her fifth in 10 '18 tries (two-for-four in series). The exacta paid $42.40, with the triple returning $155.50.
Third Division: Well, this was a surprise. Series domimnatrix Shartin N (Tetrick), who had won all three of her Matchmaker starts before getting a week off, couldn't get out of her own way.
The 3-10 choice broke right at the start, caught the field, then jumped it off again at the half.
While this hard-to-believe was happening, pole-sitting L A Delight (Gingras) retook from Clear Idea (Mark MacDonald), then held the other three in-range lasses at bay (:28.2, :57.4, 1:25.1, season's best-matching 1:53.2).
Clear Idea was second, beaten a length and a half, with Shesjustadelight N (Ron Cushing) third.
Shartin N wound up last among the octet.
"Just wasn't her night," Tetrick said. "There have been times when she's been fussy with her mouth, and I don't know if that's what happened. She jogged back to the paddock and seemed sound, so we have to see. "
For second choice L A Delight, a five-year-old daughter of Bettors Delight owned by Diamond Creek Racing and trained by Nancy Johansson, she's now two-for-four this season (two-for-three in series). The exacta paid $59.50, with triple returning $298.
To view the final standings, click here. Be advised these are not necessarily the entrants for the Saturday, Apr. 21 final (purse $373,000) and consolation ($75,000). Those participants shall be determined by the race office in accordance with the conditions of the series and in advance of Monday afternoon's (Apr. 16) draw.
Saturday night (Apr. 14) offers a trio of $50,000 divisions of Free-for-Allers in the fifth (final) round of the George Morton Levy Memorial Pacing Series.
(With files from Yonkers Raceway)