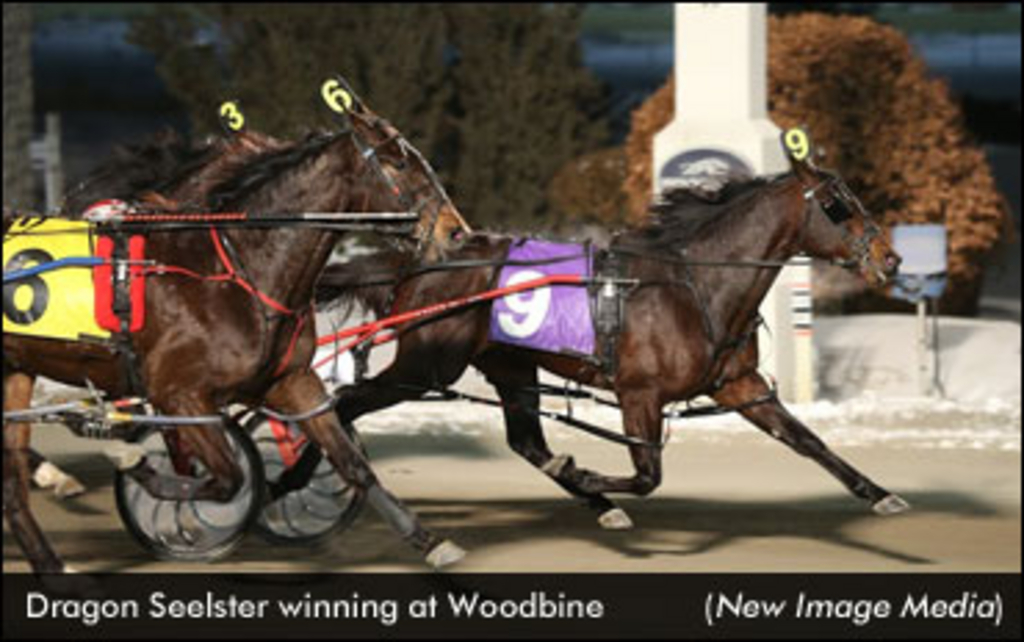 Published:
April 13, 2014 06:48 pm EDT
Determined sophomore pacer Dragon Seelster will look to defy his 8-1 morning line odds as he seeks his second career win in Monday's $36,200 Youthful Series final at Woodbine Racetrack.
Trained and driven by Paul MacDonell, Dragon Seelster has had a credible to season to date in six appearances. The bay colt has crafted a 1-2-3 record this year while earning $21,750 in purses.
"He's certainly been racing very well and most important is that he's been consistent," said MacDonell. "He's a beautiful horse to be around and he seems to be making a good showing of himself."
The son of Dragon Again was a $19,000 yearling purchase for owner Dave Hudson and former NHLer and head coach of the London Knights, Dale Hunter.
Dragon Seelster went winless as a rookie for previous trainer Charlie Norris while racing in Pennsylvania. He capped off his freshman campaign with $11,410 in earnings from five starts.
This season, however, has been the turning point for the youngster.
"I got him in February and to be honest, I wasn't sure what to expect from him," said the Guelph, Ont. resident. "He's not the biggest horse and I wasn't sure how much speed was there. What I can say is that what he lacks in size, he makes up in determination. He's a gutsy horse and there's no quit in him."
Heading into the final of the Youthful Series, MacDonell has his eye on a specific route for his pupil.
"He's a trip kind of horse," he said. "He's better following horses and that's likely what's going to happen in the final. Post eight doesn't help us much either. Last week I put him on the front and he got a little lost."
Following the Youthful Series, MacDonell will be getting his student ready for another up-and-coming series at the Rexdale, Ont. oval.
"The Diplomat begins in a couple of weeks, so that is what's next for him," said the 2008 O'Brien Award winner as Driver of the Year. "I'm not sure what the plan is with him long term, but for now we'll take it week by week. He continues to improve and [is] developing into a very useful racehorse."
The Youthful Series final is slated as race seven on Monday's 10-race card. First post time is set for 7:25 p.m.
The field will line up as follows:
1. Reasonable Force
2. Highland Tartan
3. Royal Reception
4. Andreios Kardia
5. Kuchar
6. Glory Beach
7. Regal Son
8. Dragon Seelster
9. Twomickeytrip
10. Account Rollover
To view Monday's harness racing entries, click on the following link: Monday Entries - Woodbine Racetrack.
(With files from WEG)