Published:
April 12, 2017 12:12 pm EDT

Millionaire down under pacer Christen Me has arrived at the Harrington, Delaware farm of trainers Jim King Jr. and Jo Ann Looney-King, and the former has provided an update on the multi-stakes winner.
News of Christen Me making the move to North American broke in early March, and his new owner, Richard Pollucci stated later that month that he was very excited about bringing the nine-year-old over.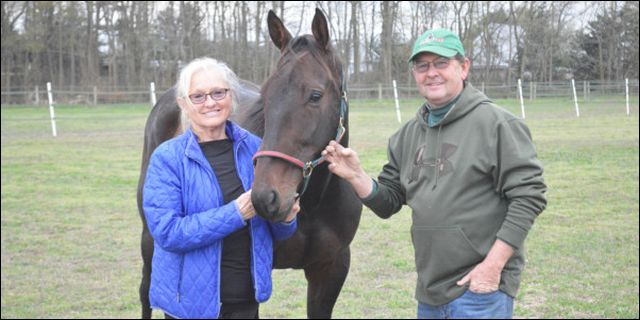 Jo Ann Looney-King and Jim King Jr. pose with Christen Me on their farm in Harrington (The Journal/Ben Heck)
According to an article by the Harrington Journal, Christen Me arrived in Delaware last week, and King has given an idea as to when he will start pacing charted miles.
"He's got to qualify here in the United States," King said. "We're probably about three weeks from that, and then we'll try to get him started someplace – wherever's available – that we feel is the best for him."
In terms of Christen Me's first stakes test, King stated that "His first stakes race is at Tioga Downs in New York, called the Roll with Joe."
(With files from the Harrington Journal)