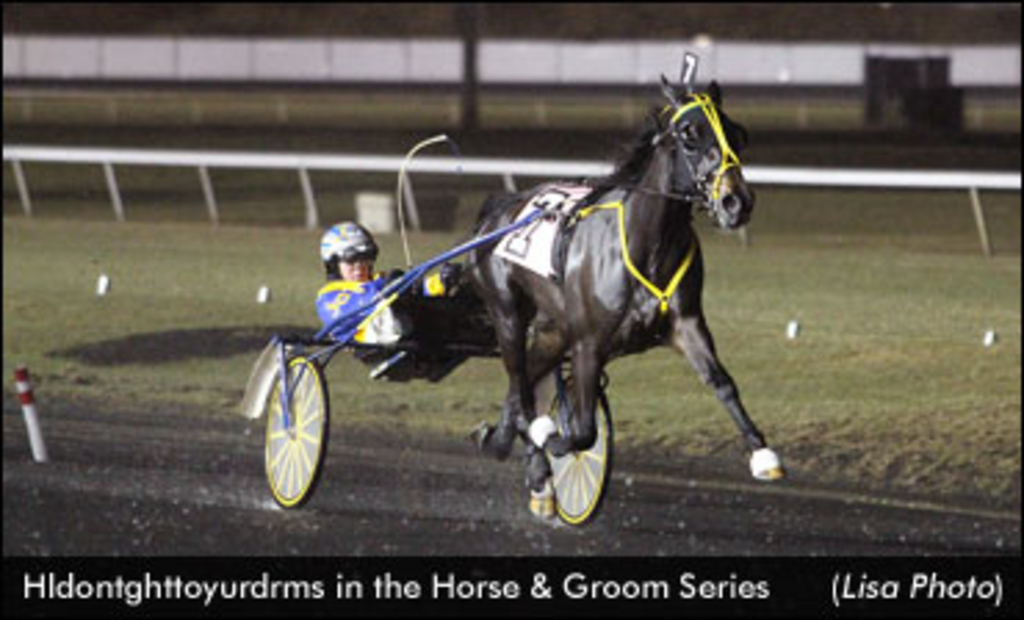 Published:
April 12, 2014 06:48 pm EDT
Hldontghttoyurdrms, who recently captured the Horse And Groom final at The Meadowlands late last month, will headline the opening round of the Don Mills Series tonight (Saturday evening) at Woodbine Racetrack.
The talented son of Muscles Yankee will begin from post six in the lone division, set for race nine, for driver Jonathan Drury and trainer Corey Johnson.
A 15-time winner in his career, Hldontghttoyurdrms has certainly made his mark on the WEG circuit this season. The five-year-old boasts a 5-2-0 record from nine starts this year, including four straight wins in Preferred events at Woodbine.
"He definitely looks like one of the better ones in the series," said Drury. "He's had a terrific season so far and is coming into the race in top form. I can't say enough good things about him. He makes my job look easy."
After finishing fourth and second in the preliminary legs of the Horse And Groom Series, Hldontghttoyurdrms showed his true colours as he led gate-to-wire to capture the $60,600 final by five lengths in 1:53.4 over a sloppy track.
"He wasn't himself in the first leg and wasn't trotting the best in the second round, but in the final he was on his game," said Drury. "Corey did a great job getting him right and I knew at the quarter he was back to his old self. He grabbed a hold of me like he usually does and was all business."
Hldontghttoyurdrms then shipped home following the final and was entered to race at Woodbine the following Thursday in the $34,000 Preferred Trot.
Drury elected to use the same tactics with Hldontghttoyurdrms, but the result was different as the bay gelding finished second behind Amigo De Grande.
"You can't take anything away from his effort the other night," said the young reinsman. "He was parked out past the three-eighths, cleared, faced pressure right away and was still around at the wire. He also shipped home from The Meadowlands on Sunday and raced Thursday, so I'm sure that took a little out of him as well."
Drury was quick to mention the attributes of the career earner of $233,015, who is owned by Frank and Saverio Spagnolo along with Frank Schimizzi.
"He's such a handy horse to drive," said Drury, a resident of Rockwood, Ont. "He's got terrific gate speed and then he'll come right back to you in the second quarter. I'm not sure where his bottom is, but he's going to go a big trip one day. I think he's better off a helmet and if solid fractions are put up, I'm not sure how fast he can go."
Drury is also on pace for a career year with 61 victories to his credit along with over $600,000 in purse earnings.
"It's certainly been a lot of fun this season," noted the 25-year-old driver. "Anytime you get power it certainly helps your confidence and driving horses like Hldontghttoyurdrms, and for Corey, good things usually happen. Hopefully it continues."
The Don Mills is for four and five-year-olds that are non-winners of $150,000 as of December 31, 2013.
The lone $18,000 division of the Don Mills will line up as follows:
1. Its Payday Friday
2. West Side Story
3. Tough Mac
4. Mego Moss
5. Photo Mass
6. Hldontghttoyurdrms
7. Enough About You
8. Crosbys Clam Bake
9. Sixth Man
10. Our Mojo
11. Quit Smoking Now
To view Saturday's harness racing entries, click on the following link: Saturday Entries - Woodbine Racetrack.
(With files from WEG)