Published:
April 11, 2018 11:31 am EDT
Born To Thrive and Second Sister took top honours in their respective $15,000 trotting features at Pompano Park on Tuesday night (April 10).
Born To Thrive, a five-year-old gelded son of Swan For All, raced first-up from fourth after the half and went on to stop the timer in 1:55.1 for Rick Plano. The track was labelled 'good' due to afternoon rains. The fractions were cut in :27.1, :57.1 and 1:26. The late-surging Uncle Hanover, handled by Andy Santeramo, finished second, three parts of a length away. Boli, with Wally Hennessey at his lines, finished third after a trip in the garden spot much of the way. Thundercrest finished fourth and Prairie Fortune fifth.
"When Born To Thrive is on his game, he's as good as any," Plano said. "He's just a docile, friendly horse that will follow you around even without a lead shank. He's that calm.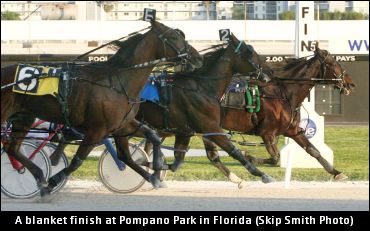 "I bought him for 'peanuts' as a three-year-old and he paid immediate dividends. I remember I bought him on a Saturday, picked him up on a Sunday, trained him on a Monday, qualified him on a Wednesday, entered him in a (Indiana) sire stakes that afternoon and he won the following Saturday, making him eligible to the final, which he won."
Owned by Maryann Plano along with John Campagnuolo and Victor Contento, Born To Thrive was sent off as third choice at 5-1 and paid $13.00 to win.
Second Sister, the sleek six-year-old daughter of Deweycheatumnhowe, was a gate-to-wire winner for Jim Meittinis, as she hit the wire in 1:55.3. The fractions were cut in :27.3, :56.2 and 1:25.4.
"She (Second Sister) has been really good the last several starts and so I thought, since I had a great post here (Post 5), that I'd leave out of there and either lead the way or get a nice trip.
"Mike (trainer Deters) has her sharp and competitive right now, so it worked out well for us."
Sent to the gate as the even money favourite, Second Sister paid $4.00 to her multitude of backers.
Pompano racing will continue this coming Sunday night (April 15). The $15,000 Open Handicap Pace will feature Miso Fast, who will be seeking his second consecutive victory of the season. He will have to overcome the outside post against his older rivals, which will include Hollywood Sign A, Dees Rocketman, Rock On Moe, track record holder Panocchio, Doo Wop Hanover, Drachan Hanover and Fritzie Pic Up Man.
Post time for the card is set for 7:20 p.m.
(With files from Pompano Park)