Published:
April 11, 2018 04:06 pm EDT
Richard Remillard, a 62-year-old native of Winnipeg, Manitoba is on the cusp of completing his first season of competition at Cal Expo.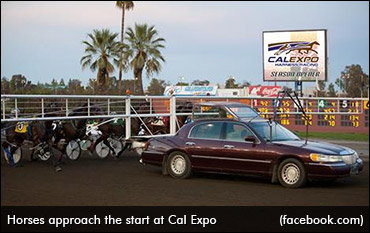 Stating the obvious, Remillard related that, "It's been nice to get away from the cold."
Remillard fell in love with the trotters and pacers when introduced to harness racing by his brother-in-law as a teenager. He has spent most of his time over the last 40 years dividing his time between his day job as a meat cutter and market manager while maintaining a ranch in Winnipeg.
"It was only two years ago that I decided to concentrate solely on the horses," he explained. "My partner, Val, recently retired, and after talking to Quentin Schneider, we decided to come down to California and give it a try before we get too old."
$10,000 Guaranteed Pick 6 Pool At Cal Expo Friday
A $5,100 carryover in the Pick 6 with a $10,000-guaranteed pool highlights Friday night's Cal Expo program.
The Pick 6 will cover Races 5 through 10 and first post for the Watch and Wager LLC program is 6:40 p.m.
There are also two wagers offered each night that come with a reduced 16 per cent takeout rate – the 50-cent Pick 5 on the first five races and the 20-cent Pick 4.
The Pick 4 features a $50,000-guaranteed gross pool on Saturdays and $30,000 on Fridays.
(With files from Cal Expo)