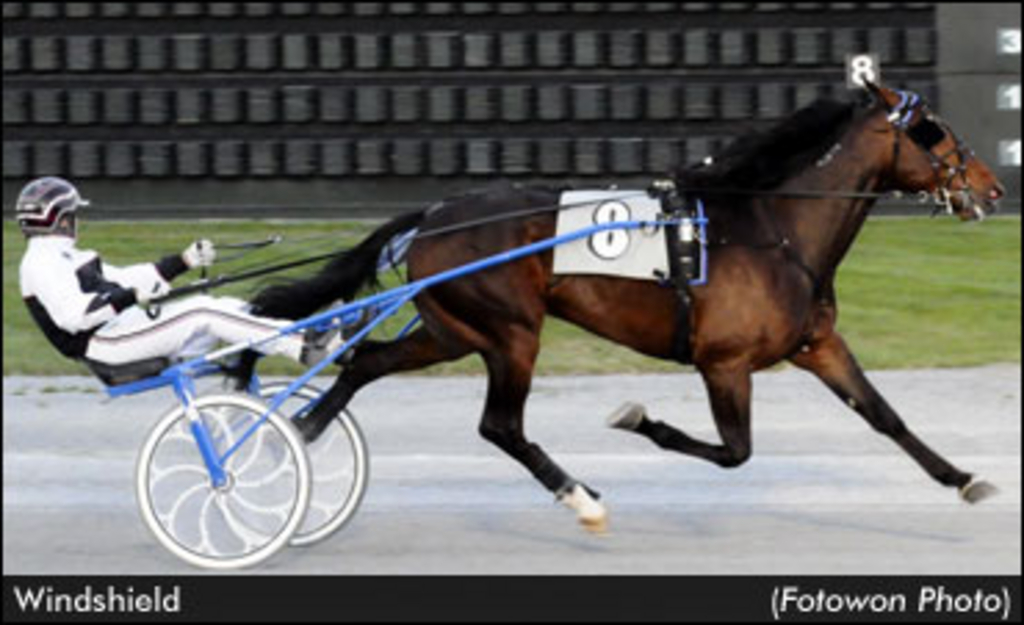 Published:
April 11, 2012 09:41 pm EDT
Windshield wiped away the opposition to win the $100,000 Delaware Standardbred Breeders Fund (DSBF) Three-Year-Old Colt Trot Final on Wednesday at Dover Downs
while Allmar Surprise was never headed winning the $22,500 Jr. Open Trot.
Despite drawing the outside post in a field of eight and with the greatest challenge coming from Im So Striking leaving from the rail, Windshield completed a sweep of the two $100,000 DSBF finals -- for two-year-olds and three-year-olds -- by lowering his lifetime best clocking by nearly three seconds. Ross Wolfenden guided the all-Delaware bred Political Briefing-CR Mimomsa colt to a 1:56.2 triumph.
Im So Striking got away near the back of the field. Wofenden pulled Windshield out of third and quickly got to the front. At the half mile, trainer-driver Eddie Dennis moved Im So Striking to the outside and quickly charged up to take on the leader, but could get no closer than half a length. Windshield completed a :28 final quarter to win by three-quarters of a length. Bold Strike, handled by Art Stafford Jr., was third best. Westgate Melvin (Jim Morand) and Boss The Hoss (George Dennis) took fourth and fifth money respectively.
The victory completed two DSBF final victories for Nanticoke Racing, trainer Les Givens and co-owner and driver Ross Wolfenden. They scored on Monday when Flight Director won the $100,000 Colt Pace. Windshield now has won 11 of 13 races with one second adding up to $70,000 this year and $115,299 lifetime.
Art Mergenhagen and Rod Allen Inc.'s Flash Commando, an Allen homebred son of CR Commando-CR Penny Lane, trained and reined by Carlo Poliseno, was an easy 2:03.3 winner of the $20,000 DSBF sophomore colt trot consolation. Take Notice (Jim Thompson) was runner-up. This Is It Sam (Roger Plante) was the show finisher.
Allmar Surprise became the winningest trotter of the meet scoring her fifth success with trainer-driver Vic Kirby directing a wire-to-wire 1:54.3 victory. Mandabra (Corey Callahan) was next with Struttin Conway (Tony Morgan) third. Chris Giaccio owns the Angus Hall-Benita Victory mare, the only female in the field. Allmar Surprise has now won $407,348 in her career, including $58,170 in 2012.
Meet leading driver Corey Callahan collected four winners. Ross Wolfenden and owner and trainer Dylan Davis had two wins each.
The final spotlight on a full week of DSBF sophomore trotters and pacers vying in $100,000 finals concludes on Thursday with the filly trot.
(With files from Dover Downs)