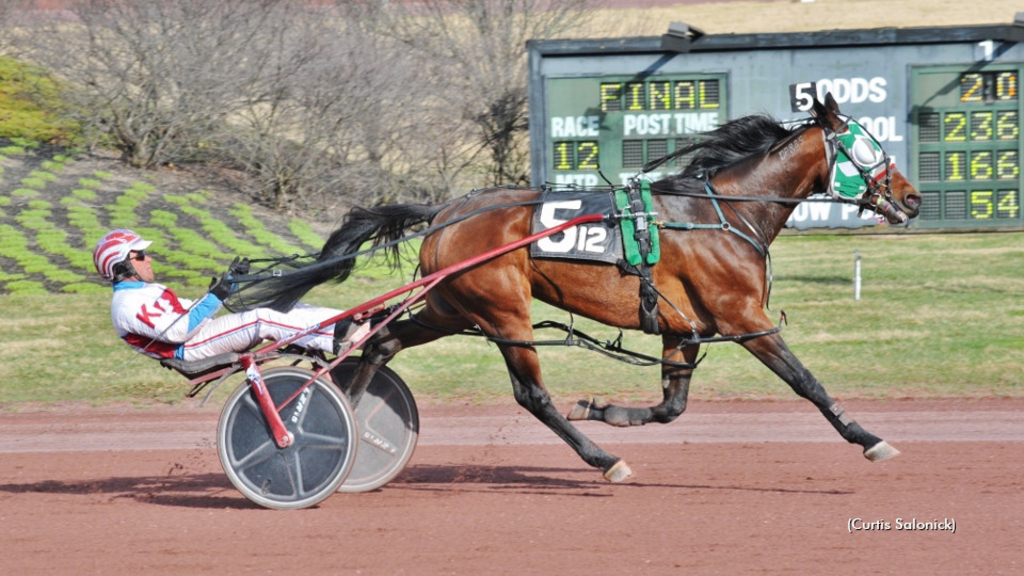 Published:
April 1, 2022 01:54 pm EDT
Matt Kakaley rolled through the first quarter of 2022 and hopes to continue to build momentum as the year goes on.
Kakaley, who recently turned 34, is No. 2 among all drivers in North America in purses with $1.78 million and leads the driver colony at The Downs at Mohegan Sun Pocono in wins with 44. In addition, he is third in wins among drivers at Yonkers Raceway with 66.
This past Saturday, Kakaley swept the two Game of Claims Series championships on the card at Pocono, where he is clicking at a nearly 26-percent win rate. At Yonkers, he has been sitting behind top horses in both the Blue Chip Matchmaker Series and MGM Borgata Series as they head to their third of five preliminary rounds.
"It's been a really good start," said Kakaley, who has won 5,405 races in his career and was 10th in earnings in North America last year. "I'm driving for some live barns right now. At Pocono, I was fortunate enough to pick up the right horses in each leg of that claiming series and won the two finals. It just worked out really well. Yonkers has been going good for me too. I've been driving for people whose barns are doing well, they have them all ready, and that helps immensely.
"Once you're on a little bit of a roll, people start noticing and start using you more too. My goal is to hustle hard, do Yonkers and Pocono, and hopefully catch a couple stakes horses along the way. We'll see what happens."
In the Borgata Series for older male pacers, Kakaley won a second-round division with Jacks Legend N this past Monday. Kakaley drove the Josh Green trainee four times last year and had two wins and a third in the Open Handicap.
Jacks Legend N, an eight-year-old son of Bettors Delight-Larissa Rose, is part of a crowded leaderboard in the Borgata's point standings. Nandolo N, who is 2-for-2 in the event, leads with 150 points, followed by returning champion This Is The Plan with 125. Jacks Legend N is among a group of seven horses tied for third with 100 points.
On Monday, Jacks Legend N is the 2-1 morning-line second choice behind Nandolo N in the fifth of five third-round divisions at Yonkers. In his previous start, Jacks Legend N won by a head over American History in 1:51.2. It was the fastest mile of 12 races on the card that night, and one of only two to go faster than 1:52.4.
"He was awesome last week," Kakaley said. "He's a very good horse. He wants to win, he knows how to win, and he can handle any trip you throw at him. I think he's one of the top ones. I'm very confident with him."
Kakaley has two more drives Monday in the Borgata Series, one with longshot Shoobee Doo A and the other behind None Bettor A, who was a second-place finisher in the first leg of the series but missed the second round when he was scratched sick. It will be Kakaley's second time with None Bettor A; he won an Open Handicap with the nine-year-old gelding last August.
In the Blue Chip Matchmaker Series for older female pacers, Kakaley's assignment is with Best Head West, who competes in the third of three third-round divisions Friday night. The four-year-old mare has two second-place finishes in the event and is seventh in the standings. She missed by a nose against Mystical Carrie in her previous start.
Best Head West, trained by Nick DeVita, will start tonight from post six and is 5-1 on the morning line. Racine Bell, who has a win and second in the series, is the 2-1 favourite.
"She's turned into a really nice mare," Kakaley said. "She's raced great both times. One more step (last week) and she would have won. She's been doing it the right way, finishing up strong. This week, she's got a little bit of a bad draw. But with some luck the next two weeks in the draw, she's going to continue to do well."
The top-eight horses at the completion of each series' five preliminary legs are eligible to advance to their respective finals on April 25 at Yonkers. Racing begins at 6:55 p.m. EDT.
(USTA)