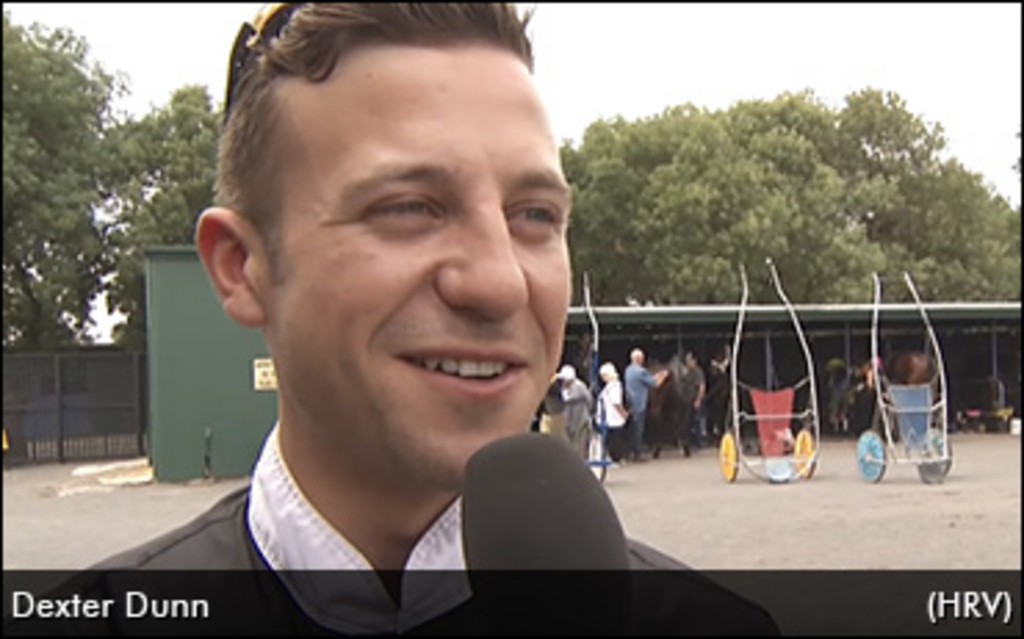 Published:
March 9, 2016 09:26 am EST

Dexter Dunn has taken a stranglehold on the International All Star Series with a magnificent Wednesday at Maryborough.
Victories in the day's opening two series races and a third in the last propelled the Kiwi 9.5 points clear of the competition on the leaderboard and helped wrestle the series back into the World's favour.
But the Vics also had their moments, with ultra-consistent Kerryn Manning finishing third in three of today's four races to be the day's top point scorer and shoot to outright third on the leaderboard.
By day's end and after 12 of the series 22 races, Yannick Gingras replaced Chris Alford as the favourite with the TAB to win the award, with Alford blowing out to $6.50 after a luckless day in the sulky.
The last race winner, Gingras, who sits second at the end of day three, was tightened in to $2.50 favourite, just inside Dunn ($2.60).
Dunn has been at the forefront throughout the series, sitting second after day one at Tabcorp Park Melton and day two at Echuca, when he was only one point in arrears of Alford.
But, with four seconds and a third to his credit, it wasn't until race nine that the 26-year-old New Zealander was first past the post.
"I got on a trotter with a bit of form, it was pretty easy to drive really, so I just sat there and it did all the work," a modest Dunn told Corey Callahan after the race in a @TrotsAllStars interview.
The 'it' Dunn refers to was Suave Taj, a four-year-old gelding for trainer Leroy O'Brien. Dunn shot the $1.70 favourite to the front from barrier seven and it never looked troubled, with only Brett Miller (US) driving Akotiri remaining in earshot while the next closest (Anthony Butt with Rumspringer) was a further 22m in arrears.
The stars second race on Wednesday was a little more willing, and it appeared to be in Gingras' grasp before his tiring gelding, Brent Lilley-trained Kyvalley Barney, broke in the final 50m to enable Dunn to swoop in and win with Sonetto.
The Ross Graham-trained mare held off a fast-finishing Tobylin for Kerryn Manning, who claimed second ahead of Gingras, beaten only a head.
Second would be the theme of Manning's day, having replicated that placing in the day's third and fourth races.
In the third Gavin Lang put his favourite, Sparkling Success, into cover until Kerryn Manning moved Very Belle to the lead, leaving Lang facing the breeze.
There they remained to the final bend, when Sparkling Success gradually overcome Very Belle to claim a second win in succession for the gelding and his trainer/owner John Meade.
"Today he never felt like doing a thing wrong," Lang said of Sparkling Success. "He was the best horse on paper and that was the way it turned out."
Manning again found the front deep into the home straight in the last series race of the day, but this time it was Gingras who swooped in, using the Maryborough sprint line to career away with six-year-old mare Sweet Wise. "She felt good and it made my job easy," Gingras said.
Trainer Basil Dooley's $4.10 shot won by 3.9m from Lisandros (Manning), with Dexter Dunn driving Rule Of Thumb to third to reassert his authority at the top of the leaderboard.
The day began for the International All Stars with a trip to the historic Maryborough railway station, where Central Goldfields Shire Mayor Geoff Lovett oversaw a warm welcome.
Next stop will be Ballarat's Bray Raceway on Thursday.
International All Star Series day three leaderboard: Dexter Dunn, 98 points; Yannick Gingras, 88.5; Kerryn Manning, 85.5; Brett Miller, 83; Greg Sugars, 81; Chris Alford, 75; Gavin Lang, 71.5; Jason Lee, 71; Corey Callahan, 61; Anthony Butt, 60.
Overall leaderboard: World, 390.5; Victoria, 384.
(with files from HRV)