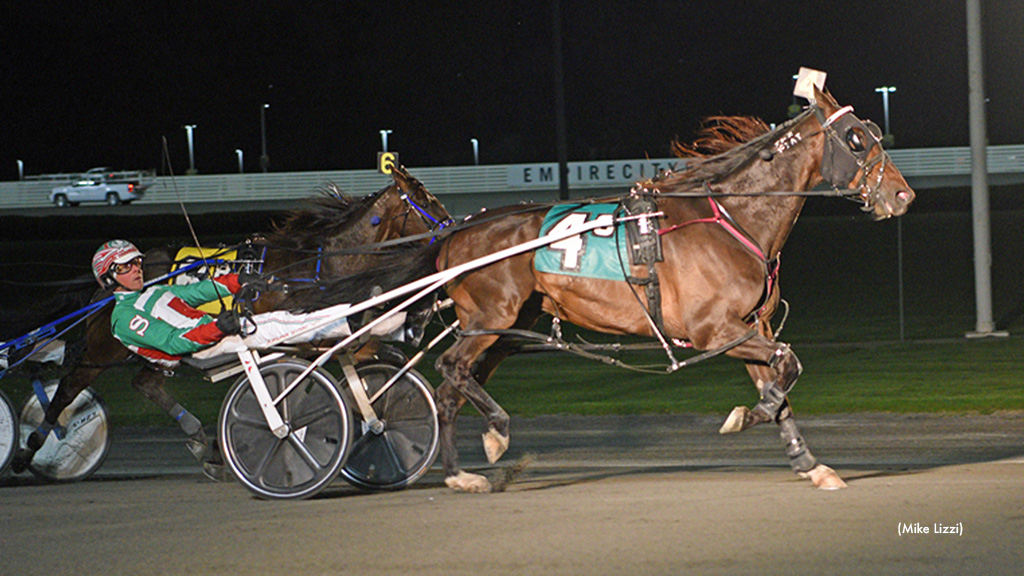 Published:
March 7, 2023 10:28 pm EST
Funatthebeach N and Drama Act, winners of the 2022 MGM Borgata and Blue Chip Matchmaker finals, respectively, are on the list of nominations and ready to defend their titles when each series commences at MGM Yonkers Raceway later this month. The two events launch a stakes schedule worth more than $6 million including Grand Circuit and New York Sire Stakes races.
A total of 37 older male pacers paid the $5,000 nomination fee to be eligible to the MGM Borgata, down slightly from 40 the previous year. The series begins on Monday, March 20 and continues for five consecutive weeks with $50,000 preliminary legs before a $200,000-added final estimated to boost the purse to $500,000 on April 24.
Funatthebeach N won two legs and the final of the MGM Borgata in 2022 and has started his year off nicely with four wins in seven starts for owner Mark Ford and trainer Jeff Gillis. The nine-year-old Down Under import was able to parlay his success at MGM Yonkers Raceway to a MGM Northfield Battle of Lake Erie victory, and the MGM Borgata winner will have that opportunity again.
MGM Yonkers Raceway will offer the MGM Borgata champion a win-and-you're-in opportunity to both the $200,000 Battle of Lake Erie at MGM Northfield Park on June 10 and the $200,000 MGM Aria Pace at Yonkers on MGM Yonkers International Trot Day (Sept. 23).
Other notables on the nomination sheet for the MGM Borgata include 2021 MGM Messenger Pace winner American Courage, millionaires Jimmy Freight, Tattoo Artist and Lochinvar Art A, 2022 MGM Borgata runner-up Leonidas A and 2021 winner This Is The Plan.
The Blue Chip Matchmaker had 29 older pacing mares sign up in 2023 led by the aforementioned Drama Act. Sent out by trainer Ron Burke for The OK Corral, the six-year-old has already won two of three starts this year and is slated to leave from post two in Friday's (March 10) $36,000 Open Handicap at the Westchester County oval. She'll face fellow nominees Easy To Please (post one), Karma Seelster (post three), Racine Bell (post four) and Gias Surreal (post five).
The Blue Chip Matchmaker kicks off on March 17 for five straight Fridays and will conclude with a $125,000 added final that should go for at least $250,000 on April 24. The early rounds of the Blue Chip Matchmaker will go for $40,000 each.
To complement the MGM Borgata Series, the Empire Terrace dining room will be open 6 p.m. to 10 p.m. on Mondays from March 20 to April 24. Owners and fans are invited to attend the races and enjoy food from an ala carte menu. No reservations are required.
Click here to see the complete MGM Yonkers Raceway stakes schedule.
Live harness racing at Yonkers is offered from Monday to Friday with a 7 p.m. first-race post-time through April at which time Wednesdays are dropped from the schedule in favour of Saturdays.
A complete list of eligibles to both the MGM Borgata and Blue Chip Matchmaker series appear below.
MGM Borgata Eligibles
American Courage
American Dealer
Anothrmastrpiece N
Backstreet Shadow
Bad To The Bone N
Bee Two Bee
Belmont Royale N
Burnham Boy N
Casual Cool
Covered Bridge
Dean B Hanover
Diamond Beach
Funatthebeach N
Hellabalou
Hemsworth N
Idealsomemagic A
Ilikemebettor A
Im Sir Blake A
Jacks Legend N
Jimmy Freight
Leonidas A
Lochinvar Art A
Loorrim Lake A
Nandolo N
None Bettor A
Oakwoodnitowinit IR
Priceless Beach
Rockin Marty A
Rockin Withelvis A
Semi Tough
Soaring Now
Splash Brother
Stretch The Line
Tattoo Artist
The Ideal Dancer A
This Is The Plan
Undrthsouthrnsun N
Blue Chip Matchmaker Eligibles
Alta Madeira N
Amazing Dream N
Annerie N
Commander Cathy N
Delitfulcatherin N
Dougs Babe
Drama Act
Easy To Please
Gias Surreal
Gotthegreenlight
Hot Mess Express
Incaseyoudidntknow
Karma Seelster
Lit De Rose
Lucky Artist A
Lydeo
Mabalene N
Majorca N
Man Dontforget Me
Mcmarkle Sparkle
Morning Has Broken
Racine Bell
Reachthruthesky As
Sweet Treasure
The Pantheist A
Trick Of The Light
Uptown Hanover
Wahs Fire Bug N
Watch Me Now N
(Yonkers Raceway)