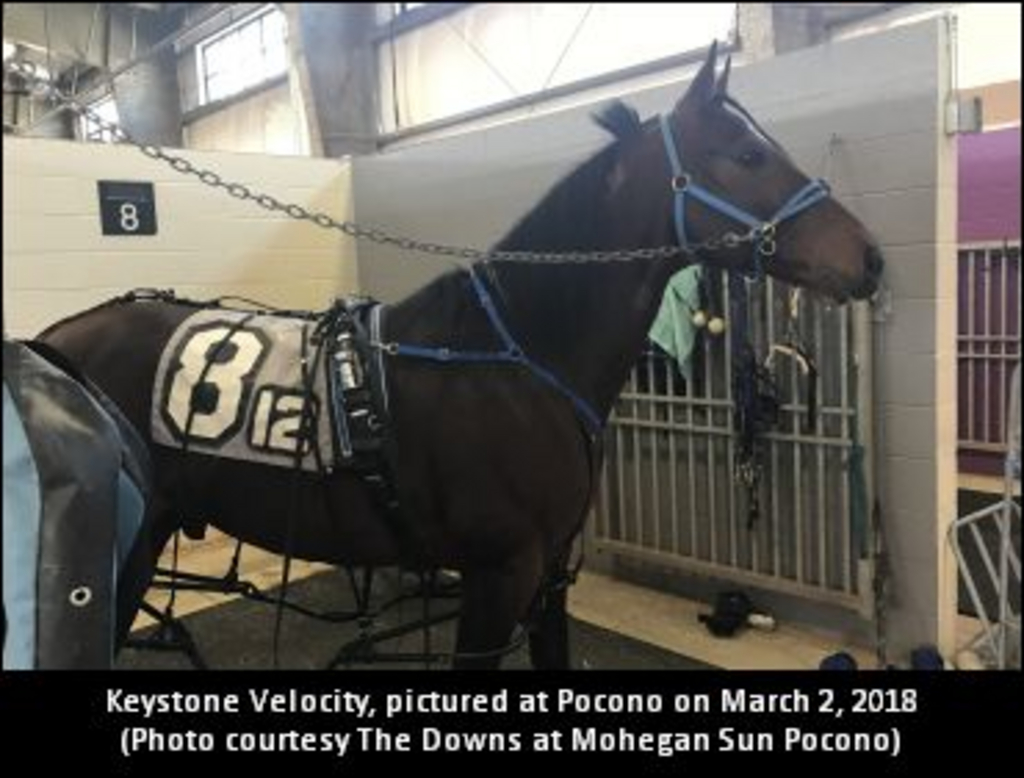 Published:
March 6, 2018 01:04 pm EST
Dan Patch Award winner Keystone Velocity helped kick off the first qualifying session of the year at The Downs at Mohegan Sun Pocono on Tuesday (March 6), and although he made observers wait until the last dash of the card (Race 12), he made it worth their while.
In rein to driver Simon Allard, Keystone Velocity started from the outside Post 8 and made his presence known from the outset.
The ten-year-old son of Western Hanover raced overland in second past the :28.1 opening quarter. He then went on to clear to the lead, cut the middle fractions (:57.1, 1:24.1), and sprint home in 28 seconds to stop the clock in 1:52.1.
Keystone Velocity's margin of victory was nine and a half lengths over Ginger Tree Cash. Cyamach N finished two lengths further back in third.
Simon Allard's brother, Rene, trains Keystone Velocity for Allard Racing Inc., Kapildeo Singh, Earl Hill Jr., and the VIP Internet Stable.
Wrangler Magic, another top pacer conditioned by Rene and steered by Simon, took to the track earlier on the card (Race 9). The six-year-old Mach Three mare started from Post 2, sat the pocket for much of the mile, and went on to post a three-quarters of one-length victory in 1:56. Wrangler Magic is owned by Allard Racing Inc., Dr. Maurice Stewart and Kapildeo Singh.
The trainer/driver duo also clicked with another charge in Race 2, as the four-year-old Deweycheatumnhowe mare Weslynn Dancer popped the pocket in the third quarter and went on to post a 1:58.3 victory for Allard Racing Inc. and Earl Hill Jr. by five and a quarter lengths.