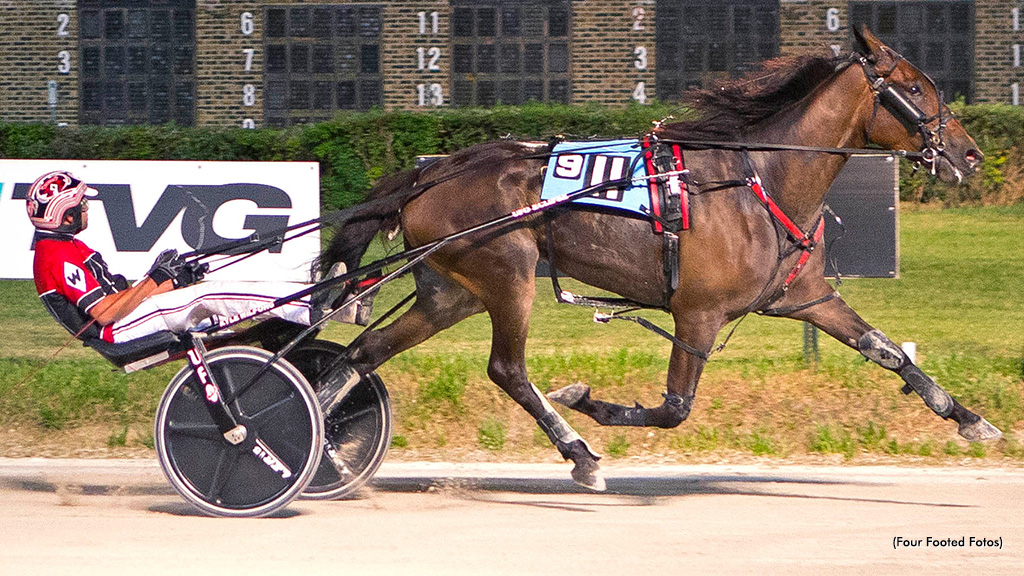 Published:
March 30, 2023 11:50 am EDT
When a young filly wins 10 of her 12 freshman starts, multiple stakes, earns $129,722 and goes on to win divisional honours, you would think that she'll be the star attraction of her barn.
In this case, you would be mistaken.
Despite her spectacular first season of racing that earned her the Illinois Two-Year-Old Filly Trotter of the Year title, the Curt Grummel-trained Lous Legacy filly Marvelous Mystery competed in the shadow of her illustrious stablemate Funky Wiggle.
Also a daughter of Lous Legacy, Funky Wiggle not only ran away with last season's Illinois three-year-old filly trotting honours, but her stunning 1:51.4 record mile, the second fastest ever by any Illinois conceived and foaled (ICF) trotter regardless of age and sex, went a big way to nailing down the 2022 Illinois Harness Horse of the Year laurels.
Owned by her breeder Dr. Patrick Graham of Lockridge, Iowa, and driven almost exclusively by Hawthorne's leading driver Kyle Wilfong, Funky Wiggle was simply dominant against other state-bred sophomore filly trotters.
Her nine season victories came in a 10-start stretch, starting in late June and ending in the $85,000 Beulah Dygert Memorial final on Hawthorne's Night of Champions. The daughter of Graham's broodmare Hoosier Wiggles amassed $131,235 in her second racing campaign. Her record 1:51.4 mile came in Du Quoin's Windy Skeeter stakes, just a fifth of a second off Kadabra's all-time ICF mile.
Don't look for Funky Wiggle to venture out of state in 2023.
"We'll stay close to home with her," said Grummel. "This will be her first season against older horses. We thought we would see how she does. If she steps it up a notch, we'll stake her as a five-year-old."
Funky Wiggle didn't finish her sophomore campaign on a high note, dropping her last five decisions in open company, three in open stakes, and picking up only about $13,000.
"She got sick on me, and I probably didn't give her enough time to heal, and then when I had her going the right way, she popped a quarter.
"Nothing major was wrong with her in those open stakes, just some little things."
And when you're taking on the best trotting fillies in the country, those little things can add up to make the path to success an arduous endeavour.
"She was in against the best of the best in those stakes," continued Grummel. "The night she got fourth in the Crossroads, I thought she gave us a big effort. She started in the second tier against the best filly three-year-old trotter in Indiana, the best one in Ohio, and a New York sire filly who the week before set a track record at Hoosier, and Funky Wiggle was beaten less than two lengths.
"This season we're looking forward to racing against Annas Lucky Star. She's been something special in Illinois for a long time and she had another great year as an eight-year-old. She's as consistent as they come."
While Funky Wiggle is dealing with up and down winter weather in Illinois, her talented stablemate Marvelous Mystery is working in sunshine and where it's much warmer.
"Marvelous Mystery is in Florida with my father [Leo]," said Grummel. "She grew a little over the winter but she's not a big horse. She's median size and that's the kind I've had the best luck with."
Marvelous Mystery's only two first season losses came at Springfield and Du Quoin, both one-mile oval dirt tracks, in State Fair Illinois-bred stakes.
"I think the dirt tracks helped Fox Valley Shania some and in both, she drew the rail and had some very good trips. She had two-hole trips in each. In the Springfield final, we had the outside nine-hole when we were second to her, and at Du Quoin [in the First Lady stakes] 'Shania' raced right behind us and popped out in time to beat us by a head."
Bred by Dr. Kenneth Rucker and Jana Rucker of River Falls, Wisconsin, Marvelous Mystery took a first season mark of 1:57.2 for owners Curt, Craig, and Leo Grummel, proving best in her first eight starts, and ending her campaign with a triumph in Hawthorne's Night of Champions Fox Valley Flan elimination and final.
The Grummel family has also developed such prominent trotters as Homicide Hunter (1:48.4, $1.76 million), Run And Tell Pap (1:53.2, $847,727), Fox Valley Veto (1:54.3, $538,700), Fox Valley Yoko (1:55.2, $155,701), Dr Spengler (1:56.2, $111,024), Big Lou (1:57.1, $67,502), True Detective (1:58.4, $66,946) and Dr Venkman (1:58.2, $47,265).
"I'm currently training 12 horses," said Grummel from his barn in Carrollton, Illinois. "And yes, they're all trotters."
(With files from Illinois Harness Horseman Association)