Published:
March 30, 2011 11:05 am EDT
With the hard, long winter hopefully in the rear view mirror, horsepeople and track workers are looking forward to the opening of live racing at Nova Scotia's Truro Raceway this coming Sunday (April 3)
.
The card will kick off with a first-race post time of 1:00 p.m. According to Truro Raceway Race Office Secretary Diane Daniels, the track is in fantastic shape heading into the meet opener.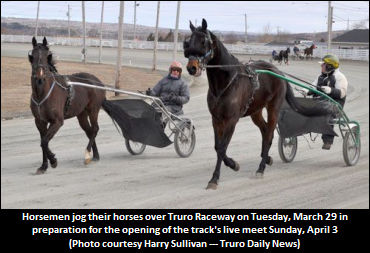 "The racetrack, for example, we just put on four loads of stone dust," she was quoted as saying in an article by Harry Sullivan in the Truro Daily News. "Talking to some of the horsemen who qualified on Sunday (they), told me the track was in excellent condition. So that's a positive."
Daniels, who is also Standardbred Canada's field representative for the track, went on to say that after a long winter "Everybody is quite happy to get started, and to, you know, launch the season, for sure. There is a lot of anticipation."
The article also quotes local horsepeople who explained that due to the extended shutdown this winter it was tougher than usual to make ends meet.
"Yeah, I think everybody's anxious to getting back on track again, but I think shutting down for the winter was a good idea," horseman Phil Pinkney was quoted as saying. "We had a very bad winter and it was a pretty hard situation racing in the winter over the ice and stuff like that. And some of the horses needed a little break anyway.
"Financially for the horsemen it's not good because you still have to buy feed and shoe the horses and all that stuff. But if the bet's not good, the bet pool gets down and then we have to shut it down and build it back up on simulcast money. So, I think right now they're sitting at a pretty good level to get started up. I think if we had of kept going through the winter we might've been in a little bit more financial trouble."
To view the scheduled race dates for the Truro meet, click here.
(With files from the Truro Daily News)