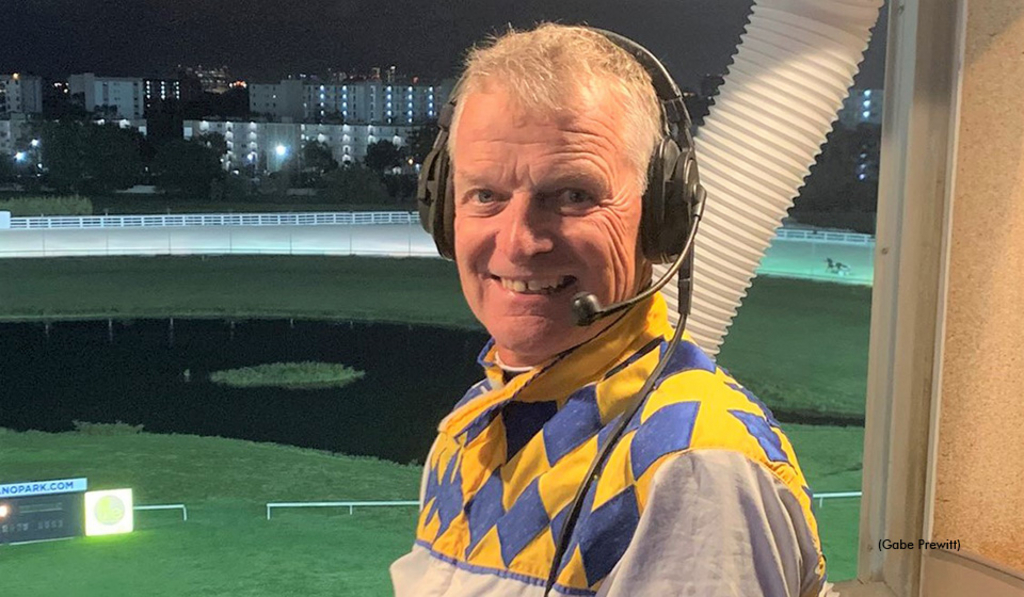 Published:
March 3, 2022 02:17 pm EST
Wally Hennessey's career as a track announcer lasted only several minutes, but the experience will be a memory for a lifetime.
Hennessey fulfilled a dream on Wednesday night (March 2) when he called the sixth race at Pompano Park, where the affable 65-year-old Maritimes native has raced for decades and captured numerous driving titles. Hennessey was invited to the booth by Gabe Prewitt, Pompano's director of racing and regular track announcer.
"Gabe is a great friend," said Hennessey, who has won more than 11,100 races lifetime and leads the driver standings at Pompano Park. "I just had this in my mind for a long time about announcing a race. Before the meet started, and with this being our last season here, I told Gabe I had to get up there."
The opportunity arrived Wednesday because Hennessey was without a drive for four consecutive races on the card, enabling him to head to the announcer's booth. Hennessey decided to call the sixth race because it had the night's shortest field, six horses, and it provided the chance to watch several races from the booth before his call.
"I was able to go up there and get the lay of the land," said Hennessey. "And Gabe recommended that I do the post parade (prior to the sixth race) so I could get into the mode of announcing.
"Geez, I was nervous. I was afraid about freezing up when they said 'go.' I was afraid I might give only two calls for the whole race. But it went off very good, and the rush I got out of it was crazy. I'm still pumped about it (Thursday) morning, to be honest."
As the sixth-race field made its way toward the start, Hennessey paid tribute to all the track announcers that had called races at Pompano Park before him. He also interjected several phrases used by other announcers, such as Prewitt's "The starter calls," Vance Cameron's "Boom, just like that," and Joe Zambito's "You can circle the (number) three horse, this one is over."
Hennessey also tossed out his own one-liners, such as "It's going to make it easier for me, there are only five left now," when Skyway Poet went off stride behind the starting gate; "There's not very good vibes there," when Good Vibez made a break at the quarter; and "Shulda Hada Drink is looking to have a drink right now," when the race's favourite was about to be overtaken in the stretch by eventual winner Perfect Destiny.
"That's nothing I was thinking about saying, it just came off the cuff," said Hennessey. "It's hard to do. You're trying to concentrate, but you're also trying to do things. It's not as easy as it might seem. I have to give those guys a lot of credit. That's work.
"When I was calling it, you're not quite sure what you're going to say, but the words come. I tried to, which made it a little easier for me, use the driver as the reference before the horse. Once I gave the driver, I could look at the program and add the horse."
He then added with a laugh, "Believe me, I'd be no good doing the Derby."
Hennessey's trip to the booth was a one-time occurrence, although a very meaningful one, especially at The Pomp, which has meant so much to him and his career.
"All I've ever done is the horses," said Hennessey. "This is my life. And that is part of my life, the people I hang with, they've all been my friends, all those announcers.
"I'm so glad I did it. It was a blast. I'm still excited. But I won't get excited like that again because my announcing career is over. And, by the way, no racetracks have called me this morning looking for me."
(USTA)