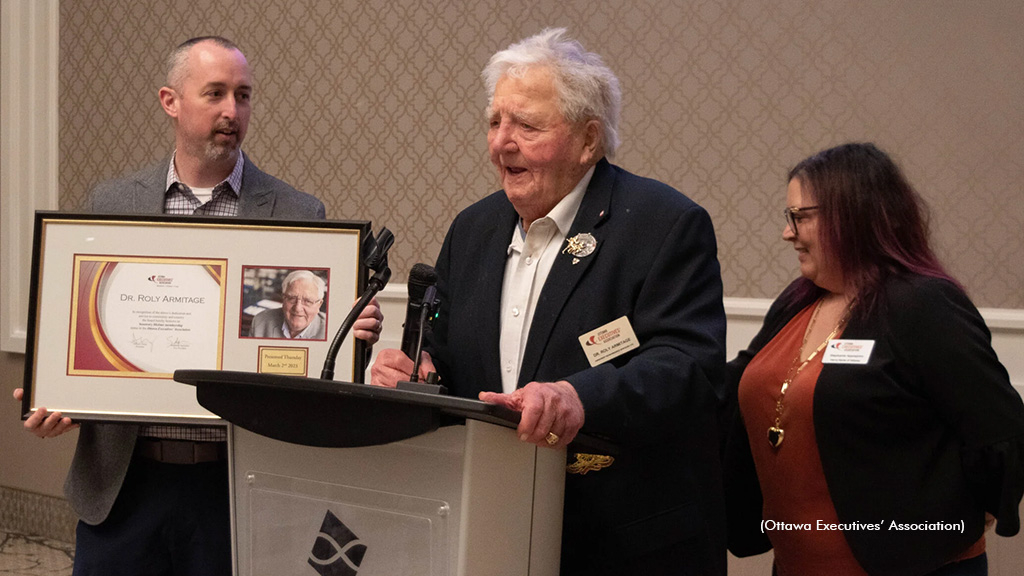 Published:
March 29, 2023 10:59 am EDT
Dr. Roly Armitage, Canadian Horse Racing Hall of Fame member and past president of the Canadian Trotting Association, was recently recognized for his lifetime achievements by the Ottawa Executives' Association at a surprise luncheon held in his honour.
Ottawa Executives' Association President Graham Young and Vice-President Stephanie Applejohn awarded Armitage the distinction of OXA Lifetime Member in a presentation on Thursday, March 2 recognizing his dedication and service to community and country.
Dubbed "Ottawa's most interesting man" by the Ottawa Business Journal, Armitage is a decorated World War II veteran, a career veterinarian, published author, former West Carleton Township mayor and Standardbred industry leader and breeder at his Dunrobin Armstead Farm.
The humble 98-year-old, whose many accolades include being appointed to the Order of Ontario last spring, noted kindness has been key to nearly a century of service.
"Always try to help people and you get amazing numbers back. You get far more back than you give, especially when it comes to kindness towards others," Armitage told the Ottawa Business Journal.    
(With files from Ottawa Executives' Association and Ottawa Business Journal)