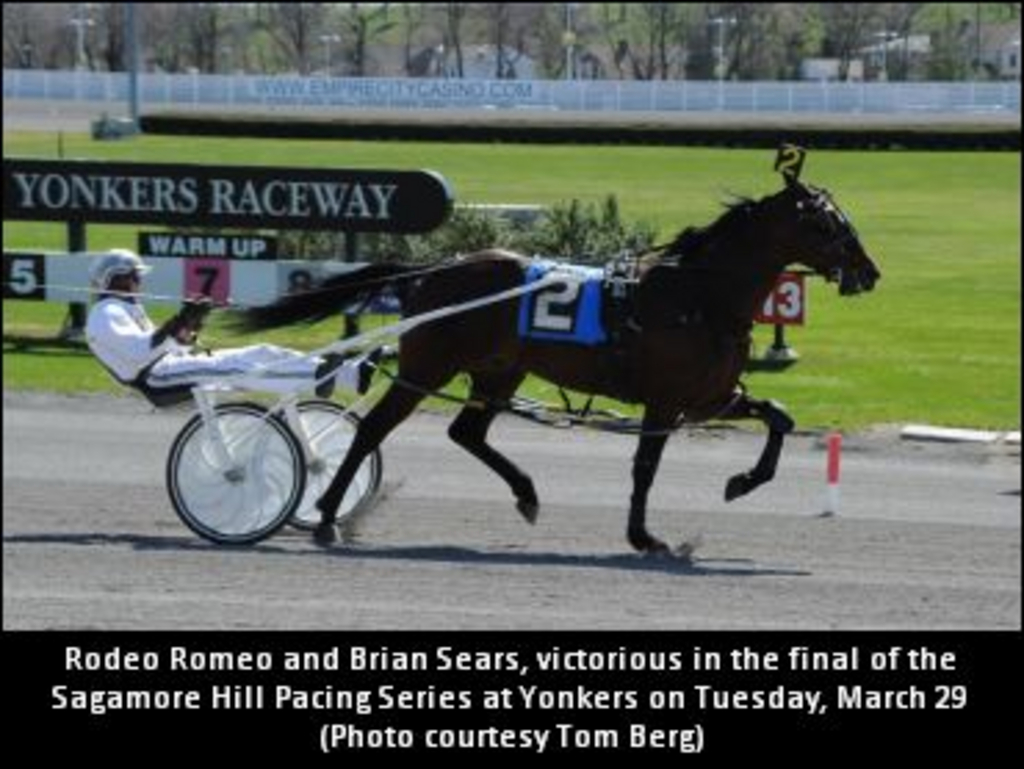 Published:
March 29, 2016 04:34 pm EDT
'O Romeo, Romeo, wherefore art thou, Romeo?' In the case of Rodeo Romeo (Brian Sears, $2.50), try the winner's circle, which he found with the greatest of ease Tuesday afternoon after Yonkers Raceway's $63,000 final of the Sagamore Hill Pacing Series.
Yonkers' annual testament to Teddy Roosevelt – the richest local race of the season to date – was open to three and four-year-old gentlemen who were non-winners of four races and/or $40,000 through last December 1.
Rodeo Romeo made short of his foes on Tuesday. In play at the outset from Post 2, he easily worked around the pole-sitting Tonis Affection (Scott Zeron) and made the lead well before a :27.3 opening quarter-mile. From there (:56.4, 1:25.2, 1:54), there were no issues whatsoever.
'Romeo' owned a length-and-a-half lead entering the lane, and then opened to four and three-quarter lengths at the wire. Tonis Affection held second over a two-move J T (George Brennan), with lone three-year-old Dontcallmefrancis (Jason Bartlett) and Secret Delight (Matt Kakaley) settling for the remainder.
Sports Bettor (Mark MacDonald), AM Magic Man (Dan Dube) and B Well (Andy Miller) rounded out the order.
For Rodeo Romeo – a four-year-old son of Rocknroll Hanover trained by Chris Ryder for co-owners Oompa's Farm, Michael Day and Robert Mondillo – it was his third win in four seasonal series starts. The exacta (two wagering choices) paid $7.70, with the triple returning $32.60.
"He's a good-gaited, handy horse," Sears said. "They did give me a lot of respect up front and there wasn't much to it."
A $25,000 series consolation was won by BBs Harley (Dube, $13.80) by open lengths in 1:55.2.
(Yonkers Raceway)