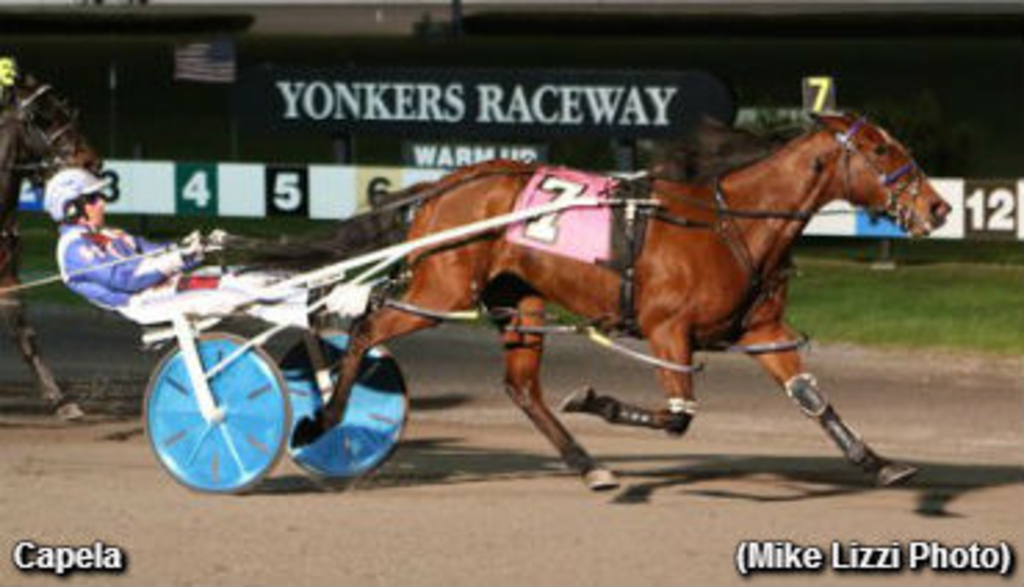 Published:
March 28, 2016 09:57 pm EDT
Odds-on favourite Capela maintained her form spree Monday night, winning Yonkers Raceway's $60,200 final of the Petticoat Pacing Series.
The series was open to three- and four-year-olds who were non-winners of four races and/or $40,000 through last Dec. 1.
Capela, the lone lass to sweep her three series preliminary rounds, made short work of post position seven for driver Scott Zeron. She worked around the miss directly inside of here, Bin N Heaven (George Brennan), securing the lead before a :27.3 opening quarter-mile. From there, a 57-second intermission as Im In Luv (Matt Kakaley) moved from fourth. It was Little Miss Sporty (Brian Sears) gapping from second-over and pole-sitting Brown Brinny (Jason Bartlett) sitting a three-hole in and out of a 1:25.3 three-quarters.
Capela widened to couple of lengths entering the lane, then won by that exact same margin in 1:54.4. Bin N Heaven saved second, with 63-1 shot Heavenly Hill (Jordan Stratton) closing from last to third.
For Capela, a four-year-old daughter of Sportswriter trained by Reginald Hazzard for co-owners Reginald Hazzard II and Legacy Racing of Delaware, it was her sixth consecutive win (6-for-9 this season). She paid $3.10.
"She's just been getting better each start in this series," Zeron said. "When it started, she wasn't taking the turns very well, but that wasn't a problem in her last couple of races.
"Tonight, with the wind, that was a very good mile."
A $25,000 series consolation was won by favoured Kryptos ($4.30)—now 5-for-5 in her season/career—in 1:55.4.
Tuesday afternoon, it's the $63.000 finale of the Sagamore Hill Pacing Series for the three- and four-year-olds of the male persuasion. It's the Raceway's richest race of the season to date.
(Yonkers Raceway)