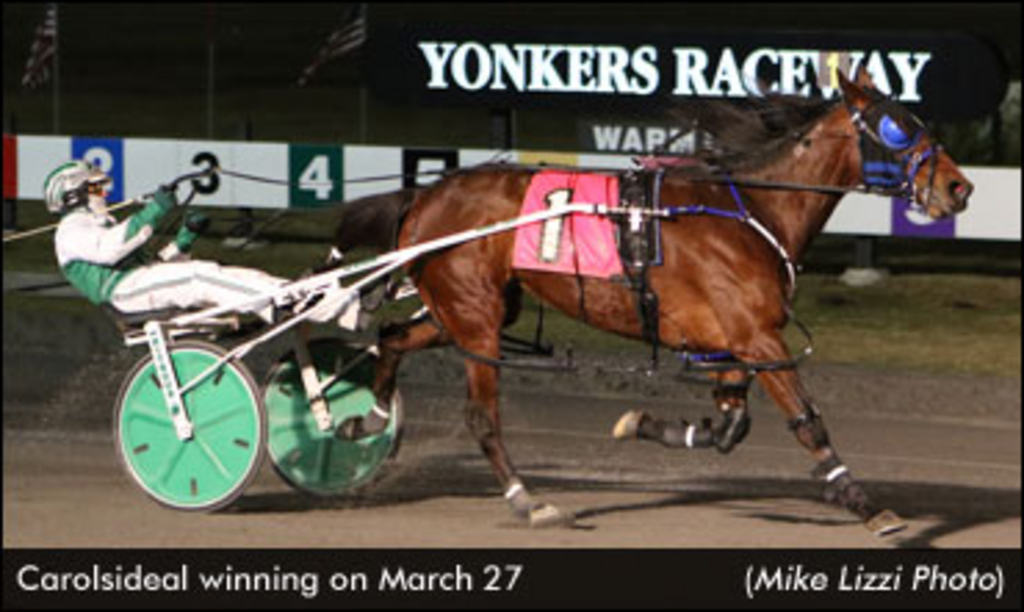 Published:
March 27, 2015 10:04 pm EDT
Yonkers Raceway hosted the second round of the Blue Chip Matchmaker on Friday night with a baker's dozen worth of Free-For-All pacing mares competing in two $40,000 divisions.
The opening Matchmaker event was an early series two-fer for pole-sitting, odds-on Carolsideal (Dan Dube, $2.80).
Outdrawing her rivals for the second consecutive start, "Carol" gave it up to a parked-early Sayitall BB (George Brennan) passing a :27.4 opening quarter-mile.
The people's choice then retook in Turn 2, finding a :57-second intermission before Monkey On My Wheel (Brian Sears) took her shot from fourth. Carolsideal held that one at bay in and out of a 1:25.1 three-quarters, as "BB" dropped anchor.
"Carol" owned a measured half-length lead into the lane, then widened to close the sale, winning by a couple of lengths in a season's-best 1:53. Monkey On My Wheel held second, with Anndrovette (Tim Tetrick) a rallying third for the second week in a row.
For Carolsideal, a six-year-old daughter of Western Ideal trained by Rene Allard for Allard Racing, Yves Sarazin and Kapildeo Singh, it was her seventh win in eight seasonal starts. The exacta paid $8.10, with the triple (three wagering favourites in order) returning $18.20.
The second sojourn was won by a first-up Camille (George Brennan, $5.60), snapping pace-setting, 11-10 fave Yagonnakissmeornot (Dube) on the money in 1:53.1, also a season's-best effort.
Winning the draw, Camille saw longshot Coffee Addict (Jordan Stratton) grab the first lead before Yagonnakissmeornot worked around that one. The advantage belonged to "Yagonnakissme" through early intervals of :27.4 and :57.1.
Camille slipped out from third, just in front of For the Ladies N (Sears). It was Camille prompting a :27.3 third quarter (1:24.4), with Yagonnakissmeornot taking a length and a half lead into the lane.
However, Camille wasn't ready to throw in the camisole. She engaged the leader in earnest in the late going before sticking her tongue out just in time. The final margin was a head, with For the Ladies N holding third.
For second choice Camille, a seven-year-old millionaires daughter of Camluck co-owned by trainer Ron Burke (as Burke Racing), Weaver Bruscemi, M1 Stable and Jack Piatt III, she's two-for-six this season. The exacta paid $12.40, with the triple returning $59.
The Raceway's live season continues Saturday night (post time 7:10 p.m.), with the second round (four $50,000 divisions) of the George Morton Levy Memorial Pacing Series.
(With files from Yonkers Raceway)