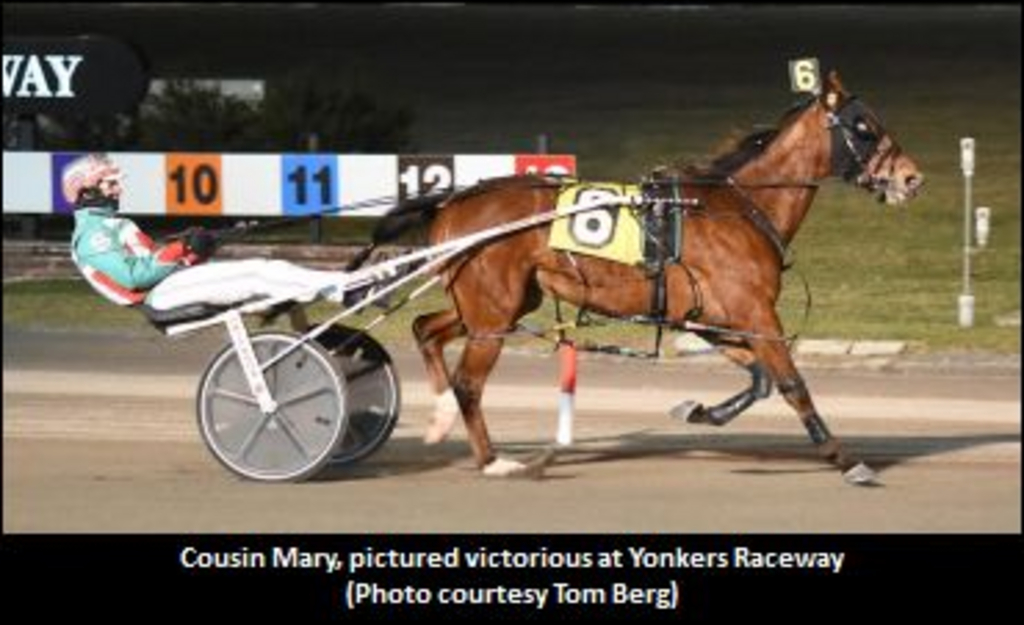 Published:
March 26, 2017 12:51 pm EDT
The manner in which Cousin Mary found her way to owner Jeff Williamson's stable – not to mention the Petticoat Series at Yonkers Raceway – could best be described as fortuitous. Especially given the way she has frequently found her way to the winner's circle.
Williamson bought Cousin Mary, the 9-5 morning line favourite in Monday's $61,000 Petticoat Series final for four-year-old female pacers, in 2014 as part of a two-horse package. Williamson's initial interest was in the other horse, a filly named Wild Blue Ponder, but Cousin Mary was thrown into the deal. Before agreeing to the purchase, though, Williamson wanted to talk with his wife, Becky.
They agreed to go through with the transaction under one condition. The couple had purchased a horse several months earlier and the horse was racing that night. If the horse won – which he had yet to do for the Williamsons – they would complete the Cousin Mary deal. Of course, the horse won. It was his only win for the Williamsons.
Cousin Mary, a daughter of Camluck-Chianti Seelster, has won 10 of 24 career races, hit the board a total of 19 times, and earned $86,543 in purses.
"She's definitely the best horse we've had so far," said Williamson, an Ontario hog farmer who lives 125 miles northwest of Toronto. "It's been a thrill. You need a horse like Mary to get you to the next level. For a guy like me and my wife, who are newer to the business, being in the Petticoat is a big thing to us. We're proud of that. I know it's not one of the bigger races, but for us it's like the Little Brown Jug. Hopefully we get lucky on Monday."
Interestingly, Cousin Mary ended up at Yonkers only after Williamson saw a deal to sell the horse fall through last year. J Harris, who was driving Cousin Mary in Canada, suggested to Williamson that he send the horse to his brother, trainer Andrew Harris, in New Jersey to compete at Yonkers.
Cousin Mary has won six of eight races this year, all at Yonkers. She won her three preliminary Petticoat divisions by an average of nearly four lengths and will start the final from Post 1 with regular driver Jordan Stratton in the sulky.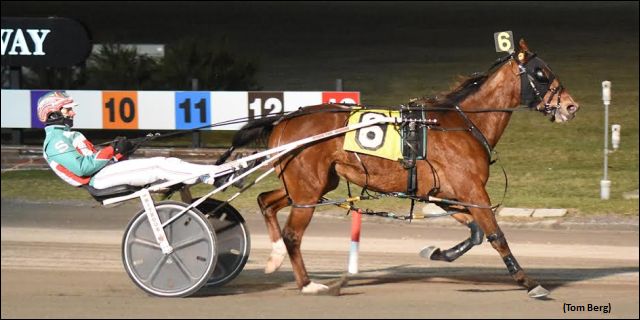 Cousin Mary, pictured victorious at Yonkers Raceway (Photo courtesy Tom Berg)
"There are some fillies in there that make me nervous, but the rail helps big time," Andrew Harris said. "I think she likes Yonkers. She's still a little green, but she's getting the hang of it now and she doesn't want to let anyone pass her and will pass anyone in front of her. She's just come around and is peaking at the right time."
Following the Petticoat Series, Cousin Mary is expected to head to the Bobby Weiss Series for female pacers at The Downs at Mohegan Sun Pocono.
"I'll probably skip the first leg (April 2), give her the week off, and then she's got three more legs to try to get into the final there," Harris said. "We'll probably give her a little time off after that and then she's a racehorse."
Williamson got into harness racing seven years ago but stepped up his involvement only recently. The Williamsons rent a horse farm with 45 stalls and a half-mile track near their home farm. They are involved in all aspects of the sport now, from breeding to racing.
"My grandfather used to race before I was born so I wanted to learn how to do it," Williamson said. "I wanted to learn the business. We've got 45 horses at the racing farm now.
"I like to give horses a chance. Some people give up on them; I like those horses."
Williamson owns Cousin Mary's dam, Chianti Seelster, and has a Big Jim-sired two-year-old filly out of the mare named Eataams Payday.
Many of the Williamsons' horses have Eataam in their name, which is a reference to the hog business, Eataam Pork. Eataam comes from the initials of the couple's children at the time the name was created – Evan (age 17), Alyshia (16), Tyler (14), Amy (12), Allan (9) and Matthew (7). Another son, the now-five-year-old Parker, was born afterward.
"We didn't think we should call him Pork," Williamson said, laughing.
He added about the horse business, "Our kids are involved now. It's been a lot of fun so far."
---
This story courtesy of Harness Racing Communications, a division of the U.S. Trotting Association. For more information, visit www.ustrotting.com.