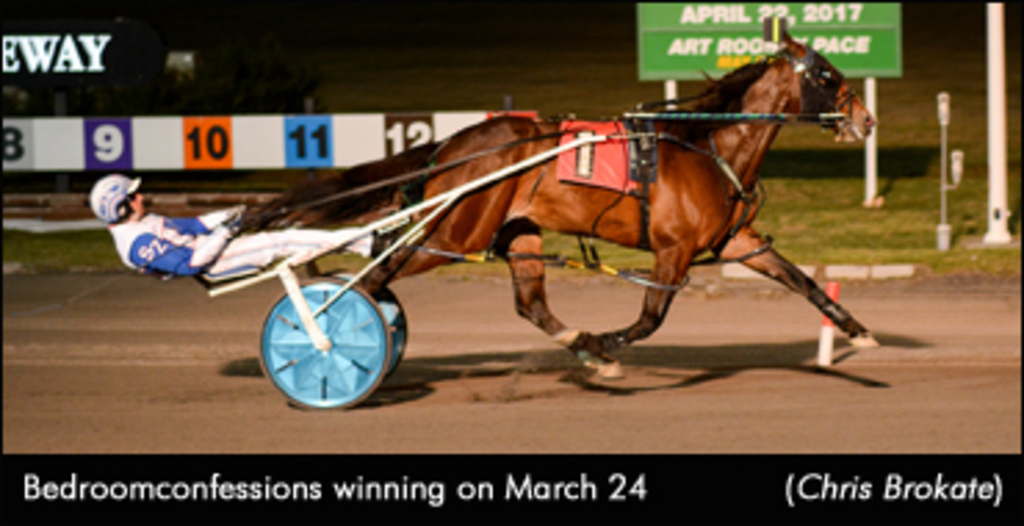 Published:
March 24, 2017 10:33 pm EDT
Yonkers Raceway's Blue Chip Matchmaker offered up Round 2 on Friday night (March 24), with another trio of $40,000 divisions for top-flight pacing mares.
The opening event saw Empress Deo (Matt Kakaley, $25) get encouraged to leave the gate, then trip out from the pocket to pick off Shesjustadelight N (Ron Cushing) at the wire in 1:54. Divas Image (Joe Bongiorno), as the just-over-even-money favourite, was third.
From post position No. 5, Empress Deo left to an immediate lead, then relented to pole-sitting Shesjustadelight N at a :27.2 opening quarter-mile.
After a soft :56.4 half, series-debuting Sandbetweenurtoes (Brett Miller) tried it first-up from fifth. She didn't threaten as 'Delight' led comfortably in and out of a 1:26 three-quarters, up a length-and-a-quarter entering the lane.
A week ago, it was Empress Deo cutting the fractions and Shesjustadelight N beating her from behind. It was turnabout and fair play this time around, with Empress Deo ducking inside and getting the decision by a head.
Divas Image was beaten a length, with Lispatty (Mark MacDonald) and Sandbetweenurtoes rounding out the payees.
For fourth choice Empress Deo, a six-year-old daughter of Rocknroll Hanover owned by Legacy Racing of Delaware and trained by Wayne Givens, the win was her first in 10 seasonal starts. The exacta paid $71, with the triple returning $146.
Friday night's second Matchmaker grouping saw Mackenzie A (Jordan Stratton, $6.80) win both the draw and the race (1:53.2).
Giving it up early to Wrangler Magic (Dube), Mackenzie A then played a game of Ladies Leapfrog, making the lead just after a :28.2 opening quarter-mile. It was an equally-time second substation (:56.4 intermission), then Betabcool N (Mark MacDonald) moved from fifth.
Mackenzie A was comfy through a 1:24.4 three-quarters as the miss opened a couple of lengths into the lane. She held off a good effort from Wrangler Magic, winning by a half-length. Betabcool N held third, with a from-last, 79-1 Medusa (Kakaley) and a never-in-it, 9-10 fave Mach It A Par (Jason Bartlett) settling for the minors.
For Mackenzie A, a five-year-old Down Under daughter of Rock N Roll Heaven co-owned by Harry von Knoblauch & Ellen Kinser and trained by Peter Tritton, the win was her first in four seasonal/North American starts. The exacta paid $36.40, with the triple returning $205.
The second round's final foray offered the fastest female, as it did a week ago. This time, it was odds-on Bedroomconfessions (Scott Zeron, $2.90) giving nothing else a shot (:27.3, :57, 1:25.2, 1:52.3).
Leaving from the pylons, Bedroomconfessions toured the terrain with the ease of a qualifier. She stuffed Krispy Apple (Miller) in behind at the outset, then did as she pleased. The lead was three lengths in and out of the final turn and three and a quarter lengths at the wire.
Regil Elektra (Bartlett) was a solid, two-move second, with Kiwis Sell A Bit N (Stratton) and Change The Rulz N (George Brennan) earning the rest of the reward money.
For Bedroomconfessions, a five-year-old statebred daughter of American Ideal co-owned by trainer Tony Alagna (as Alagna Racing) and Riverview Racing, the win was her third in six '17 starts. The exacta paid $6.20, with the triple (three wagering favourites in order) returning $12.40.
"She's a big horse, but she gets around a [half-mile track] so well," Zeron said. "They never tried her much on the small tracks before this season, but she's faster in these turns than she is in the straightaway.
"The race couldn't have been easier. Everyone else was happy to line up behind us. Never showed her the whip, never pulled the plugs."
(With files from Yonkers Raceway)