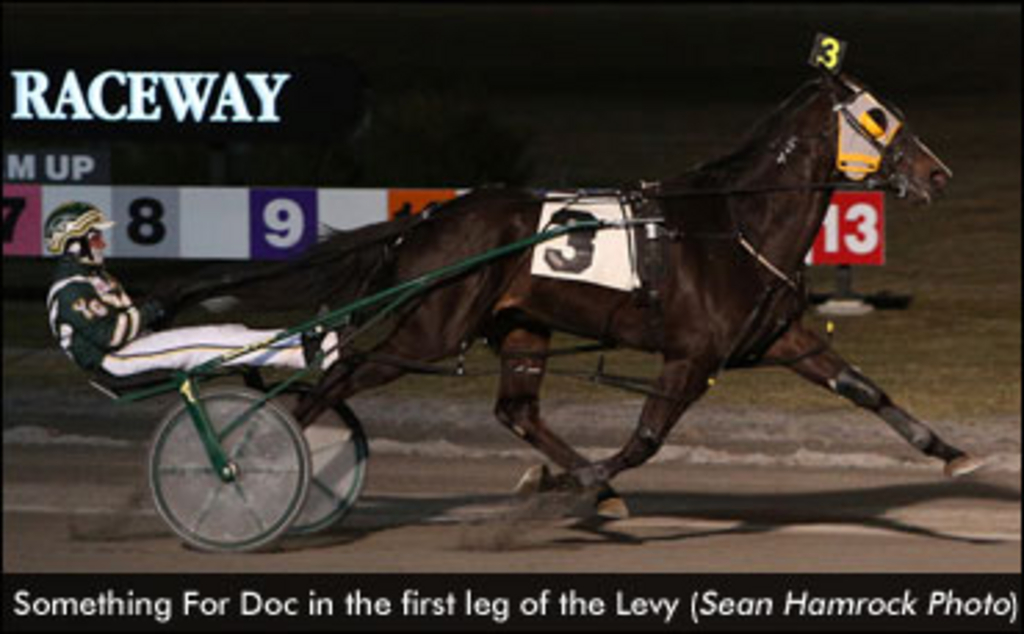 Published:
March 23, 2013 11:48 pm EDT
Yonkers Raceway's George Morton Levy Memorial Pacing Series, 2013 edition, began Saturday night with a half-dozen, $50,000 divisions of Free-For-Allers.
In the first division, odds-on Versado (Brian Sears, $3) toyed with his five rivals, two-moving to the lead from his outside starting venue, then widening (:27.2, :56.4, 1:25.2, 1:53.4). He was wrapped-up four and a half lengths in front of Stonehouse Adam (Yannick Gingras), with Rockin Robert (Jordan Stratton) third.
Versado, a six-year-old Dragon Again gelding owned by KDM Stables and trained by Nick Surick, is now six-for-11 this season. The exacta (two wagering choices) paid $5, with the triple returning $23.40.
In the second division, millionaire Annieswesterncard (Gingras, $2.80), in play from post position No. 5 (:27.4, :57.1, 1:25.2), held sway by a neck over Dancin Yankee (Sears) in a 1:53.1 match race. It was some six lengths back to In Commando (George Brennan).
Annieswesterncard, a seven-year-old Western Hanover gelding co-owned by trainer Ron Burke (as Burke Racing), Weaver Bruscemi, M1 and Panhellenic Stables, has won half of his seasonal starts. The exacta paid $8.50, with the triple returning $25.40.
Nob Hill High (Eric Goodell, $21) did it the hard way in the third split. Unhurried from post No. 5, he came first-up against 3-5 choice Clear Vision (Gingras). That one had taken over from early leader Electrofire (Sears) after a :27.4 opening quarter, then found a :57.1 half and 1:25.2 three-quarters. Nob Hill High was a drifting neck in front of a pylon-skimming Forever Just (Tim Tetrick) in 1:54.2 with Clear Vision fading to third.
Fourth choice Nob Hill High, a seven-year-old McArdle gelding trained by Bruce Saunders for co-owners/breeders Robert Mondillo and Donald Robinson, is now two-for-10 this season. The exacta paid $97.50, with the triple returning $218.50.
People's preference Something For Doc (Gingras, $4.90), who's been doing good work in the local Open Handicaps, was dominant -- as in five and a half lengths -- on the front end in division four. Nose on gate from post No. 3, he rolled though intervals of :27.1, :58, 1:25 and 1:52.4. Bet On The Law (Sears) was second, with Second Wind N (Tetrick) rallying for third and Sapphire City (Brent Holland) a tiring fourth after gapping from the pocket.
'Doc,' a five-year-old Western Hanover gelding owned by trainer Burke (Burke Racing), Weaver Bruscemi and Strollin Stables, has four wins in seven seasonal starts. The exacta paid $20, the triple returned $66.50 and the superfecta paid $142.
Code Word (Sears, $8.70), from outside post No. 7, worked out a second-over trip to win the fifth division in 1:55. Sea Venture (Brennan), after stinging both 2-5 choice Casimir Jitterbug (Goodell) and last season's series winner Atochia (Gingras) through quick early fractions (:27.1, :56.4) , moved from third. He challenged Atochia toward the 1:25.3 three-quarters, before Code Word vaulted on by. He won by a length and a half in 1:55. EZ Noah (Tetrick), at 35-1, photoed Casimir Jitterbug for second, with Atochia fading to sixth.
Second choice Code Word, a six-year-old son of Western Terror trained by Conor Flynn for co-owners Barbara Bongiorno, Bill Lambos and Dionisios Liberatos, has won five of his 10 '13 tries. The exacta paid $145, with the triple returning $364.50.
Second choice Razzle Dazzle (Sears, $6.10), leaving hard from post No. 4 in the final division, was determined to cut the mile against pole-sitting, 3-5 season-debuting Foiled Again (Gingras). After a :27-second opening quarter, Razzle Dazzle rated a :29.3 next interval (:56.3 half) before finding a 1:24.4 three-quarters. The leader gained some separation, taking a two and three-quarter length lead into the lane. He whipped the sport's all-time richest pacer by three-quarters of a length in 1:53.1. Our Cullenscrown N (Tetrick) was third, with I Found My Beach (Holland) fourth.
For Razzle Dazzle, a six-year-old Real Desire gelding trained by Mark Silva for owner Ira Kristel, it was his first win a pair of seasonal starts. The exacta paid $12.80, the triple returned $37 and the superfecta paid $125.50.
(With files from Yonkers Raceway)