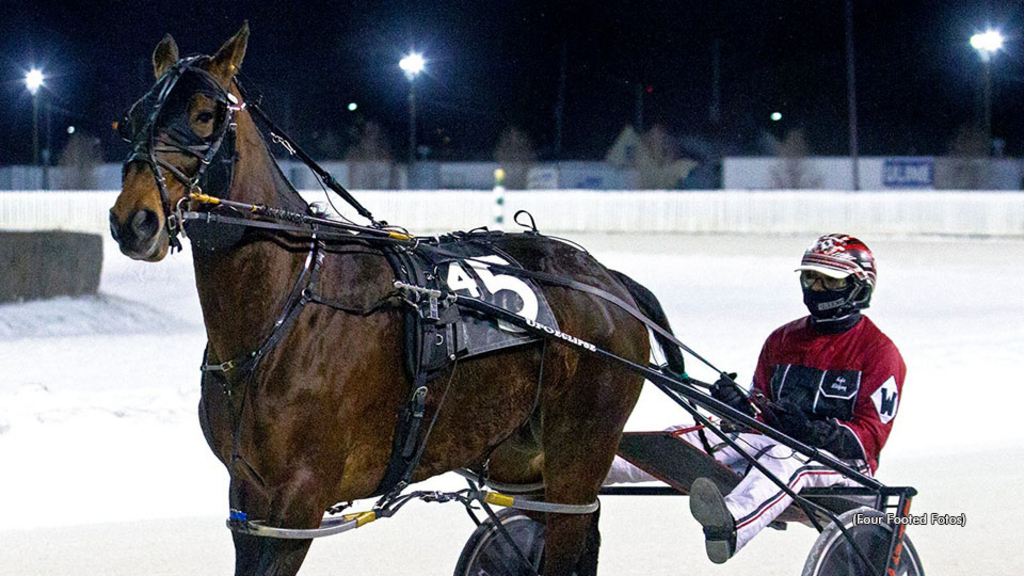 Published:
March 22, 2022 05:30 pm EDT
After topping the standings for the recently concluded winter meet at Chicago's Hawthorne Race Course, driver Kyle Wilfong is ready to enjoy some time back home in Indiana. A new home, in fact, only minutes from Harrah's Hoosier Park.
Wilfong and his fiancée, trainer Nicole Agosti, purchased the house around the start of the new year, then almost immediately shipped a stable to Illinois for the 33-day Hawthorne meet that began January 7. Their time away was well spent, though, with Wilfong leading the driver colony in wins (54), win percentage (23.1) and purses ($422,025). Agosti was tied for fourth in victories among trainers, with 14.
"The Hawthorne meet has been good to me and Nicole," said Wilfong, a 30-year-old Indiana resident who has finished second in the track's annual driver standings each of the past four years. "We work together and get along really well. In the barn, out of the barn, it's great. There are not many bad days. There are days when horses don't race as good as we'd like, but it gives us something to work toward.
"[This winter] all of Nicole's horses raced great. They didn't miss many cheques and got a couple wins down the line. We were happy, the owners were happy; everybody was pretty tickled."
Among the highlights for Wilfong and Agosti were pacer Feeling Like A Ten winning a Winter Wonderland Series final and a four-year-old Open, and Its Time For Fun posting two wins and two seconds in the Fillies and Mares Open Pace.
In addition to those horses, Wilfong was the regular driver of local standouts Hezzz A Wise Sky, who was five-for-five in the Open Pace at Hawthorne, and Bet Mine, who was six-for-six at Hawthorne and won a Winter Wonderland Series final.
"I'm pretty happy with the way everything went," said Wilfong.
Wilfong is the son of Brett Wilfong, who has won 1,233 races as a trainer and 384 as a driver. Wilfong's grandfather, Lynn, was inducted into the Indiana Standardbred Hall of Fame in 2020. Lynn bred and owns the aforementioned Its Time For Fun, who won the Indiana Sire Stakes championship for three-year-old female pacers in 2018 for trainer Brett and driver Kyle.
"My dad has a farm 10 or 15 miles from Hoosier Park," said Wilfong. "We all work together. My dad runs the Indiana department and Nicole manages the Illinois department, but it's a team effort. We all get along and we know what to expect from each other."
Wilfong has won nearly 1,600 races as a driver. Last year, he set career highs for wins with 163 and purses with $1.65 million. In 2020, he was the leading driver at Oak Grove in addition to his runner-up finish at Hawthorne.
"I don't really set goals year after year, I just try to do a little better each year," said Wilfong. "I'm really simple in that aspect. Just try to do a little bit better than last year and just try to improve yourself."
Wilfong is looking forward to settling into his new home and perhaps settling down a bit. Hoosier Park's season opens Friday and continues through early December. Hawthorne holds a summer harness meet on weekends from June 30 to September 11 and Oak Grove kicks off live racing on May 8, with racing on Sundays and Mondays plus several Tuesdays.
"I'm excited about moving into our new home," said Wilfong. "Nicole has run back and forth a lot to get the house set up. We're ready to be there. We'll see what this brings. I'd like to be able to maybe hang my hat at Hoosier for the year. I've raced there on and off, but always run to Illinois. With the short schedule [at Hawthorne], it might be better to try to stick it out in Indiana.
"If I go to Hawthorne, maybe I'll drive some stakes and the Saturday-Sunday cards. I could run to Oak Grove on Hoosier Park's off days. I'm not afraid to put miles on. Wherever I can get some work, that's where I'd like to be. But after running these past couple years, sleeping in my own bed a couple nights in a row would be nice."
(USTA)