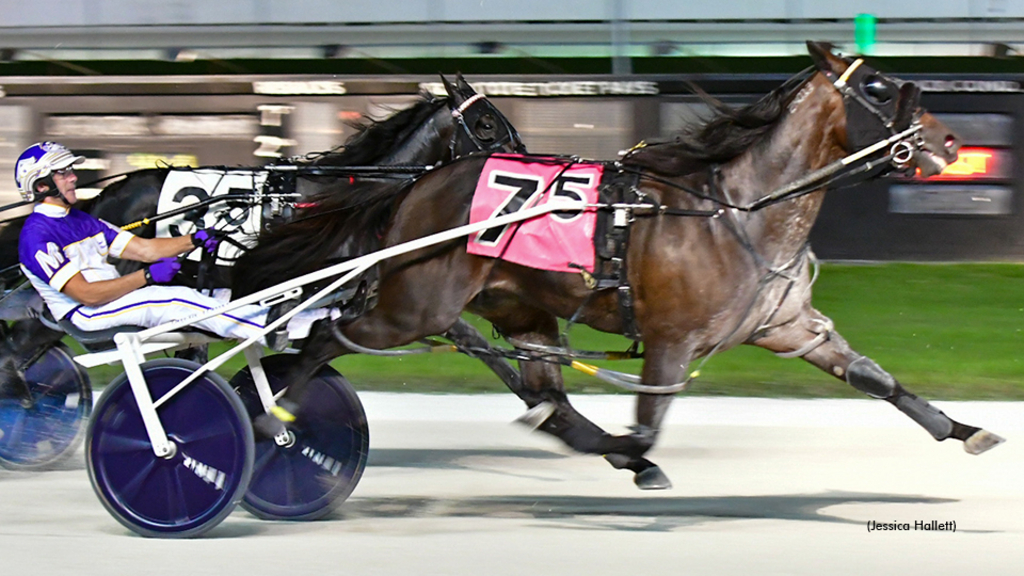 Published:
March 21, 2022 11:16 am EDT
Seeing Eye Single, driven by David Miller, used a :27.2 finale to squeak by a stubborn Double Metal (Wally Hennessey) and take top honours in Pompano Park's $13,500 Open II Handicap Pace on Sunday night (March 20).
Real Peace (Rick Plano), a stablemate of the winner, rallied to finish third while Hard Rock Hulk, longest proposition on the board at 35-1, drafted along close up from the rail to finish fourth. My House, prominent much of the way, picked up the nickel in the talented septet.
At the outset, Hard Rock Hulk out-sprinted My House to take charge early and post an opening panel of :26.2. At that point, My House left the coziness of the pocket to take charge and he surged to the half in a lively :54.4. At this juncture, Actor Hanover was next while Double Metal was fourth and now on the move with Seeing Eye Single picking up his live cover and Real Peace third-over.
Around the final bend, Double Metal, using a :27.2 backside brush of his own, stuck his nostril in front with My House not about to give up and Seeing Eye Single about to be sent widest of all turning for home. Double Metal and My House looked each other in the eye until mid-stretch when Double Metal put him away... but he couldn't stall the full head of steam from Seeing Eye Single, who edged clear in the final stages for the 1:50.4 victory.
"I thought Peter's horse [Double Metal] might be the one to beat in there," said Miller after the race. "You know, any time Peter Blood has a horse in-to-go, he's ready! He's one of the most astute horsemen in the business. So, I was glad to [follow] his cover and, when I tipped him wide, Seeing Eye [Single] responded like the good horse he is. He must've paced his last three-quarters in 1:22 and a piece... The other one [Real Peace] raced great, too, because he was behind me all the way and got third. Proud of them both!"
Seeing Eye Single is trained by Devan Miller for the Burke Racing Stake and Weaver Bruscemi. He earned his 28th career win to send his bankroll to $565,041. This young semester, the consistent seven-year-old gelded son of Dragon Again has a 3-3-3 scorecard in 11 starts, good for $38,809.
He paid $6.80 as the second choice in the wagering.
Spriggs Takes Early Lead In Amateur World Cup Eliminations
Amateur driver Dein Spriggs is atop the leader board after the first round of eliminations held at Pompano Park determining who will represent the USA in the Amateur World Cup in Italy later this year.
Spriggs, who came into the event with a .449 batting average, improved on that with a driving double in the three races contested, scoring with his own The Big Muscle ($18) in the pentafecta fourth race and returning to begin the track's Pick-3 by guiding Loyal Fox Hanover ($4.20) to victory.
The festivities kicked off with Robert Krivelin winning the opener of the three-race competition with the 15-year-old millionaire trotting warrior Watkins ($15.20), allowed to race in amateur events only after reaching the age of mandatory retirement for non-amateur pari-mutuel events.
That brave gelded son of Striking Sahbra blasted off the wings and led every stride of his 1:58.2 performance for his 62nd career win, vaulting his earnings to $1,057,573 in an amazing career stretching back to his first win in 2009 and encompassing 362 starts. Shoshie Deo (Joe Pennacchio) was second followed by Muay Hanover (Jamie Marra) with Better Call Saul (Tony Dinges) and Kaffir Kemp (Larry Ferrari) completing the top five.
Watkins is currently trained by Roger Goldstein for owner Michael Annunziata.
By the way, the last "equine senior citizen" to win at Pompano Park was Frosty Affair, who, at age 16, won an amateur event in 2008 for Dein Spriggs.
Spriggs then got the first of his two wins with his own The Big Muscle, trained by Allen Saul. This 10-year-old altered son of Muscle Mass got picture perfect handling from the outside eight post to find a spot in the garden early and then rolled past Noble Legend (Joe Pennacchio) to score by a widening three lengths over the fastest closing Lucky Sevens (Larry Ferrari) with Noble Legend another nose back in third. Beguin Dugoutier (Ron Cusimano) was fourth while No Wine For You (Anthony Verruso) picked up the final points in the event.
"I had to take the chance at the start to find a spot closer up," said Spriggs after the race. "I sure wasn't going to get anything being 10 or 12 lengths away early so I decided to leave out of these and look. We were lucky enough to find that close up spot and it worked out great for us. You know the old saying, 'nothing ventured, nothing gained!'"
The Big Muscle earned his 25th lifetime win to send his career bounty to $193,772.
Spriggs returned in the World Cup elimination finale this week by guiding the Jack Rice-trained Loyal Fox Hanover to a narrow win over Wesley Hanover (Krivelin) in 1:58.4, rallying fastest of all in the final stages to nail the win near the line. Fist Fighter (Cusimano) was third after leading halfway through the mile while Groovey Kid (Dinges) finished fourth. The minor points went to P L Jerico (Verruso).
Owned by Team Rice Racing along with Vogel and Wags Nags, Loyal Fox Hanover made his 50th career starts a memorable one with his 12th win. He's banked $164,628 career-wise.
With the final round of competition scheduled for next Sunday, the current point standings show Spriggs in the lead with 29 points, Krivelin next with 23, Pennacchio third with 16 and Ferrari and Cusimano in a dead-heat for fourth at 15.
The leader at the end of next week's competition will represent the USA in the Amateur World Cup, to be held in Italy later this year.
All of the participants in this event are amateur drivers, defined as such because they donate all of their earnings driving in amateur events for charitable causes which, in the case of the Florida Amateur Driving Club, has amounted to over $240,000 since its inception.
Racing continues on Monday night with a $15,000 guaranteed Pick-4 pool highlighted by an industry low 12 per cent takeout and a Super Hi-5 Jackpot carryover of $75,498. Post time is 7:20 p.m.
(With files from Pompano Park & FADC)