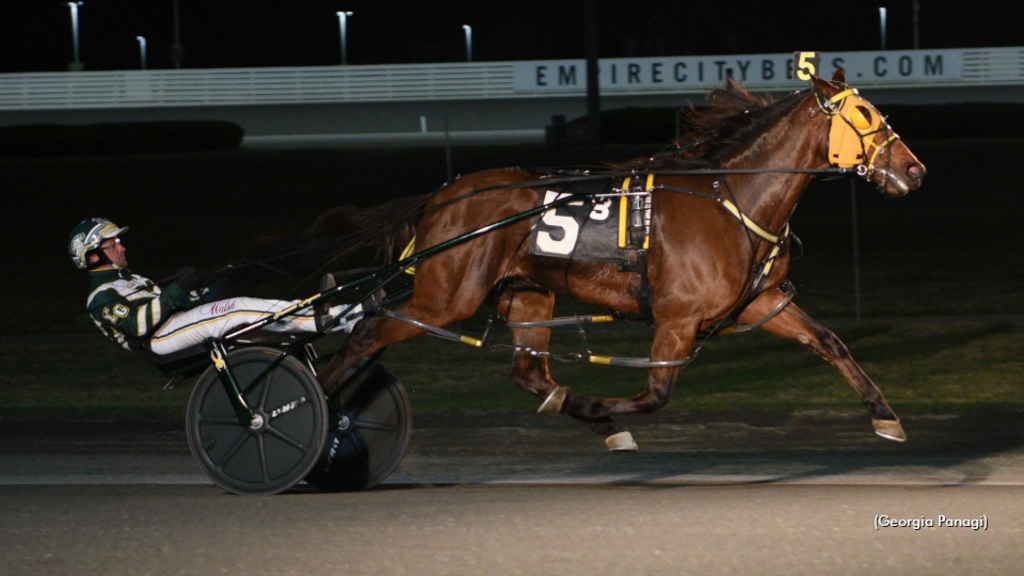 Published:
March 21, 2022 10:44 pm EDT
It was a chalk-filled start to the 2022 MGM Borgata Pacing Series on Monday night at Yonkers Raceway, as the public choice won all five $50,000 divisions for free-for-allers, starting with defending champion This Is The Plan scoring in 1:51.3.
Making his seven-year-old debut, This Is The Plan (Yannick Gingras) had to work a bit to clear Chase H Hanover (Dexter Dunn), but was able to do so well before a :28.2 opening quarter. From there, This Is The Plan maintained command and stayed clear through a :57.1 half and a 1:24.2 three-quarters, and he would sprint home in :27.1 to beat Chase H Hanover by 2-3/4 lengths. Sonny Weaver N (Tim Tetrick) was third after a mild first-over bid in the last three-eighths of the mile.
Ron Burke trains This Is The Plan, a gelding by Somebeachsomewhere, for owners Burke Racing Stable LLC, Weaver Bruscemi LLC, J&T Silva Purnel & Libby and Larry Karr. This Is The Plan is now a 21-time winner, and he pushed his bankroll to $2,587,969. He paid $4.20 to win.
Dragon Said (Joe Bongiorno) would then get the job done at odds of 2-5 in the second flight, prevailing in 1:52.3. Starting from post six, Dragon Said hustled to the early lead, but he would let a two-wide None Bettor A (Tetrick) clear before the :27.3 opening quarter. Not wanting to race in the two-hole, Bongiorno then immediately re-moved Dragon Said back to the top, and he would go on to reach the half in :57.1 and the three-quarters in 1:24.4.
Bongiorno and Dragon Said would open up a gap on the rest of the field on the final bend, and Dragon Said couldn't be caught after that, tallying by a length and a half over None Bettor A. Elver Hanover (George Brennan) wound up third after an extended first-over grind.
A five-year-old gelded son of Well Said, Dragon Said is trained by Jenn Bongiorno for owner Robert Devine. Dragon Said now has a record of 15-11-6, and he has now put away $279,162. Dragon Said returned $2.90 to win.
The third section saw Western Joe (Dunn), a two-time preliminary round winner in the MGM Borgata Pacing Series in 2021, deliver in 1:51.4. Western Joe got away in fourth from post one and watched as Nicholas Beach (Bongiorno) and Covered Bridge (Gingras) both left hard. Covered Bridge forged his way past Nicholas Beach after the :26.4 opening quarter and would continue to show the way at the :55.4 half and the 1:24 three-quarters. Meanwhile, Western Joe was sent first-over on the third turn and advanced into second at three-quarters.
Covered Bridge was able to keep Western Joe at bay around the final turn and into the lane, but Western Joe finally wore him down and went by in mid-stretch en route to a one length victory. Covered Bridge held off Nicholas Beach to finish second.
Western Joe, an eight-year-old Western Ideal gelding, is trained by Chris Choate for owners Anthony Ruggeri and Richard Tosies. Western Joe picked up his 38th lifetime win, and his earnings now stand at $980,123. Western Joe, dispatched at 6-5, paid $4.50 to win.
Leonidas A (Austin Siegelman), who went four-for-four in the MGM Borgata Pacing Series preliminaries a year ago, turned a pocket trip into a 1:50.3 triumph in the fourth split. Leaving from the pole position, Leonidas A settled into the two-hole behind a fast-leaving Tattoo Artist (Dunn). It looked like Siegelman wanted to try and loop to the point before the :26.4 opening quarter, but quickly relented on that bid and elected to stay put.
After control of the front-end was decided, Tattoo Artist blazed away through a :55.1 half and a 1:22.1 three-quarters and opened up a couple of lengths on Leonidas A as they raced in the backstretch for the final time. Leonidas A wasn't done, though, as he steadily reeled Tattoo Artist back in through the last turn, angled out in the lane, and went by Tattoo Artist to tally by a length and a half. Tattoo Artist had to settle for second, and Semi Tough (Brennan) collected third.
The victorious seven-year-old gelding by Mach Three is trained by Sheena Cohen for owner Jesmeral Stable. Leonidas A made his 37th appearance in the winner's circle, and he has now pocketed $549,187. The even-money choice, Leonidas A returned $4.00 to win.
In the final MGM Borgata Pacing Series showdown, Diamondbeach (Brennan), Lyons Steel (Dunn), and Bee Two Bee (Gingras) all showed speed, with Bee Two Bee getting to the engine from post seven after a quick :26.3 opening quarter. Bee Two Bee then backed down the tempo to just :56 at the half, with Nandolo N (Jason Bartlett), the 1-5 favourite, commencing a first-over bid out of fourth nearing that marker.
Bee Two Bee managed to withstand Nandolo N's brush to the 1:23.4 three-quarters, around the last turn, and into the stretch, but Nandolo N wouldn't be denied, surging by Bee Two Bee with about a sixteenth to go and then keeping clear from a second-over Pat Stanley N (Jordan Stratton) to win by a length and a half in 1:51.4. Bee Two Bee wound up holding on to finish third.
Shane Tritton and Team Tritton Inc is the winning trainer/owner combo with Nandolo N, an eight-year-old Betterthancheddar gelding. Nandolo N now has 16 career victories, has stashed away $313,211, and paid $2.40 to win.
MGM Borgata Pacing Series action will roll on for four more weeks, with the final preliminary round scheduled for Monday, April 18. The final will take place on April 25. That card will also have the final of the Blue Chip Matchmaker Series, along with consolation events for both the Borgata and the Matchmaker.
Stakes action continues at Yonkers through the week, with the third legs of the MGM Rewards Gents Pacing Series and MGM Rewards Ladies Pacing Series on Tuesday and Wednesday, and the second round of the Blue Chip Matchmaker Series on Friday. Leg one winners Dragon Roll (post one), Easy To Please (post four), and Drama Act (post six) face off in the second $40,000 Matchmaker tilt (race five), and Mystical Carrie, the remaining opening round winner, has post one in the last $40,000 division (race seven).
Yonkers is currently racing on a Monday-Friday schedule, with post time each night at 6:55 p.m.
(Yonkers)