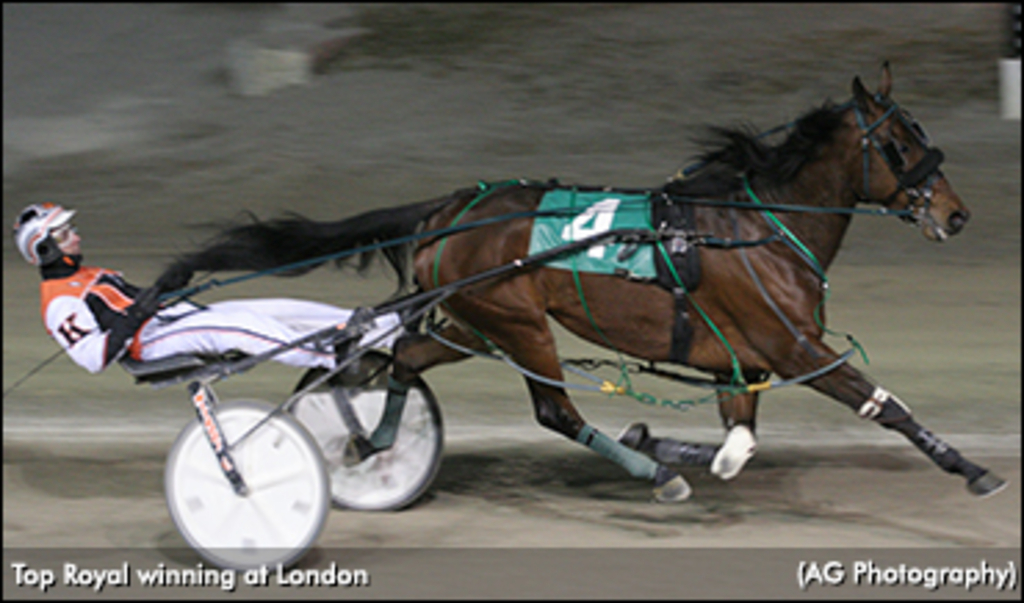 Published:
March 19, 2019 10:57 pm EDT
Sweeping to command before the half, Top Royal commandeered her rivals and cruised to a three-and-three-quarter-length victory going an added distance in the $9,400 Fillies and Mares Preferred 3 Pace at The Raceway at Western Fair District on Tuesday, March 19.
Driver Colin Kelly placed Top Royal fifth heading to a :29 opening quarter while Miss Brandi K battled Got Some Spark for the lead. Got Some Spark soon cleared entering the far turn while Kelly kicked off the rail and surged to the front before a :58.3 half.
Odds-on favourite Cenalta Call Girl also tipped wide at the half but ventured slowly towards the top uncovered. Top Royal held a two-length lead by three-quarters in 1:27.4 and widened her margin slightly in progress to a 2:04.2 win as Cenalta Call Girl gave chase from second and Miss Brandi K eight lengths behind in third.
A six-year-old mare by Royal Mattjesty, Top Royal won her 21st race from 101 starts, earning $173,287. James Kerr conditions the $7.50 winner for owner Brydown Farms Inc.
To view Tuesday's harness racing results, click on the following link: Tuesday Results - Western Fair Raceway.