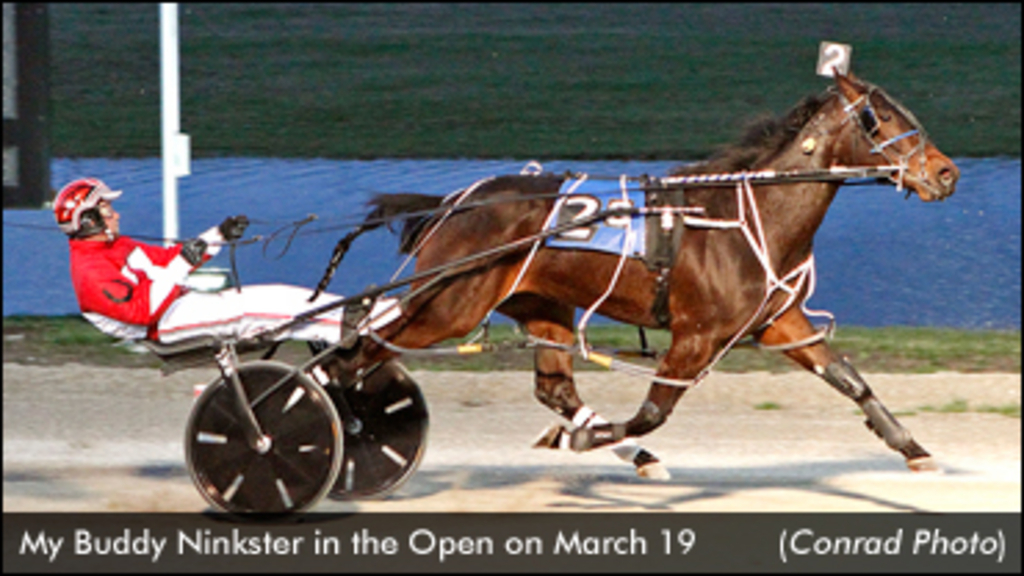 Published:
March 19, 2016 10:29 pm EDT
My Buddy Ninkster, a winner in his first start at Miami Valley Raceway four weeks ago, returned to the spotlight on Saturday (March 19) by winning the $20,000 Open Pace in 1:51.3.
With the victory, the four-year-old altered son of Dali becomes the third repeat winner of the weekly feature race during the current winter meet. Astreos Love, who finished third this week, has won the Open I on four of the 11 occasions the $20,000 Open I has been presented since opening night on January 9. Mykindachip has also captured a pair of victories while the other winners have been Talk Strategy, Fancy Creek Elusiv and Ice Scraper.
Driver Kayne Kauffman gave My Buddy Ninkster a textbook drive in his most recent success, sitting chilly behind notorious front-runner Turbo Mach through fractions of :27.4, :55.4 and 1:23.3 before angling out at the head of the stretch to pass the leader and then hold off Nitro (Chris Page) and Astreos Love (LeWayne Miller). John and Mary Krasnican own the winner, who now has $133,825 in career bounty ($36,000 of it already this season). It was the 16th win of the current meet for trainer Chris Short.
A $15,000 Open II Pace was won by Sports Sinner (John DeLong) in 1:51.2, a tick faster than the Open I. Steve Perkins owns and trains the five-year-old son of Western Ideal, who now has three wins in 2016, but this was the first against Open competition. King Otra (Randy Tharps) was a lapped-on, second-place finisher with E R Rudy (LeWayne Miller), who cut the quick early fractions in this mile, fading to third in the lane. Sports Sinner now sports 18 lifetime wins and earnings of $123,366.
Favourites prevailed in a pair of divisions of the George Williams Memorial late-closing series for non-winners of four pari-mutuel races or $30,000 lifetime. Startin Something (John DeLong) topped Joels Legacy (Josh Sutton) and Artistic Blue (Ken Holliday) in the first split, clocked in 1:52.4. Prohibitive favourite Undertaker (LeWayne Miller) dominated American Paradise (Chris Page) and Goodtime Matt (Trace Tetrick) in the second section, returning a meet-low $2.10 payoff for win. The top nine money-winners in the series will line up for a $20,000 championship race next Saturday (March 26).
Kayne Kauffman had a handful of wins on the program, two days after returning from several days of rest and relaxation on a New Orleans vacation. His triumphs, in addition to the Open with My Buddy Ninkster, came behind Kiasma in a $10,000 claimer, Tyber Tyke in a high condition pace, Cosmicpedia in a $20,000 claimer and Fancy Creek Elusiv in the top condition pace.
In addition to Startin Something and Sports Sinner, John DeLong also guided Franzo and Electric Lad to the winner's circle, giving the 27-year-old reinsman a grand slam.
(With files from Miami Valley Raceway)