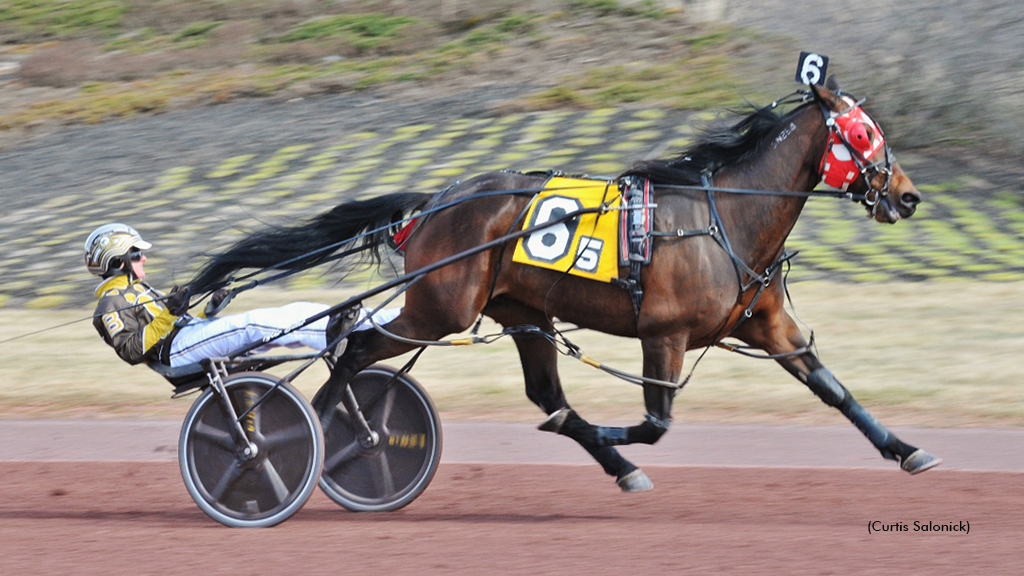 Published:
March 18, 2023 09:15 pm EDT
Park Official and Caviart Val both swept their three $20,000 preliminaries in the Game Of Claims Pacing Series by winning on the Saturday afternoon (March 18) card at Pocono Downs at Mohegan Pennsylvania.
Both of them were also claimed for the third straight week – this time for $30,000 each in the progressively-growing tag series – and trainer Jason Brewer, who had gotten both after $27,500 claims the week before, thus lost both streaking horses coming up to the $40,000 championship next Saturday (March 25).
There were four horses who had won in the first two prelims, and Park Official (1:52.3, driver Tyler Buter) and Caviart Val (1:52.4, one of six winners for the second straight Saturday for Matt Kakaley) each defeated a two-time winner: Bravo Tex N (who was claimed) was third behind Park Official, and Division Bell (who was not claimed) was second behind Caviart Val. There were seven divisions of the third Game Of Claims prelim Saturday and none of the other five winners had previously recorded a series victory with three of them making their debut at this level.
Trainer Brewer sent a third winner in the Game Of Claims: Sombodyitreasure, whose win in 1:52.2 gave Brewer the three fastest winners in the series Saturday. No one claimed Sombodyitreasure; on the downside, with his only other series start being a third, the pacer may not be among the highest point-winners being declared in on Monday morning. Tyler Buter drove the winner.
The three newcomers to the Game Of Claims who won were Benjis Best (1:54.1, Matt Kakaley), who was claimed, and two who were not claimed — both trained by Darren Taneyhill — Guinness Panic (1:54.1, Anthony Napolitano) and Bellows Binge (1:55.3, Matt Kakaley). Having a better chance than that trio of reaching the final was the day's longest-priced horse, $40.40 upsetter Black Chevron N, who had two previous Game Of Claims fourths. Anthony Napolitano supplied the winning drive.
Surprisingly, there were only seven claims on Saturday for a total of $210,000, bringing the yearly totals to 72 claims for $1,455,125 in 11 cards. Horses cannot be claimed out of any Game Of Claims Championships.
There was also a pair of $18,500 events for the fast-class set. The pacers came first, and they were mastered by the So Surreal gelding Stop Staring, who rallied out of the pocket to win in 1:53.2 for the meet leaders, driver Matt Kakaley and trainer Travis Alexander. Stop Staring, handling a step up in class with relative ease, finished a length ahead of Keystone Steam for Symmetry Stables LLC.
Dandy, who usually raced from behind in earning more than $200,000 at three last year, followed a closing second in his 2023 debut with a 1:55 front-stepping victory in the fast-class trot. Driver/owner Jackie Ingrassia patiently guided the victorious son of Cantab Hall to the lead past the three-eighths and from there the Frank Ingrassia-trained diamond-gaiter would not be caught, even as favoured Eurobond narrowed in to within 1-3/4 lengths late.
Sunday's (March 19) 1 p.m. (EDT) card will contain another final preliminary leg of the Game Of Claims Series, with no fewer than 10 $12,500 divisions of pacing action for horses with a base claiming price of $20,000 for this round. Seeing as P L Leeroy (who is among the entrants) is the only double winner in this bracket so far, there should be hot action on the racetrack and at the claiming box looking ahead to the group $25,000 final next Sunday (March 26).
(PHHA / Pocono)