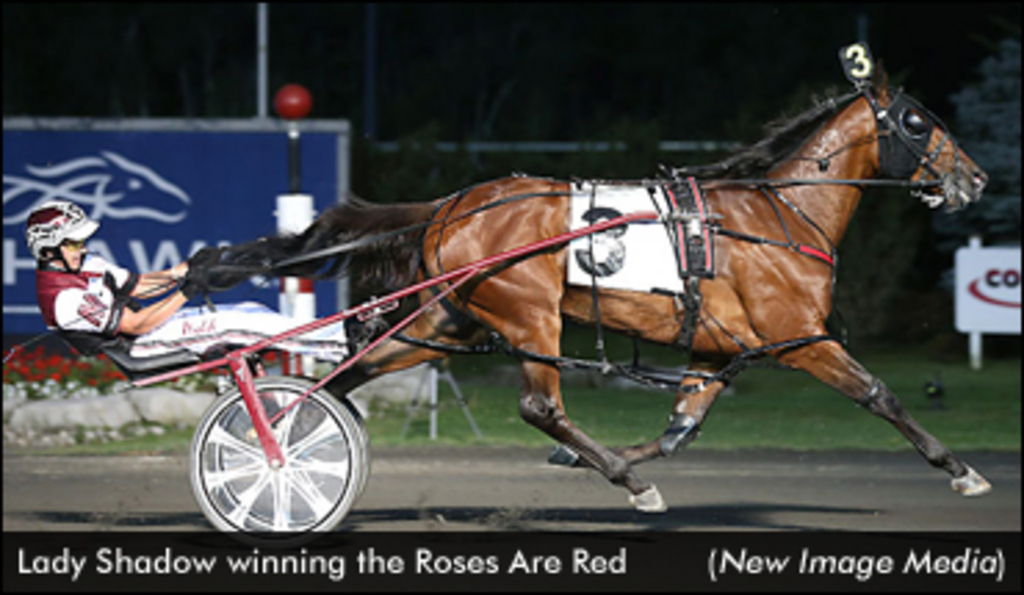 Published:
March 18, 2016 10:30 pm EDT
Yonkers Raceway's Blue Chip Matchmaker began Friday night, with the sport's best pacing mares embarking upon a six-week odyssey.
Three consecutive, $40,000 events comprised the opening round.
The series starter saw Al Raza N (Jordan Stratton, $15.20) snap 9-10 fave Krispy Apple (Jason Bartlett) right near the wire in a season's-best 1:52.3. Hazmatt (Brian Sears) was third, with Delightful Dragon (Brent Holland) and Skippin By (Yannick Gingras) settling for the remainder.
It was a certified scrum early with Krispy Apple making the lead by looping Regil Elektra (Tim Tetrick). Regil Elektra was out again, winning the :27.1 opening quarter-mile. Soon after, Sandbetweenurtoes (Jody Jamieson), having dropped in third, made her second move, leading at a :55.4 intermission.
Down the backside, Krispy Apple took out and third and went by a defenseless Sandbetweenurtoes with the greatest of ease. The people's preference opened three and a quarter lengths by the 1:23.4 three-quarters and had a couple of lengths entering the lane.
However, she couldn't close the sale. Al Raza N, unhurried from post position No. 2, moved from third-over (second-up after Krispy Apple cleared the lead), continuing to make up ground. Advancing to third in and out of the final turn, she wore down her target by a half-length.
The roster was rounded out by a shuffled-out Regil Elektra and a dropping-anchor Sandbetweenurtoes.
For fifth choice Al Raza N, a six-year-old Down Under daughter of Gotta Go Cullect owned by Durazzano Stable and trained by Agostino Abbatiello, the win was her second in three seasonal starts. The exacta paid $44, with the triple returning $316.
Friday's second Matchmaker event saw rank outsider Mach It A Par (George Brennan, $81) do her best Middle Tennessee State impression, picking off defending series champion Venus Delight by a nose in 1:53.2.
Venus Delight had engaged, then overhauled, 4-5 fave Secrets Out N (Sears). That one, after getting away third, controlled the crowd (:27.4, :57, 1:25.2) until early in the lane before faltering.
Mach It A Par, from post No. 6, operated from second-over. She and Venus Delight battled for the tiara, with the former just getting to the latter.
Yagonnakissmeornot (Dan Dube) lost some contact in the pocket, but managed third, with Sell a Bit N (Stratton) and Cheyenne Robin (Corey Callahan) settling for the minor moolah. Secrets Out N faded to sixth.
For Mach It A Par, a six-year-old daughter of Mach Three co-owned by D'Elegance Stable IX, Carmine Iannacone, T L P and Gandolfo Stables and trained by Richard Banca, the win was her first in six seasonal starts. The exacta paid $721, with the triple returning $1,699. Mach It A Par, off a sale/barn change, had been off nearly four weeks (with a "sick line" in between).
The evening final series event was won by a down-the-road Lady Shadow (Callahan, $7), who overcame an outside post No. 7 and widened late.
The two-time O'Brien Award winning mare Lady Shadow had to wait her turn, finally getting around 7-5 favourite Gallie Bythe Beach (Matt Kakaley). From there, she had little issues (:27.4, :56.3, 1:25, 1:53.4), prevailing by two and a quarter lengths. "Gallie" chased from the pocket and saved second, with Jungle Genie N (Bartlett), first leader Inittowinafortune (Tyler Buter) and For The Ladies N (Stratton) grabbing the smaller envelopes.
For second choice Lady Shadow, a five-year-old daughter of Shadow Play co-owned by David Kryway, Carl Atley, Edwin Gold and BFJ Stable and trained by Josh Green, it was a season-debuting victory. The exacta paid $17, the triple returned $74.50 and the superfecta paid $568.
Saturday night's (March 19) card brings the opening round of the George Morton Levy Memorial Pacing Series. Six, $50,000 divisions (races four through seven, nine and 10) each feature seven Free-For-Allers.
A friendly reminder from Yonkers Raceway that Saturday night's Pick 5 wager begins with a tidy carryover of $3,500.50. The Pick 5 is a 50-cent base wager comprising races seven through 11 during every racing program (or earlier if less than 11 races). It has no consolation payoff, meaning if no one selects all five winners (as was the case Friday evening), the entire pool (minus takeout) moves to the next program. Saturday's gimmick includes the last three divisions in the opening round of the Levy.
(With files from Yonkers Raceway)