Published:
March 17, 2021 10:22 am EDT
Toys For You and Prairie Westerngal took top honours at Pompano on Tuesday night (March 16) as each proved victorious in their respective Open events.
Toys For You, in the capable hands of owner-trainer Rick Plano, continued his march up the class ladder by extending his winning streak to four in the $11,500 Open Handicap Trot—using a :27.4 burst home to score in 1:53.3, edging by the slight favourite In Secret by a half length. Serenity Cruise finished third after a pocket-sitting journey throughout while Timon AS rallied from last turning for home to finish fourth. Classicality picked up the nickel in the sextet after a first up backside bid reaching second turning for home.
In Secret charged to the front off the wings and sawed off panels of :27.3 and a comfortable :57 through the opening half with Serenity Cruise in the pocket, followed by BJ Lorado next with Classicality, Toys For You and Timon AS trailing. Things began to heat on the backside as the warrior Classicality made his first bid and Toys For You caught his cover.
Turning for home, In Secret fought off Classicality and Serenity Cruise charged on through but neither could hold off the furious surge to Toys For You, who trotted his final three-quarters in 1:24.4 to post his sixth win of the year in eight starts.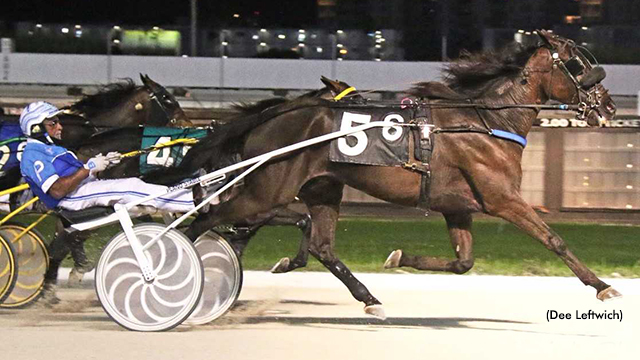 Said Plano after the race, "Ya know, he's getting quite handy these days. He's won on the engine and off the pace and come around very nicely. He's got quite a motor and can sprint home pretty much the same if he's on the lead or off the pace. He's climbed the ladder and I am proud of his performances lately. Of course, horses aren't machines so we all have to enjoy the moments while he's this sharp."
Toys For You, a five-year-old gelded son of Airzoom Lindy, has earned $21,950 in this young season, already eclipsing last year's total.
As the slight second choice at 6-5, Toys For You returned $4.40 to his multitude of faithful.
In the $11,000 Open II pace for the mares, Prairie Westerngal zipped off the wings for driver Wally Hennessey and blazed an opening panel of :26.3 before a :30 breather brought the five-year-old daughter of Western Ideal to the half in :56.3. From there, she paced subsequent quarters of :28.1 and :28 to hit the wire in 1:52.4, holding off Casies Believer by three-quarter lengths.
Crisp Mane finished next after being in the garden spot much of the way, followed by Tempus Seelster, who closed fastest of all, and Take Abit of Life in the compact quintet.
Hennessey said after the event, "Let me tell ya, she has lightning speed off the gate and Mike (trainer Deters) has her really sharp. One of her great qualities is her ability to relax a bit after making the top spot. When we got over to the half, I was confident in her ability to get us home. Give credit where the credit is due—the trainer and caretaker. I was just a passenger."
The win was the second of the semester for Prairie Westerngal, who is co-owned by Deters along with breeder Laurie Poulin and Fritz Racing. The win also extended her streak of earning a check to 25 races.
Off as the 4-5 favourite, Prairie Westerngal paid $3.80 to win.
The $10,000 Open II Trot went, in an upset, to Northern Skyway with David Miller in the sulky—one of a trio of wins for Miller—in a lifetime-best 1:54.2. The six-year-old gelded son of Guccio, trained by Jim Dunn for owner William Mc Elvain, rallied after a first-over backside bid, took command at mid-stretch and then held off favoured Sooo Handsome to score by less than a length. The 13-year-old warhorse Cantab Lindy was next after cutting panels of :27.2, :57.3 and 1:25.2. Gemologist was fourth after a garden journey while Joey Pro managed to pick up the minor award.
Northern Skyway earned his 25th win, sending his lifetime bankroll to $222,563 and rewarded his backers with a $24.60 mutuel.
Finally, the $10,000 Open II Pace for the ladies went to Evas Sports Czech for trainer-driver Ken Holliday, who co-owns with Trish Soulsby.
The five-year-old daughter of Sportsmaster circled to the lead just after the opening quarter in :27.2 and proceeded through fractions of :55.4 and 1:23.3 to score by a length in 1:52.3 over the late-charging Persistent Bettor, with the early-leader Rock N Roll Rosie third. Another Beach Day and Northern Dali picked up the minor awards in the sextet.
Evas Sports Czech, off as the popular 4-5 choice, paid $3.60 to win.
Racing continues on Thursday night (March 18) with a guaranteed Pick-4 pool and a low 12 percent takeout on that offering and a Super Hi-5 jackpot which has blossomed to $76,339.13.
Thursday post time is set for 7:20 p.m. (EDT).
(Pompano Park)