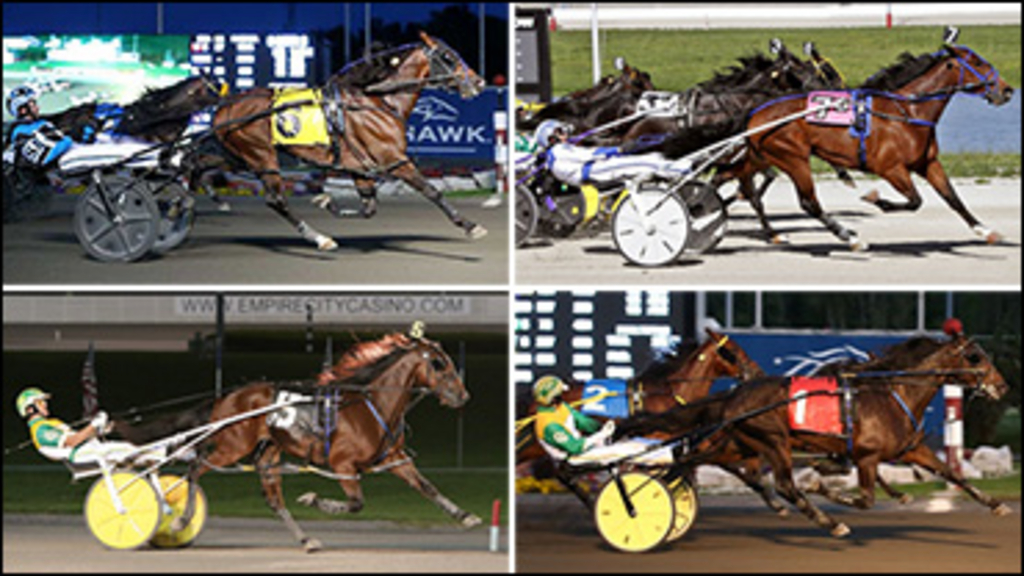 Published:
March 17, 2018 02:11 pm EDT
Two weeks ago, VIP Internet Stable's Ed O'Connor, Tom Janes, and the partners in star pacer Keystone Velocity found themselves in a position they could have only dreamed a few short months earlier: accepting the Dan Patch Award for Older Pacing Male. For O'Connor, this underscored the record season VIP Stable had in 2017 and served as a reminder of why he created the racing syndicate back in 1999.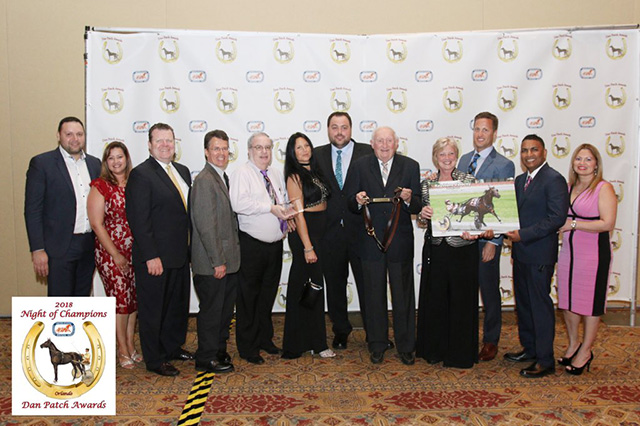 "That's the kind of thing that I don't know Tom and I ever expected to be in consideration for," O'Connor said. "The fact that we won was really cool. It's clearly a small percentage, but how many of the folks who are involved with us would have a chance to race a horse of that caliber?
"Years ago, we were just hoping we could get an open pacer," he continued. "Having a big Saturday night horse is what people get into this business for and it doesn't get any bigger than that kind of Saturday night horse. Those are the fun ones."
Owned in partnership with Allard Racing, Kapildeo Singh, and Earl Hill, Jr. and trained by Rene Allard, Keystone Velocity won the George Morton Levy Series Final at Yonkers Raceway and the Ben Franklin Memorial at Pocono Downs before ending his 2017 season with a win in the Potomac Pace at Rosecroft Raceway. He earned $788,610, boosting VIP Stable's earnings to more than $3 million. On the whole, the partnership won 137 of 739 starts.
"It was a huge year, it was by far our best," O'Connor said. "The USTA started putting out new reports about ownership and wins. Clearly, I wanted to see where we were, and it was pretty fun to see VIP Internet Stable in the top dozen in wins and money earned and that's against Burke, Weaver Bruscemi, everybody.
"It's hard to say we didn't have a breakout year," he continued. "Keystone Velocity was huge, but Charmed Life was a really fun horse to get, Giveitgasnandgo made it to the Hambletonian. We just had exciting thing after exciting thing happen last year and knock on wood, hopefully the luck continues. We just put ourselves in a position to get some good horses and they came through for us. It was a fun year."
Now 10 years old, Keystone Velocity will return to action in the first leg of the George Morton Levy Series this Saturday (March 17) at Yonkers. The son of Western Hanover posted two qualifiers in preparation for his comeback, finishing second in a trial at Yonkers February 23 before winning a Pocono Downs qualifier by 9-1/2 lengths in 1:52.1 March 6.
"Rene just can't stop saying nice things about him. He's fresh, he's ready to go," O'Connor said. "It's a hard division, they go fast in every race. We'll knock heads with the best of them and hope we can take home some money again. It was really exciting last year. If we can do half that well this year, it will be a lot of fun."
Keystone Velocity will start from post seven in the second Levy division Saturday night and will face Australian star Waikiki Beach, who will start from post five.
While Keystone Velocity is the most recognizable name in VIP Stable's returning roster in 2018, the supporting lineup includes multiple stakes winners and rising stars. Charmed Life, also owned in partnership with Allard Racing and Yves Sarrazin, earned $300,505 last year and beat eventual Horse of the Year Hannelore Hanover in the Miami Valley Distaff May 7.
"Clearly going into the race, we thought if all goes well, we'll be second. It was her first stakes start for us, we were shipping her across the country, we had a new driver on her and we were just kind of hoping for a good race," O'Connor said. "She was outstanding. She sat at the back of the pack and went right by everybody. That's really exciting. Winning a four-claimer at Rosecroft is exciting for me, so winning these really big races is not something I would have expected we could do.
"The thing that keeps us grounded is that every horse that comes along, there's new people, there's new owners and we need to get them their money's worth," he continued. "We try to do well with everything we buy and having a horse like Charmed Life come out and put in a big race against a huge horse like that was really exciting. She was good in just about every start she made. We've got our fingers crossed again with her."
VIP Stable bought Charmed Life from the 2016 Harrisburg Sale for $150,000 with intentions of racing her for one season and selling her as a broodmare prospect. However, the $1.4 million-earning daughter of Majestic Son had such a successful campaign that her connections decided to bring her back for an eight-year-old season.
"At the price we bought her for, we thought we could get pretty much all our money back as a broodmare, but she was kind enough to earn double that back already," O'Connor said. "We'll try her again and we'll see how it goes. I would be surprised if we race her a third year, but she'll tell us. If she wants to keep going and has a year like that, we'll keep riding it because that was a lot of fun."
Charmed Life isn't the only talented trotter in VIP Stable's roster. O'Connor jumped at the chance to offer Bills Man to the stable's investors when the opportunity arose last fall. A son of Credit Winner, Bill's Man finished second in an elimination of the 2017 Hambletonian, ahead of VIP Stable's Giveitgasandgo. Both horses were trained by trusted VIP Stable conditioner John Butenschoen.
"We had been watching Bills Man all along, so it was no surprise he was going to be a good horse," O'Connor said. "I was there at the rail Hambletonian Day when he lost his elimination by a whisker. He's a solid horse, he puts in a good effort every time."
O'Connor hopes Bills Man can build on the 2017 season that saw him win the Matron at Dover Downs November 16 and earn $466,911. Butenschoen will target four-year-old restricted stakes, such as the Graduate Series and Hambletonian Maturity, before taking on older foes in the TVG Series in the fall.
"So many of the three-year-olds from last year moved on to the stallion ranks. There's not a lot of the top ones left and he's probably one of the best ones around," O'Connor reasoned. "John says he's training like a champion and he never does anything wrong. We really have our fingers crossed for a big year."
While there is still a long way to go, O'Connor is hopeful Bills Man could be the first horse to take VIP Stable around the world.
"We'll pick our spots with the idea that we'll have a good four-year-old year and we can come back and have a really nice five-year-old year and I wouldn't be surprised if that includes a trip to Europe," he said. "If you're ever lucky enough to have a horse who can do that, you have to try it. We have our fingers crossed on that one."
VIP Stable's most surprising success-story of 2017 was Paprike Blue Chip. The son of Roll With Joe sold for just $7,000 as a yearling, but won at first asking at Pocono Downs June 27 before capturing four legs of the New York Sire Stakes to earn a place in the NYSS Final at Yonkers October 14. Despite starting from post seven, Paprike Blue Chip finished second beaten just a length to end his season with a 6-for-12 record and $222,573 in the bank.
"He's the kind of horse you always look for. We didn't pay a lot, he tries hard, he gets around the turns really well, he's fast. He's just a delight to have around," O'Connor said.
Because his talent level was unknown as a yearling, Paprike Blue Chip wasn't paid into many of the early-closing stakes races for three-year-olds. Even so, O'Connor expects the bargain purchase to have another successful year on the New York circuit.
"He's been doing really, really good. He got a nice vacation at the Crawford's stable near Syracuse and came back. He's down in the 2:30 range," he said. "He's in the Adios, he's in a couple of the races in Pennsylvania and Indiana. If all goes right, we still have a chance to make a big chunk of money. Obviously, it will revolve around the New York Sire Stakes program where hopefully he can have another good year there."
VIP also has a piece of Nixie Volo, a daughter of Yankee Glide who won two legs of the Kentucky Sires Stakes at the Red Mile as a freshman in 2017 before making a break in the final. The Butenschoen pupil came back to win a division of the International Stallion Series during the Grand Circuit meet October 6.
"She was a little headstrong, a little of this, a little of that, but the whole time she showed a lot of talent. She had some trouble with breaks, but John got her going for the Kentucky Sire Stakes and she won," O'Connor said. "She got really excited and hot and galloped around the track in the final. We were a little disappointed when you leave your race in the warm ups, but John again came back, and this is why he's such a good trainer, got her together and staked her to some of these Grand Circuit races down there."
Although she became a multiple stakes winner last year and earned $71,300, Nixie Volo wasn't always on VIP and Butenschoen's watch list. It was only at the urging of Janes that the stable bought her out the 2016 Lexington Select Sale for $22,000.
"This is a horse that goes back to the bakery theory of buying yearlings. You walk in there and you can't help but pick out two or three extra things," O'Connor joked. "Tom is at the sale with John Butenschoen. Tom loves the way she looks, the pedigree is right, the price is right. He had to buy her."
O'Connor is hopeful Nixie Volo's breaking issues are behind her now that she's training down for her three-year-old campaign. VIP Stable aggressively staked her to the Hambletonian Oaks and Kentucky Filly Futurity based on what they've seen so far.
"She seemed to mature a lot over the winter and just come back as a little bit more of a full racehorse instead of just a crazy youngster. She has a chance to be one of the bigger earners in the barn this year. She's staked to everything. Hambletonian Oaks, Kentucky Filly Futurity, Pennsylvania Sires, Kentucky Sires. She has the right pedigree, the right build, everything."
Competing in stakes races across North America and winning those races is instrumental to VIP Stable's continued growth. The syndicate has 64 horses in training, including 28 two-year-olds.
"We used to spend a decent amount of money on advertising. We'd sponsor the finish line or the winner's circle or the replay, we'd buy program ads, but there's nothing that gets our name out in front of prospective partners or fans of the game better than getting our horses in the winner's circle," he said. "If we can do that on a national scale and in some of these big races, it makes a big difference."
(with files from VIP; photos of Keystone Velocity, Charmed Life, Bills Man and Paprike Blue Chip courtesy New Image Media, Conrad Photo, Mike Lizzi)