Published:
March 17, 2017 05:42 pm EDT
After grabbing a share of the Spring and Fall Meet driving titles at Rosecroft last year, Russell Foster has gotten off to a fast start during the 2017 Spring Meet by driving 10 winners on the first three programs.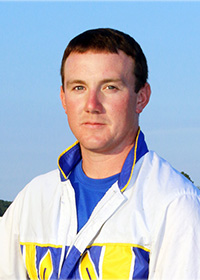 The 27-year-old native of Easton, MD is enjoying the success he had never envisioned for himself a few years ago, when a concentration on training pacers and trotters seemed to be a more practical career path.
"I never contemplated getting out of the business, but I didn't really think I was going to have much success driving," Foster said. "I thought I would be more on the training end of the business."
Foster credits his unexpected ascension to the top of the Maryland harness industry to veteran pacer Hi Sir, whose affinity for the Rosecroft oval triggered his owner/trainer/driver's breakthrough into driving prominence.
"I started going good with him down at Ocean (Downs). I figured I'd try him at Rosecroft in the fall, and he had a good year. The following spring I took him back over there and my dad took a couple other horses over. He saw how good I was doing and he brought a couple," Foster said. "I started doing good with them and a few other people gave me a chance, and things kind of took off."
The still active Hi Sir, who finished third in the Open Pace on Sunday, has won 20 races while being honoured with multiple Horse of the Meet titles during his four years with Foster.
"He's really just a good horse. He doesn't require a lot of vet work. He stays sound and he's really easy to handle," Foster said. "When I first took him to Rosecroft, he liked to close. All the races there, they were going fast early and not come home really fast, and he'd pick up all the pieces. Races set up perfect for him."
Foster has become a popular catch-driver at Rosecroft while maintaining his two-horse stable of Hi Sir and Rock On Precious and assisting his grandfather, Arty Foster, who has eight horses in training.
Foster started helping out his grandfather when he turned 14 and obtained his qualifying driver's license at 18.
"It didn't take long after that to get my full license, but I really didn't drive full time," he said. "I worked for my grandfather. At that time he had probably 20-25 horses and it kept me really busy. The last two or three years he really cut back on horses, and that gave me more time to focus on driving a little bit."
Foster, whose father Arty Jr. also maintains a stable at Rosecroft, has enjoyed several multi-win programs the past two years, including a five-win day last week.
"The day that sticks out to me was in the fall (Sept. 20) when I won seven, two of them were Sire Stakes races," he said.
Foster isn't letting his success go to his head, well aware of the depth of a talented Rosecroft driving colony.
"It's tough. It all depends on who has the best horses that night," he said. "The first few nights I got lucky and I had the right horses to drive. It can turn around in a hurry."
However, he admits to deriving satisfaction in achieving success in his own backyard.
"I was born and raised in Maryland and have been going to Rosecroft since I was a kid. I used to love going over there on weekends," he said. "It's really a lot of fun to be driving there and having such success there now."
(with files from Rosecroft)