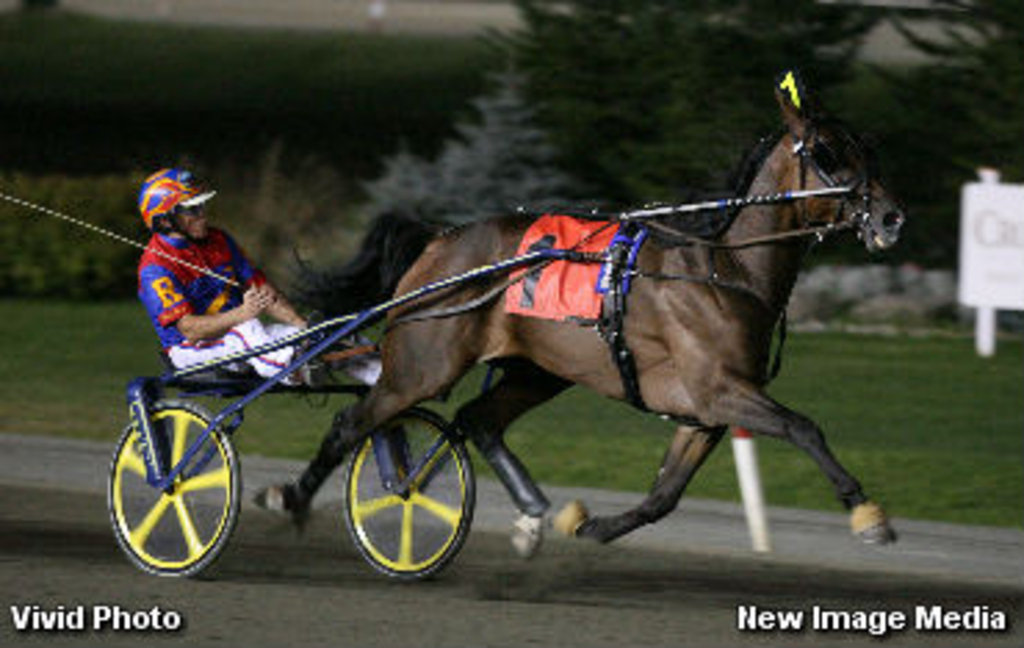 Published:
March 16, 2010 09:14 pm EDT
Vivid Photo might not be a major player on the stakes circuit any longer, but the battle-tested trotter is still winning races and adding money
to his already sizeable purse account.
The 2005 Hambletonian winner - and two-time Dan Patch Award honouree - has raced three times this season at The Meadows, picking up a win, a second and a third. Vivid Photo has won 41 of 118 career starts and earned $3.1 million for owners Roger Hammer and Todd Schadel.
"We're probably going to just keep him in the Open Trots," said Hammer, who also trains and drives Vivid Photo. "We didn't put him in any stakes because we figured we can race for $25,000 or $30,000 every week in the overnights. He's better this year, sounder this year, than he's been for two years. We hope it stays that way. He probably would be good to put into the stakes, but he can make a couple hundred-thousand in the overnights."
Vivid Photo, who was sidelined by a cracked coffin bone in 2008, ranks No. 15 in earnings among trotters in harness racing history. In addition to winning the Hambletonian, his career triumphs include the World Trotting Derby, the Titan Cup, the Credit Winner and two editions each of the Trotting Classic and Patriot Invitational. He twice finished second in the Breeders Crown.
He was the Dan Patch Award winner as best three-year-old male trotter in 2005 and best older male trotter in 2007.
"If he stays healthy, we'll just race him," Hammer said. "He doesn't like to be turned out; he likes to go to the track. I think he'll have a better year this year than he's had. We probably should have put him in some of the bigger stakes, but we decided not to. Every time we do, something goes wrong. This year he seems real good. I think he'll trot close to (1):52 again this year. You take your shot and hope for the best."
Beyond Vivid Photo, Hammer hopes to have several future stars ready to take center stage. He like three two-year-old trotters in particular: colts Antipasto Hanover and Mysterious Bomb and filly Window Willow.
Antipasto Hanover (SJs Caviar-Andrea Hanover) was purchased for $12,000 and is the first foal out of Andrea Hanover, who is a half sister to 2007 Pennsylvania Sire Stakes champion Athena Hanover. Antipasto Hanover's family tree also includes 2004 Merrie Annabelle winner Reinvent, 2007 Yonkers Trot runner-up Up Front Larry, and - distantly - 1948 Horse of the Year, Rodney.
Mysterious Bomb (Broadway Hall-Mighty J C) was purchased for $20,000 while Window Willow (Tagliabue-Crystal Vic) was a $28,000 yearling purchase and is a full sister to 2006 Pennsylvania Sire Stakes champion, Lolique.
"Right now they look good," Hammer said. "They're a nice bunch of trotters. Nice and smooth. They're doing nothing wrong and they show some speed. We have some nice pacers, too, but you can figure a trotter a lot better than a pacer with as fast as these pacers have to go all the time. We're just hoping everything turns out alright."
---
This story courtesy of Harness Racing Communications, a division of the U.S.
Trotting Association. For more information, visit www.ustrotting.com.