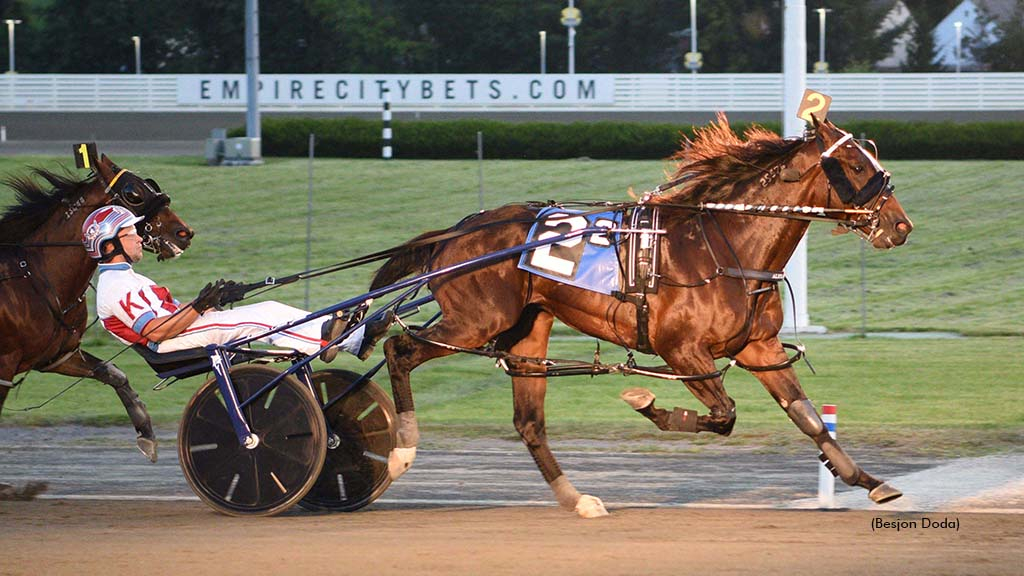 Published:
March 15, 2023 04:19 pm EDT
None Bettor A and American Courage, two free-for-all pacers entered in Monday's first leg of the MGM Borgata Series at Yonkers Raceway, got in useful final workouts on Wednesday morning at Pocono Downs at Mohegan Pennsylvania, winning in 1:54 and 1:54.1, respectively.
Both fast horses were driven by Matt Kakaley for trainer Travis Alexander – the hot pairing during the young season so far at Pocono.
None Bettor A came home in :27.1 to complete a wire-to-wire score for Joe P Racing LLC and Oldford Racing LLC.
American Courage came out of the pocket and gained during a :27.1 kicker to go by for Fiddler's Creek Stables LLC.
The Borgata Pacing Series will open with four $50,000 divisions on Monday. None Bettor A drew post three in the third division while American Courage has post two in the final split on the 7 p.m. card. 
Pocono continues its March Saturday – Sunday – Monday schedule at 1 p.m., with the upcoming racing week featuring the final preliminaries for the Game Of Claims Pacing Series. The top point-winners in the prelims will earn their way into rich championships the following week. Almost as interesting as tracking the finishing fate of the pacers is learning what their stable will be after the race – who will stay in their current barn and who will join (or rejoin) the 65 horses to be claimed for $1,244,125 so far early at the mountain meet.
(With files from PHHA/Pocono)