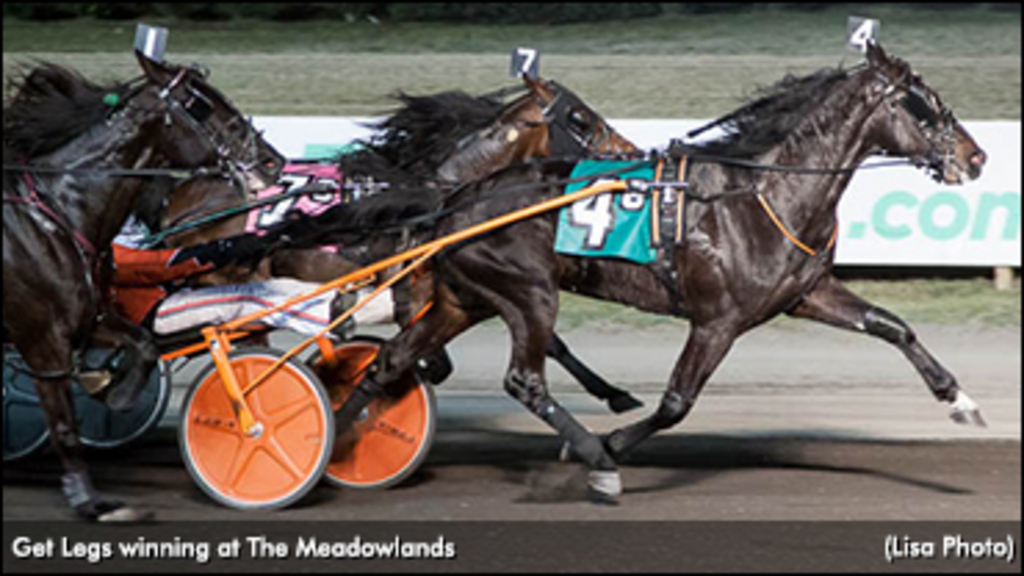 Published:
March 14, 2021 12:21 am EST
A loaded older trotting division got a little bit deeper Saturday night (March 13) at The Meadowlands, as Get Legs, from driver Andy Miller and trainer Julie Miller—the duo known as "Team Orange Crush"—put a beating on six overmatched foes in the $18,500 high-end conditioned trotting feature.
"We are really excited about him," said Andy. "Right now, and for the future as well."
They should be. Because if all goes as hoped, Get Legs could end up facing such standouts as Manchego, Atlanta and Amigo Volo during what is his sophomore campaign after having not raced as a two-year-old.
The still relatively inexperienced four-year-old son of Muscle Hill-Legzy, known heading into the night for his late rallies, was put on the point this time around, and continued his winning ways switching from being a pursuer to the pursued.
Get Legs, whose every lifetime start has come at The Big M, was away quickly from post 4 in the seven-horse (with two scratches) field along with 5-2 second choice Mission Accepted and 3-1 chance Pikachu Hanover. When they settled in at the quarter, even-money favourite Get Legs hit the beam in :27.4 with Pikachu Hanover and Mission Accepted willing to sit behind along the rail.
"I just thought it was a good spot to be a little more aggressive with him," said Andy. "He's been taken back enough."
Miller was able to rate the second fraction in a leisurely :29 on a night where the front was where you wanted to be. Before Pikachu Hanover popped out the two-hole at three-quarters to take his shot, and just as it seemed he might threaten as they straightened away, Get Legs got serious.
"When he felt them move up on him," said Andy. "He just took off all the way to the wire."
The margin may have been just a half-length, but Get Legs reported home a safe winner in 1:53, just two-fifths of a second slower than two weeks ago when he established his lifetime best. Mission Accepted outlasted Pikachu Hanover in the race for place.
Get Legs, who returned $4.20 to his backers, now has eight wins from just nine lifetime starts and earnings of $63,610 for owners Andy Miller Stable and Michael Anderson.
A 'NIFTY' SCORE: Colossal Stride A, driven by Dexter Dunn and trained by Nifty Norman, wore down speedy 70-1 shot Yacht Seelster in deep stretch to take the high-end conditioned pacing feature by a neck in 1:50.3, giving him three wins in four North American starts since shipping in from Australia less than two months ago.
"He's a pretty powerful horse," said Dunn, whose horse sprinted home in :26. "The fractions weren't strong but he paced hard through the stretch."
As the 3-5 public choice, Colossal Stride A, who won despite going parked for the final half-mile, paid $3.20 to win.
HANDLE ROLLS A "YO-LEVEN": The Meadowlands' streak of seeing the $3-million handle barrier busted on Saturday nights stayed intact, as all-source wagering totaled $3,155,578. There have been 11 Saturday programs at The Big M thus far in 2021, and all 11 have seen a handle of over $3 million.
A PAIR OF FOURS: Yannick Gingras and Andy McCarthy had the hot hands on the 13-race card, as both drove four winners on the program.
A LITTLE MORE: One shrewd player wagering into the Oregon Express hub raked the pot in the 20-cent Survivor Pick 7 and collected $12,059. The sequence saw four winning favorites, including a pair of 3-5 shots in the final two legs.
There will be a bit more time for players to handicap the first race 20-cent Pick-5 starting Friday, as racing resumes with a new post time of 6:20 p.m. (EDT).
(The Meadowlands)